"She came in fit. She came in confident. She worked hard on just the small things in her game and I think she's seen the rewards for that."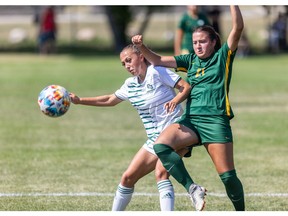 Article content
Jerson Barandica-Hamilton wanted six goals from Alyssa D'Agnone this season.
Article content
Well, he got seven.
Article content
But nobody really expected D'Agnone to end up leading the University of Saskatchewan Huskies women's soccer team in scoring this season.
D'Agnone included.
"I definitely didn't think I'd be leading the team in scoring," admits the second-year Huskies striker, whose team will meet the Trinity Western Spartans in Canada West women's soccer quarter-final playoff action Friday at Langley, B.C.
"I thought I'd have a bigger responsibility than last year with a lot of our fifth-years leaving like Maya (Gabruch) and Taneil (Gay). At the start of the year, me and Jerson had a meeting and he had a goal that I was to score six goals this season. I got seven. But when he said that, I was kind of like, 'I don't know if I could do that.'
Article content
"So I put in the work. I think that first game, getting two goals, really helped me with my confidence, proving that I could do it, so it was just working hard after that."
Barandica-Hamilton expected a breakout season for the second-year striker, but he too never expected D'Agnone to be leading his Canada West soccer team in scoring.
"Not this early (in her career), to be honest," he admitted. "If I'm being really honest, it is a surprise. But, having said that, I think we have a young attacking group so I think our midfielders are a bit more senior and have done a really good job — Payton Izsak primarily— of really setting up the young strikers to be able to score on easier opportunities than maybe we'd ask of a fourth or fifth-year player like we had Teneil and Maya last year.
Article content
"The team has stepped up in terms of the chances we are generating to allow for our young strikers to have that ability and confidence to do the final piece of the puzzle."
D'Agnone, a 5-foot-6 forward from Lethbridge, played youth soccer before moving on to competitive club soccer in Calgary, commuting back and forth between the two cities "three to four times a week."
Scoring has always been her forte.
"I've always been more driven towards the net."
Barandica-Hamilton said D'Agnone's success comes from hard work.
"She really generates opportunity for herself through her movement off the ball and her work ethic," he said. "She's one of those players who never stops running. She never stops running for a cross. And she just has that built-in intuition but also that desire to be in the right places at the right time.
Article content
"That's something you don't see a lot with young players so I know she has so much more potential to actually capitalize on her chances, but what we like as a coaching staff is the work she puts in to create those chances. It's really getting her to separate. Now when she gets even more clinical and fine-tunes her technique to score, I think we're going to see her just take over."
D'Agnone has put in the extra work to elevate her game.
"Alyssa really committed to her growth in terms of just doing the extra in the off-season, to come in prepared," noted Barandica-Hamilton. "She came in fit. She came in confident. She worked hard on just the small things in her game and she's seen the rewards for that."
As for their playoff chances this weekend?
Article content
"I think if we play to our standard, we'll have a very good chance of winning," D'Agnone replied, adding that it was great having the bye last weekend.
"We were really able to focus on this game with Trinity. We actually got a chance to play a (Lakewood U-17) boys' team (which recently competed at club nationals). They play like how Trinity plays, their style of play, so that really showed us more what we needed to work on and what worked well."
Youth movement takes hold on Huskies

Flashback to one year ago …
The news seems to be flying at us faster all the time. From COVID-19 updates to politics and crime and everything in between, it can be hard to keep up. With that in mind, the Saskatoon StarPhoenix has created an Afternoon Headlines newsletter that can be delivered daily to your inbox to help make sure you are up to date with the most vital news of the day. Click here to subscribe.