Hallelujah: Leonard Cohen, a Journey, a Song shows how the Montreal legend grappled with the creation of his iconic composition.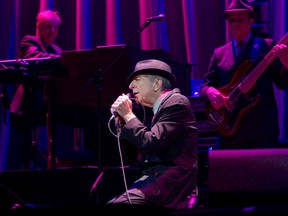 Article content
It is likely the song that most summed up Leonard Cohen's life — religiously, romantically or otherwise. It is certainly the most famous and covered tune in his canon, with estimates of more than 300 having performed it at concerts, not counting the scores who have sung it in everything from films to reality shows, weddings to funerals.
Article content
Yet many weren't even aware that he was the creator and original singer of the composition.
And the ultimate indignity: Columbia Records initially refused to release his 1984 album Various Positions, which included the tune, in the U.S.
The song: Cohen's iconic Hallelujah.
Its genesis is meticulously traced in Dan Geller and Dayna Goldfine's enthralling documentary Hallelujah: Leonard Cohen, a Journey, a Song, opening Friday in Montreal. Through interviews, archival footage and Cohen's own handwritten notes, viewers get a glimpse of how the Montreal poet and balladeer grappled with the song's lyrics for seven years, apparently penning more than 180 verses in the process.
It turns out that Cohen was particularly prescient with the opening lyrics:
Article content
"Now I've heard there was a secret chord
That David played, and it pleased the Lord
But you don't really care for music, do you?"
According to the lore, then-Columbia Records chief Walter Yetnikoff liked the cut of Cohen's suits, but not so much the cut of this composition.
An obscure New Jersey label released Various Positions in the U.S., and it was only after the album enjoyed success elsewhere that Columbia changed its tune and brought it out there.
For years, many thought Hallelujah was Jeff Buckley's song, because of the late singer's breathtaking performance. It has also been belted with bravado by everyone from Brandi Carlile to Judy Collins. Others have associated it with John Cale and Montrealer Rufus Wainwright. And who can forget k.d. lang's heart-tugging rendition at Cohen's Bell Centre memorial concert in 2017?
The doc was inspired by Alan Light's book The Holy or the Broken: Leonard Cohen, Jeff Buckley and the Unlikely Ascent of Hallelujah. Among those interviewed by Geller and Goldfine are former Governor General Adrienne Clarkson and producer/arranger John Lissauer, whom Cohen hadn't spoken to in nearly eight years before approaching him out of the blue to record and produce Hallelujah.
Article content
Also in the doc is the inimitable Larry (Ratso) Sloman, a New York music writer and authority on everyone from Nick Cave to Bob Dylan, Kinky Friedman to Howard Stern. He collaborated with the latter on Stern's bestsellers Private Parts and Miss America. Unbeknownst to many, Sloman was also a Cohen confidant and verbal sparring partner.
"Columbia's initial refusal to release Various Positions in the States really related to internal politics," Sloman says in a phone interview from New York. "Yetnikoff came in and since he hadn't signed Leonard, there was no upside to him in his mind from a financial point of view. Leonard was only a cult figure in America then. He wasn't revered like he was elsewhere. Europe was his big audience, so Yetnikoff released the album there and in other places.
Article content
"What pissed me off was the way Yetnikoff did it. He said he didn't like the mix, although he liked his clothes. Leonard was very hurt, because he had been so excited about this album, with some of his best-ever songs on it. He had struggled so much writing it. Particularly with Hallelujah. He told me about being in his underwear in hotel rooms, tearing his hair out and writing verse after verse."
Under a new regime, Columbia later released the album in the U.S. — "because it had become a huge success, and money talks."
Sloman recalls Cohen telling Dylan that it took him two years to write Hallelujah.
"But then he told me that he had lied to Dylan, because he was embarrassed to tell him it had actually taken seven years to write. That's because Leonard had asked Dylan about the song I and I, on Infidels, and Bob told him he had done it in 15 minutes — which was total bulls—.
Article content
"Leonard was such a perfectionist. He couldn't stop re-crafting. He was always changing his verses even in performing, just like Dylan did."
Hallelujah reached its widest audience of all in the blockbuster Shrek, with Cale's performance of the tune, although it was Buckley's take that really captivated critics.
"When asked if Leonard heard his cover, Buckley said he didn't want Leonard to hear him doing the song, 'because I'm just a young, snot-nosed kid,' " Sloman relates. "Buckley said he didn't have the necessary gravitas or life experience. Same thing happened when they tried to get Rufus Wainwright to do the film version for Shrek. One of the film's producers said Shrek was an older character and they couldn't have a young falsetto guy singing it. So she took out some of the so-called naughty parts of the song to make it PG, and Cale was brought in to sing it for the film version."
Article content
Unlike Sloman, the documentary's San Francisco-based, Emmy-winning directors were not old buddies of Cohen, hadn't met him and weren't even lifelong followers of his work.
"Sorry to say, neither of us had been longtime fans," Geller says in a phone interview. "But we went to a concert on one of his last tours, and you go to a Cohen concert and you immediately become a convert. Even though we weren't thinking of a movie about Leonard at that point at all, we became quickly immersed in his life and his catalogue."
Adds Goldfine: "Then we had a dinner conversation with a filmmaking friend about Leonard, and within a few minutes I had this indelible image of Leonard getting on his knees at this concert and launching into Hallelujah. That moment in particular when he just poured his heart and soul and every piece of his talent into delivering the song. I then told (Geller) that we should consider doing a documentary about Hallelujah and Leonard Cohen.
Article content
"Not being able to stop thinking about it, we Googled (Hallelujah) the next day and up came the Alan Light book, which provided us this template. If he could write a 250-page book on it, there was clearly something dramatic going on there."
Indeed, there was — and still is.
AT A GLANCE
Hallelujah: Leonard Cohen, a Journey, a Song opens Friday, July 15 at the Forum (original version) and Cinéma du Parc (with French subtitles) in Montreal.
New Leonard Cohen compilation released in time for première of documentary

Field Commander Cohen: Book sheds light on singer's 1973 wartime visit to Israel

Brownstein: Mike Ward changes tune, and that's no joke