Article content
Two young brothers aged 14 and 10 have surrendered to Philadelphia homicide detectives in connection with the brutal traffic pylon beating death of a 73-year-old man.
Article content
Cops say the duo were part of a mob of seven young people who laughed as they battered James "Simmie" Lambert to death on June 24.
He died in hospital the next day.
Even hard-hearted Philadelphians were stunned at the murder captured on videotape — and the young ages of the suspects. Cops offered a $20,000 reward for information in the sickening case.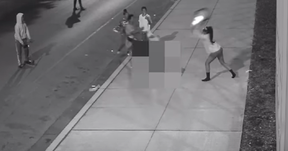 "They were normal kids," the boys' lawyer, Raina Major told reporters. "Do you remember when you snuck out of your house?"
She added: "It's a very sad situation for all of the children, for the man's family and for everybody involved. These are children, let's let them have their peace."
The 10-year-old was released into his mother's custody.
The victim's niece urged the other young killers to surrender.
Article content
"How can they sleep? I can't sleep, I'm having nightmares," Elsie Stephens told NBC10.
James Lambert was out for an early morning stroll when he was ambushed by the maniacal monsters. Philly PD released the shocking video on Friday.
Cops there were three girls and four boys involved in the barbaric attack using traffic cones. Even as Lambert tried to escape, the teens continued beating him.
"The teens struck the victim several times with objects, knocking the victim to the ground causing injuries to his head," police said in an online post. "The victim was transported to the hospital where he died of his injuries the following day."
Lambert's distraught family remains stunned by the depravity of the attack.
"Even I can't comprehend that teenagers would beat an old person in the street for no apparent reason," Tania Stephens, Lambert's niece, said.
There have been 280 homicides in Philadelphia so far in 2022 — down just 2% from the same time in 2021. Last year was the deadliest in Philadelphia history.