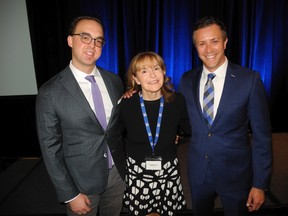 Article content
Men have a three-times higher rate of suicide than women. On average, they die five years younger and are 67 per cent less likely to visit a doctor. And, of the top 13 causes of death in Canada – including all cancers, cardiovascular disease, accidental and non-accidental trauma – men lead women in 12 of the 13 causes. Yet men are often stubborn and stoic about their mental and physical health problems.
Article content
So listen up guys. It's time to wake up! And wake up was the theme of the inaugural Women for Men's Health Charity Breakfast & Wellness Fair held Sept 29 at Hotel Arts. Women for Men's Health was founded by Dr. Shelley Spaner, a radiologist and Prostate Cancer Centre board member. Women for Men's Health works within the centre to raise awareness of strategies to remove barriers that stand in the way of men's health. Further, it empowers women to create a support network for the men in their lives.
Article content
Nearly 200 guests attended the inaugural breakfast that featured a wellness fair and addresses from two keynote speakers. Participants in the fair included Mayfair Diagnostics, Centre for Suicide Prevention Buddy UP, Headversity, and Wellspring Alberta.
Article content
Featured speakers Marco Carducci, the goalkeeper for the Canadian Premier League Cavalry Football Club, and Blair Ector, a successful criminal defence lawyer delivered riveting addresses.
Carducci was diagnosed with testicular cancer at the age of 25. His presentation highlighted the importance of detecting cancer early and reminded guests that we are all vulnerable to the unpredictability of life so taking care of one's health is necessary at every age.
Ector shared his personal experiences of physical and mental trauma while growing up. Ector discovered he did not need to suffer alone and found support through recovery groups like AA, his wife Maryann and their family.
Other highlights included remarks from Spaner, Prostate Cancer Centre CEO Jeff Davison, emcee Pat Steinberg (co-host of The Big Show on Sportsnet 960) and free PSA testing in the ManVan.
Article content
Guests in attendance included: RGO's Cathy Orr and Cassandra Baker; Trico Homes' Jessica Hartland; Dr. Julie Hong and her sons Summit and Merrit; Dr. Eric Hyndman, section chief of urology and PCC board member, with colleague Dr. Mark Assmus; Prostate Cancer Centre board chair Keith Steeves; Bennett Jones' John Piasta and Jon Truswell; Crown prosecutor Donna Spaner; Prostate Cancer Centre's Amanda Baxter, Shannon de Vall, Ken Rabb, Rahima Gulamhusein, Sara Adrian, Karlee Brack, Dr. Lauren Walker, Candace Frey, Daryl Zerr and Stacey Smith, to name a few; Mayfair Diagnostics' Jennifer Jaspar and Darvin Schafer; Catherine Brownlee; Karen Sherbut and Wendy Tynan, guests of title sponsor the Flames Foundation; former city councillor Jeromy Farkas; Cavalry Football Club's Mason Trafford and Ben Fisk; and others pictured.
You'll want to mark your calendars for Jan. 27 for the Fifth Annual Big Ball taking place at Hotel Arts. The must-attend event will continue to fund the development of the Kawakami Pre-habilitation Clinic and programs at the Prostate Cancer Centre. Tickets will be available through the centre in the next few weeks.