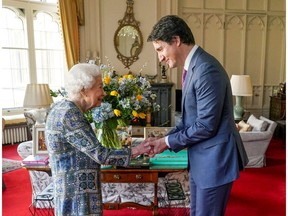 Article content
Over the past few days, I had the opportunity to listen to two outstanding speakers on leadership. Then we woke at 3 a.m. to watch the incredible funeral of Queen Elizabeth II.
Article content
The funeral was a display of organization and investment in the pride of the nation. When people protest that it was too grand and too expensive, we should think of the thousands of individuals who created the outfits, polished the carriages, made the meals, trained the horses and secured the streets. There is little doubt the Queen knew exactly what she was doing in planning for this magnificent farewell. It was not for her benefit but rather for the benefit of the entire nation.
Article content
The recurring theme has been leadership. In the case of Her Majesty, the steadfast, consistent and inspirational leadership she provided for 70 years gave us all a sense that there was actually logic and consistency at the top of the system. When prime ministers were shown meeting with her, it provided an image of stability that has stood the test of time. She was like a wonderful grandmother who was able to tell the world that things would work out, no matter how bad they might seem at that moment. 
Article content
When it comes to political leadership, I'll paraphrase what I heard last week: "The public will tell you what its initiatives really are. Governments that do not listen are doomed to fail."
There will always be dissenters who complain about any initiative, just as there will always be groups of people who have their own agendas. As I have noted before, we need to avoid the tyranny of the minority. It is the role of government to respect the minority but act on the needs of the majority.
Governments cannot react to every idea that might be trendy and it is up to all governments to promote their ideas and gain acceptance before they are implemented rather than plowing ahead with the idea that eventually we will come to like it.
Article content
The level of monetary intervention into the economy during the pandemic exceeded that of the 2008 financial crisis, and while this may have been justified, it is now up to all governments to act as stewards of the public purse and hold down spending in reasonable ways. At every level, municipal, provincial and federal, we see examples every day of spending that seems to be illogical and there still appears to be a cavalier attitude to using the public money to simply quiet down the noise from smaller and smaller groups of people.
In the past three years, we saw extraordinary intervention in trade, commerce and personal freedoms. In the face of a worldwide pandemic, the public accepted these as necessary, but now we see a reluctance to give those up. Canada's tourism industry, for example, has been hamstrung by the resistance of the federal government to move with the rest of the world in relaxing travel restrictions. Leadership requires that there must be logic to the regulations or else we will see a breakdown in society. How many times in the past few months have you heard someone say, "We did this because of COVID"? How many times did you think, "I don't believe that"?
Article content
The world is in a huge state of change. Not many years ago, the idea of trade between nations with different political or religious systems was considered totally acceptable. Europe relied on Russia for energy. Canada pressed China to open up airline travel and people traded and travelled with ease to nations that many of us had only read about in books or seen on television. A growing wealth gap is creating instability between nations as well as within nations themselves. There will be less and less tolerance for moral imperatives without due consideration of the impact these might have on the citizens. At a time when few want to go into politics, we have never needed excellent political leaders more.
George H. Brookman is chairman and company ambassador of WCD Ltd.