Playing in his hometown of Regina is always exciting for the Broncos' Brady Birnie. But Saturday's game will have an extra significance.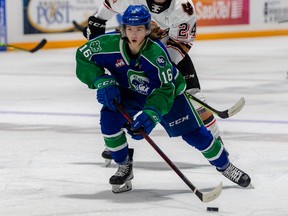 Article content
Brady Birnie and Sam Oremba once lit up the scoreboard as linemates with the bantam AA Regina Monarchs.
Article content
Early this week, they burned up their phones.
Article content
"I had just got home from the rink and he texted me, saying, 'I'm playing you Saturday,' " recalled Birnie, a 17-year-old WHL sophomore with the Swift Current Broncos. "I said, 'No, we don't play Seattle until January.'
"Then he called me and said, 'I just got traded.' Honestly, I was in shock for him."
Oremba reached out to Birnie on Monday, shortly after being dealt from the Seattle Thunderbirds to the Regina Pats — who, conveniently enough, are to oppose the Broncos on Saturday (7 p.m., Brandt Centre).
"It's going go be awesome to play against him," Birnie said. "I already had the game against Seattle circled. Now, to play him six times this year, it will be super-exciting."
Article content
There was excitement aplenty when Oremba and Birnie both enjoyed record-setting 2019-20 seasons with the Monarchs.
Oremba exploded for 133 points — including 75 goals — in 31 games to establish Saskatchewan Bantam AA Hockey League single-season standards in both offensive categories.
Logan Barlage had set the previous records for goals (60) and points (125) in 30 games with Humboldt in 2015-16.
"I remember the goal he scored to break the record," Birnie recalled. "It was in Melville. He took a slap shot from the top of the circle and it went in. It was such a hard shot that it came all the way out to the blue line. I went and grabbed the puck and I had to skate backwards to go get it."
Birnie also grabbed a record along the way during a 2019-20 season in which he finished second to Oremba in the league's scoring race, registering 128 points (including 56 goals) in 31 games. With 72 assists, Birnie surpassed Barlage's single-season assists record by seven.
Article content
WHL scouts took notice of both players, who were soon claimed in the first round of the 2020 prospects draft. Oremba went seventh overall to Seattle. Birnie was snapped up by Swift Current with the 21st pick.
The next stop for both talented skaters was the Saskatchewan Male AAA Hockey League and the Regina Pat Canadians. In seven games, Birnie had four goals and one assist. Oremba registered seven goals and six assists over the same span, early in the 2020-21 hockey season.
Then came the COVID-delayed WHL campaign. Birnie was scoreless in four games with Swift Current while playing at the Brandt Centre — the East Division's hub facility. Oremba had two goals and three assists over his first 15 games wth Seattle.
Oremba and Birnie both became full-time WHLers last season, but did not oppose one another due to scheduling alterations necessitated by COVID-19.
Article content
Interlocking play between Eastern Conference and Western Conference teams did not take place in 2021-22, when Oremba had four goals and 10 assists in 56 games with Seattle. Birnie, meanwhile, produced six goals and nine assists in 66 games with Swift Current.
Birnie notched his first major-junior goal Oct. 19 in a 5-4 overtime loss to the host Medicine Hat Tigers. He added an assist that night to post a multi-point game for the first time.
Also of note was his fourth WHL goal, which opened the scoring just 2:11 into the proceedings at the Brandt Centre, where the Broncos went on to defeat the Pats 5-4.
"It was special," Birnie said. "It's something I won't forget. It's probably the goal that I remember the most — and probably the one I'll remember the most for a while.
Article content
"It was a broken play and the puck went in the net. I went five-hole and I could hear some screams from the stands."
Plenty of emotion was also audible on Monday, after the Pats acquired Oremba for three draft picks — a second-rounder in 2023, a first-rounder in 2024 and a third-rounder in 2025.
Oremba's looming involvement in Saturday's game adds to the excitement for Birnie, who was already looking forward to playing in his hometown once again.
"It'll be super-exciting," Birnie said from Swift Current. "I remember coming there last year and there was a little bit of excitement, but I was super-nervous. This year, there's more excitement.
"The nerves are gone and I'm excited to play in Regina. My family and friends are going to be there."
Article content
Including one close friend who will be wearing a different uniform.
The sports world is ever-changing, as are the times. Supplement your steady diet of sports coverage by subscribing to the Regina Leader-Post's 306 Sports Fix newsletter. Each week, sports editor Rob Vanstone will provide additional commentary on the Roughriders, Pats and other teams/sports of interest, along with a peek behind the curtain. Click here to subscribe.
Sam Oremba's hockey journey comes full circle with Regina Pats

Regina duo makes history in WHL bantam draft