The important distinction here is whether a bylaw can or should single out a specific political perspective, even a controversial one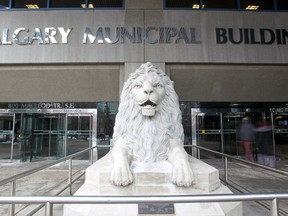 Article content
Were they not so obnoxiously overbearing, it might be possible to feel a tinge of sympathy for those in Calgary's anti-abortion movement.  
Article content
They clearly are convinced of the righteousness of their cause and have spent many years trying to convince the public of the same. Yet, despite it all, they have virtually nothing to show for it. In fact, their over-the-top tactics have arguably been even counterproductive. 
Article content
For some bizarre reason, however, they keep trying the same thing over and over. That this is likely to result in more of the same failure may or may not provide some solace to those on the other side of this debate, but it should at least shape the debate over whether these tactics need to be reined in.  
Frankly, it's not clear that they need to be.  
It's almost certain that Calgary city council this week will come down on the "rein in" side. A majority of councillors have signed onto a notice of motion calling for a new bylaw to further regulate graphic imagery on the flyers being mailed out by anti-abortion groups. Thursday's vote will likely be a mere formality.  
Article content
Much of this aggressive approach comes from the Calgary-based Canadian Centre for Bioethical Reform. It's not just flyers with graphic images of aborted fetuses, nor is Calgary the only city where those are mailed out. The centre has infamously — for years — driven its large cube vans around Calgary, and other cities, with similar graphics posted on the sides.  
They were also using such images in protests near schools until a separate bylaw from city council put a stop to that. On the surface, the logic here would seem similar: if council can stop school children from seeing such images on protest signs, why can't council similarly protect Calgary mailboxes? 
The major — and important — distinction here is whether any such bylaw can or should single out a specific political perspective, even a controversial one.  
Article content
The school protest bylaw, while obviously prompted by anti-abortion protesters, doesn't actually single out the abortion issue. The bylaw instead targets "advocacy messaging" and it carries a "$1,000 fine for any person found to be displaying or carrying a sign (…) within 150 metres of a boundary of school grounds." 
Council calls for crackdown on graphic anti-abortion pamphlets

Alberta groups expect rise in abortion inquiries from U.S. women following court ruling

Opinion: We know that abortion is crucial health care for women
The underlying principle, therefore, isn't about the anti-abortion movement, per se; rather, it's that schoolchildren are not appropriate targets for your political cause, whatever it may be.  
Article content
The underlying principle behind the proposed new bylaw regarding graphic imagery on flyers, conversely, seems very much targeted at the anti-abortion movement specifically. Regardless of one's views on abortion, this is problematic.  
On a much broader level, we seemed to have accepted the principle that graphic or unpleasant images are entirely acceptable when furthering a noble cause. Anti-smoking efforts are the most obvious example, where graphic images are so important that they are mandated by law. We see similar themes and approaches in campaigns against impaired driving and in other public health campaigns. 
That a majority of Canadians would reject the notion that the cause of these anti-abortion groups is in any way noble is beside the point. Indeed, the very notion of "noble" — let alone "graphic" or "unpleasant" — is highly subjective. It is incredibly hypocritical to embrace the power of graphic images on the one hand while simultaneously trying to ban them on the other.  
Article content
Yes, such images will be disturbing or even traumatizing to some. And yes, there are legitimate concerns about emboldening the anti-abortion movement, given what's happening south of the border. But these groups are not doing anything illegal, even if they are likely hurting their own cause.  
Furthermore, Calgary already has a bylaw preventing flyers from being delivered to homes with No Junk Mail signs posted (with exemptions for newspapers, election materials and community newsletters). There is no justification for going any further.   
"Afternoons with Rob Breakenridge" airs weekdays 12:30-3 p.m. on 770CHQR and 2-3 p.m. on 630CHED   [email protected] Twitter: @RobBreakenridge