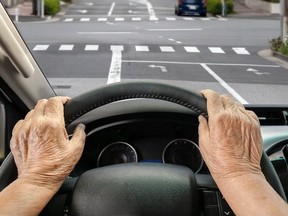 Article content
Giving up driving is an unwelcome rite of passage for older Canadians.
Article content
It's something every driver faces with age, as eyesight, hearing and reflexes begin to decline. Other physical and cognitive issues can put a driver at risk, and so can the medication taken to ameliorate some conditions.
Article content
Canada has an aging population, so this is a growing issue. 
In Ontario, government regulations say it all: once you're 80, a driver's licence must be renewed every two years.
With that comes educational videos and sessions, vision assessment and possibly a road test.
Knowing when to take away a senior's car keys is a tricky situation because every driver is different. There are signs to watch for, as slight impairments creep up — hesitation at lights or making turns, getting lost more often, delayed reactions on the road, unsafe lane changes.  
Article content
Getting a driver to hang up his keys is one step, but the real crunch comes afterward.
As a recent Washington Post story explained, giving up driving is "a complete life changer."
There are obvious psychological issues. Not being able to drive is a loss of independence and control.
But the practical issues are also huge.
Once driving stops, one's health can decline rapidly. There has to be a detailed plan in place, so seniors can still be out in the world.
The lucky ones have someone to help ensure that transportation continues. Otherwise, there are no trips to the grocery store, to the doctor or to a social engagement.
Recommended video
In rural parts of Canada, the lack of public transit and near neighbours means single seniors are sometimes forced into a care home option.
Article content
 One change — cessation of driving — and any semblance of independence vanishes.
City dwellers have transit, taxis and Ubers to get them where they're going — if they can afford it.
But by any measure, transportation programs for seniors are inadequate. 
Ontario Tech University Professor Vivian Stamatopoulos, an outspoken advocate during COVID for Long-Term Care (LTC) residents, said that losing the ability to drive involves a loss of identity and is correlated with poor health outcomes, "especially depression. People feel socially isolated."
As for physical health, "when there's no one to help seniors get to a doctor's appointment or checkup, they often just don't go. You don't go to medical appointments, you don't socialize."
Article content
It's not easy for seniors to get around.
"You have to get qualified for Wheel-Trans, for example, and many seniors don't know how to do that."
(There is a Wheel-Trans application online. It's 19 pages long.)
Sadly, everything got tougher during COVID.
Seniors living in the city would seem to have the advantage of being able to use transit, but, "if you have mobility or vision issues, getting on and off buses can be dangerous," said Stamatopoulos.
"And seniors aren't using transit if they can help it — nobody is masking.  If you have money, taxis are available, but the number of seniors living in poverty has increased markedly."
Transportation, added Stamatopoulos, is just one more problematic element in a bigger issue: 
Article content
"There's no option to age gracefully at home unless you're wealthy. Single women, widowers — they're the most vulnerable, and this is how we treat them."
There are simple things that can be done, she added, such as setting up Wheel-Trans ahead of time and walking the person through the process.
"And there are creative solutions. Canada Homeshare enlists students to live with seniors in their home for a reduced rent and for their help with some errands."
There are volunteer community transportation programs, such as the Pink Cars Initiative in Markham, founded by Shanta Sundarason. Her volunteer group drove 10,000 seniors to their COVID vaccinations.
But there have to be more government-sanctioned transportation aids. Without that, "people stay in and rapidly deteriorate," said Stamatopoulos.
"This is life or death for many seniors. If you need to take their car away, you must have a backup plan. It would be nice if Ontario Health actually helped with that."