It's a sign that no quarter will be given in Danielle Smith's effort to assert full political control over the health care system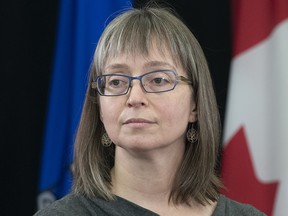 Article content
Premier Danielle Smith starts her health-care housecleaning with Dr. Deena Hinshaw, the chief medical officer of health. It's a sign that no quarter will be given in Smith's effort to assert full political control over the system.
Article content
The new premier was asked at her news conference: "Do you still see her (Hinshaw) as your primary health adviser?"
Article content
Smith was blunt. "No."
"I will get new advice on public health. I appreciate the work that Dr. Deena Hinshaw has done but I think we're in a new phase where we are now talking about treating coronavirus as endemic, as we do influenza. And so I will be developing a new team of public health advisers."
That's not a very convincing rationale. Hinshaw herself agrees with viewing COVID-19 as an endemic disease, rather than pandemic.
On Feb. 3 this year, long before ex-premier Jason Kenney's fall and Smith's rise, Hinshaw declared that COVID would soon be seen as endemic.
"We cannot continue to use restrictions in the long term," she said. "I believe that after the Omicron wave has subsided, the risk of our system becoming overwhelmed will be substantially reduced, and this will enable us to shift our response."
Article content
But Hinshaw didn't immediately erase all restrictions. She also cautioned that if COVID roared back, there might be new measures. That wasn't what Smith wanted to hear, then or now.
In April came the startling news that Hinshaw had been awarded a bonus of $228,000. Public condemnation was widespread and Smith was especially harsh.
" 'We're all in this together' didn't mean what we thought it did," she said on Twitter. "Albertans are rightly stunned & outraged they gave Dr. Hinshaw . . . a $228k COVID bonus."
Danielle Smith suggests 'firing' AHS board in UCP leadership forum

Hinshaw: We need to learn to live with COVID without extraordinary measures

Hinshaw says there was no interference from politicians on health orders

Michael Taube: The Karens come for Danielle Smith
The bonus was a foolish move that should have been spiked by the finance minister, Travis Toews. It's a stain on Hinshaw's otherwise exemplary record of public service.
Article content
She was widely praised, then often condemned. She did what other health officers across Canada were doing in a somewhat milder Alberta version. And she didn't even make the final decisions; every single policy call came from Kenney and his cabinet committee.
But only Hinshaw is being stripped of her duties. The new premier wants to reframe COVID as a typical virus that was used to stifle freedoms. Hinshaw is the easiest possible target — very public, but condemned to silence by virtue of her job.
Smith often says the main people in her sights are the officials who run AHS.
But Hinshaw isn't one of those. As CMOH with responsibilities under the Public Health Act, she is employed by Alberta Health at the level of assistant deputy minister.
Article content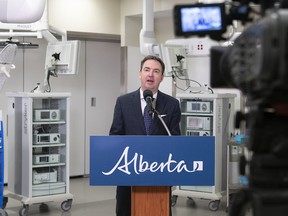 If the new premier wants to get rid of those responsible for Hinshaw's work, she should maybe start with Tyler Shandro, the former health minister, and Jason Copping, the current one. All Smith has done recently is praise them both.
Hinshaw's inevitable exit from the CMOH office doesn't necessarily mean she'll be fired. Given her status, she could easily be transferred to new duties. As of Wednesday, there was no change in her situation.
But this will be a sad end to the public career of a woman who carried a great burden for two years. She absorbed equal measures of pain and abuse, stood constantly in the harsh spotlight, only to find herself caught in the increasingly bitter feud between the government and AHS.
Next up will be AHS itself. Dr. Verna Yiu, the CEO through the pandemic, has already been terminated by Kenney.
Article content
Soon it may be farewell to the entire governing board; individuals who were also appointed by the UCP government.
Smith warns that senior AHS managers and executives will be out of their jobs. If that upheaval leads to more system breakdown, she'll have a lot of explaining to do.
Most of all, who will get the top jobs?
Is AHS going to be run by people who think the pandemic was halfway to a hoax?
Will the new CMOH believe that people should never be isolated, or schools closed, no matter what the public health crisis?
Albertans are going to find out.
Don Braid's columns appear regularly in the Herald.
Twitter: @DonBraid