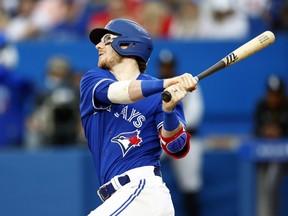 Article content
The Blue Jays don't intend to let any June swoon halt their rise in the American League East, starting the new month where their hot May ended.
Article content
A 7-3 win over the Chicago White Sox, before 23,312 at Rogers Centre, made it seven in a row, the most since running up eight the first week of September last year.  Now at 29-20, they continue to pressure the division-leading Yankees.
Manager Charlie Montoyo talked pre-game about the lesser lights in his batting lineup and bullpen who've powered the streak, which came after a concerning skid of 2-7. On Wednesday, that started with second baseman Santiago Espinal's George Springer impression, clouting a lead-off homer, the first of his career. Springer, who is top 10 in MLB history in that department, was scratched with what Montoyo termed a non-COVID illness.
Article content
"I could talk about Espy all day," Montoyo said post-game. "He just gives you good at-bats all the time and it doesn't matter where you put him in the lineup. That was big of him to give us a homer that Springer usually does."
Hyun Jin Ryu departed with a two-run lead after four innings, with more of the forearm tightness that hindered his last start. Montoyo said the medical staff had judged Ryu fit to go Wednesday, but that he wouldn't hesitate to pull him if the arm acted up.
Article content
He was in search of his fourth straight win after two losses and time on the disabled list. The 35-year-old lefty gave up a two-run shot to Jose Abreu, but also passed 1,000 career innings, becoming the second South Korean after Chan-ho Park to the milestone.
"It was kind of thing he had last time," Montoyo said. "We have to take a picture (x-ray or MRI) to see how he's doing. I won't speculate, I'm not a doctor, but I'll give him a compliment for giving us four innings, even though he was (pitching with a velocity) of only 86-87-88 (miles per hour). He found a way to give us four, because our bullpen is short (including closer Jordan Romano resting) or I don't know how we're going to cover that game." "We need Alek Manoah to go deep (Thursday), but Jordan should be fine tomorrow."
Ross Stripling got Toronto out of a minor jam in the sixth after back-to-back singles, striking out Jake Burger, while David Phelps put two men on to load the bases in the seventh before getting the dangerous Abreu to ground out.
After Espinal had duplicated A.J. Pollock's lead-off homer for the Sox, landing in almost the same place in the lower deck of left field, Pollock's failed effort on a sliding catch of Matt Chapman's sinking liner in the next inning had consequences for Chicago. Chapman was on third after a Raimel Tapia ground-rule double and a walk to Espinal, then trotted home when Bo Bichette worked a base on balls out of Sox starter Michael Kopech. That had Vladimir Guerrero, Jr. licking his chops with Kopech's pitch count quickly rising to 50-plus, but he settled down for the strike out.
Article content
Guerrero didn't get the ball out of the infield in his first three at bats, but then ran out a single that was knocked down at second base and survived video review, before socking a two-run homer to centre, his 10th this season, after Bichette's two-out walk.
Kopech was also a strike away from escaping the third inning with two Jays on base, but Danny Jansen slammed an 0-2 delivery to left, cashing Chapman and Teoscar Hernandez, who'd both walked.
Jansen's knock kept up the hot hitting of Jays' catchers that included a two-homer game from Alejandro Kirk on Tuesday. Their combined slugging percentage and OPS are tops in the majors and they now have 10 homers and 25 RBIs.
"Right now, we probably have one of the best two catcher (tandems) in baseball for sure," Montoyo sai. "They're both giving you good at-bats and they're really good behind the plate. The pitchers like throwing to them and Danny since last year, is one of the best catchers in baseball. He works on his craft."
That was it for Kopech who came in five innings shy of the required number to lead the league in ERA, while allowing three runs or less eight times this season and owned an 18-inning scoreless streak on the road.
Article content
Before this, the Jays had triumphed in 15 one-run games, including the past four through Tuesday, as many as last season combined.
"The total team effort, that everybody is doing something to win the game," Montoyo said earlier. "As manager, I love that. The pinch hitters, the guys who aren't playing, the pitching, that three different guys have closed games."
DIAMOND DUST
Montoyo indicated Springer's absence won't be a long one as the outfielder was at the park Tuesday night. "He'll be fine." … On his bobblehead night, Hernandez reached based four times … The skipper on whether Kirk's two-homer game Tuesday and whether Kirk might get down on himself when not putting up big numbers. "He's the same guy and that's what makes him special. Because it's not easy to be that (lesser known) guy when you're struggling" … Reliever Tim Mayza is nearing the end of a 15-day stint on the DL with left forearm inflammation. He will throw in the bullpen Friday and be re-evaluated.