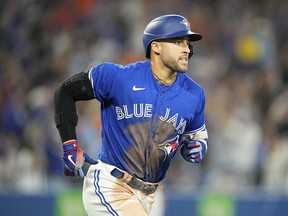 Article content
BALTIMORE – George Springer is a huge hockey fan. He loves the speed of the game, the emotion and the occasional fits of violence that are central to the sport.
Article content
In other words, the Blue Jays centre fielder appreciates most of the attributes that don't cross into his own workplace, an environment where his job is to be one of the elite, clutch performers in Major League Baseball.
Article content
"Obviously there are some in other sports who would disagree, but I feel you can play those other sports on emotion," Springer said in a wide-ranging interview with the Toronto Sun as the Blue Jays wrapped up the regular season at Camden Yards.
Article content
"You can get angry and just go out and decide you are going to do this or do that. In baseball, you can't. In my opinion, the more you try to do, the worse off you are going to be."
With that window into Springer's mindset, you start to get an idea of how his approach has helped him become one of the best leadoff hitters in the game. He proved it throughout his run to the World Series MVP crown with the 2017 Houston Astros. And he's shown similar prowess at various points throughout his two seasons with the Blue Jays.
Article content
And now that the moment has arrived for the club to truly realize the benefits of the franchise-record $150 million US they paid to sign him for six seasons, there is a feeling that the top of the order, the heart of the outfield and the clubhouse are in good hands.
The potential best part of all of it from Springer's point of view? He's almost completely immune to pressure.
"Slow things down. Don't get too emotional and stay within the game and within the moment," Springer said when detailing his approach. "That's what I tell people and that's the way I've always approached it. The playoffs are the same. I'm looking forward to seeing how guys navigate things. I really feel we are ready."
To watch Springer over the course of a 162-game season for the first time — something that wasn't possible for the media in 2021 due to the COVID-19 restrictions — was to see a player who is cool and comfortable in any situation.
Article content
And listening to him explain his philosophy on staying in the moment also shows how his leadership qualities are also an influence.
"I think it all goes back to the beginning of the year when everybody thought we weren't doing what we were supposed to do," Springer said. "I thought we were right where we needed to be.
"We were learning. We were playing these one-run games that are tight-knit games against good teams. Houston. Boston. The Yankees. All those times where we won these one-run games in tight, tight games early in the year, you're now starting to see the byproduct of that.
"You're seeing guys not starting to panic. You're seeing the at-bats get better as the games go on … late inning, crunch time (at-bats). For me, that's a product of learning as you go. And now here we are. Over the last six weeks, we've tapped back into that, remember what we did against this team or that team. We know the situation."
Article content
Of course, the leadership and experience he brings are just part of the Springer experience. His abilities as a leadoff hitter — both in terms of power and getting on base – are in many ways the driveshaft of the Jays offence.
Perhaps no one knows that better than Toronto starter Ross Stripling, who saw the playoff savvy up close and personal as part of the Dodgers team that lost to Springer's Astros in 2017.
"He just was on everything," Stripling said. "We were like: 'We just cannot get this guy.' He was really dynamic, really athletic but also he would show off his power.
"I remember him being an impossible out all series. You were worried about guys like (Jose) Altuve and (Alex) Bregman, but it was like everything starts with George."
Article content
That production is invaluable, but so too is the temperament.
"He's a perfect leader for what we're about to get into," Stripling said. "Watching him play free and easy and with that big smile on his face – a lot of guys will see that George is the same as he's always been and they can do the same. It's good to have a leader with experience like that for the young group we have."
Springer is comfortable in leading his team through the mayhem that awaits and has already begun counselling some of his younger teammates.
"I've had some talks about it here and there and the one thing I always say is to have fun," Springer said. "You don't know if you're ever going to get back here. I've been around guys who have never even been in a playoff race in their whole careers.
"But I'll have some more conversations as we get closer to it. It's all good. I think everybody will be fine."