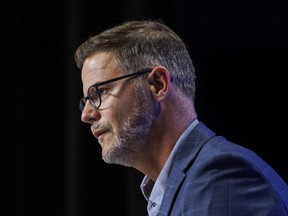 Article content
Two plays made — or not made — by Vladimir Guerrero Jr. spelled the end for Charlie Montoyo as manager of the Blue Jays.
Article content
Not that it wasn't happening anyway.
Montoyo was going to be fired eventually, the way this Blue Jays season was going. It was only a matter of when.
He was the perfect caretaker when that was all the Jays needed him to be.
When they required him to be more than that, when they needed his team to be more, to contend, to be great, to be among the best in baseball, that's where it all came apart this season.
Article content
Montoyo wasn't getting the Jays to the promised land, and it resulted in his not-surprising dismissal Wednesday morning.
Symbolically, the end came on a Tuesday night at Rogers Centre after a dreadful West Coast road trip, where the separation between underperforming superstar Guerrero and manager on the hot seat became apparent, if not disrespectful.
Article content
Guerrero missed the bag with his foot while playing first base and advised the bench not to challenge the call. Montoyo challenged and the body language from Guerrero was the kind of body language we've seen far too often from the Jays' best player this season. Right after the missed play at first, Guerrero made another attempt at a defensive play that didn't work out.
You don't have to speak his language to understand Guerrero's level of frustration. And Blue Jays management, watching from afar, ready after being swept in Seattle to pull the plug on Montoyo, did so Wednesday before the game against Philadelphia.
"I truly wanted to make this work with Charlie," said Ross Atkins, the general manager who took the blame for Montoyo's dismissal.
Article content
Now he's on the hot seat — as if Rogers needs any more problems right now. These are Atkins' players (and by extension Mark Shapiro's players). This is their team. Montoyo wasn't just Atkins' hand-picked manager — the first one hired by this brain trust — he called him a soulmate of sorts.
"It was like we grew up together," said Atkins. And then, at a point, you have to find new friends.
If you want to blame someone for the current state of the Jays, battling for sixth in the American League, only in a playoff position because a sixth playoff team was added this season, blame Atkins. Those are his words. That's his finger-pointing at himself. This is supposed to be a contender — a pre-season favourite, of sorts — that hasn't looked like a serious contender. The team has talent and players and a huge payroll, but they lack focus, make too many mistakes, aren't fundamentally sound often enough and frustrate too easily.
Article content
At times, they seem immature. This is a team that loves to be silly, loves to have fun and there's a place for that, so long as you're winning while doing it. When you're not winning or you're not playing to expectations, then you can question just about everything about the group, the players and certainly the management team.
"This is a collective setback," said Atkins. But only Montoyo lost his job. That's the way it works in sports. When the bullpen can't get people out and the $12-million starting pitcher can't find his way and the $20-million starting pitcher had a bad elbow, the general manager doesn't get sent home in July.
The manager does.
Montoyo is a fine man who worked years in the minor leagues to earn his way to the big leagues. First as a player, then as a coach and most recently as a manager. It was a long and challenging road at almost every turn. He was perfectly suited, it seemed, to be in charge in the years the Jays were transitioning from contender to a team that is supposed to compete for a championship.
Article content
He had the right temperament to guide the Jays through seasons without home games, through Buffalo and Dunedin, Fla.; others may not have been able to handle that. He was made for that part of the job. He was calm enough and compassionate enough to succeed in doing that. The contending part, though, that we may never know.
Cito Gaston won two World Series and never got another big-league managing job outside of Toronto.
John Gibbons managed 1,582 games in Toronto and never got another managing job.
Montoyo won 236 games, lost 236 games in his time with the Blue Jays, numbers that may best explain him as a major-league manager.
Whether he gets another opportunity to manage in the bigs is anyone's guess.
In the end, Atkins couldn't succinctly explain why the change was made — and why now — but Atkins has difficulty being succinct about just about anything for public consumption.
"It's tricky to talk about," he said. "Good teams win, it's not necessarily good pitching, good bullpens. You look at the history, good teams win championships … Environment matters. Level of positivity matters. Execution matters. Deployment matters. It's not one thing."
It's never one thing, the GM said.
Atkins provided Montoyo with a bullpen that couldn't succeed and with waiver pickups from second-division teams across baseball and really without hope.
He set him up for failure.
He takes the blame for that, except he keeps his job for now.