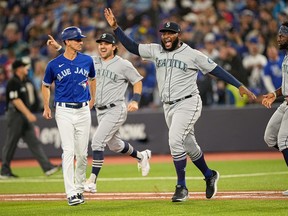 Article content
They were looking for the big punch, the type of blow that would inject themselves back into the American League wild-card series.
Article content
Instead, in a dramatic afternoon and evening that won't soon be forgotten, it was the Blue Jays who suffered the vicious, knockout blow.
Article content
A 10-9 loss to the Mariners before a crestfallen sellout crowd of 47,156 at the Rogers Centre on Saturday afternoon was a disastrous result that will go down as one of the most epic collapses by a Toronto pro sports team.
Article content
And what was once an 8-1 lead that seemed sure to force a Game 3 on Sunday turned into the Jays tumbling disappointedly into the off-season. Dropping games on back-to-back nights to be swept away in the best-of-three series will be difficult to swallow, especially given how it unfolded and how colossal the collapse was.
There was that 8-1 lead — mostly piled up off former Jay Robbie Ray — that had the place channeling memories of playoff baseball here in 2015 and 2016.  It had every sound, every feel, every vibration of the rousing return this new group of Jays had been talking about for months.
Article content
There were a pair of home runs by Teoscar Hernandez, including a towering two-run shot in the second that nearly brought the house down. Playoff baseball was back, baby, and Sunday plans were sounding good.
There was four no-hit innings from starter Kevin Gausman, who seemed determined to will his team back into the short series and earning an ALDS ticket against the Astros. In shutting down the M's offence, the veteran right-hander allowed his team's bats to do their thing.
It was 2-0 after two and then with single runs in the third and fourth and a four-pack in the fifth, that 8-1 lead was tasting pretty good. Until it wasn't. And, yes, the collapse was unsightly, a car crash unfolding in real time in front of a crowd hungry for a deep playoff run.
Article content
Bullpen arms that had been so reliable down the stretch of a 92-win season wobbled. Three of them in fact — from Tim Mayza, who came on in relief of Gausman in the sixth and couldn't validate that sensational start, to Anthony Bass, who allowed three earned runs. And, finally, to normally clutch closer Jordan Romano, who was charged with the excruciating task of shutting down the M's in the eighth and ninth innings.
Working with the bases loaded, Romano struck a pair when both bloop and bleep happened in one swing of J.P. Crawford's bat. With the bases loaded and his team down by three, Crawford got his bat on ball on a harmless-looking fly to centre field that was anything but.
Charging shortstop Bo Bichette, almost crashed head into a charging George Springer and as both went down hard on the Rogers Centre carpet, the bases emptied to tie the game.
Article content
To add injury to the stunning Seattle comeback, the tying runs brought a pair of Jays stars to the carpet.
Suddenly, a building that had been so raucous for the previous 3.5 hours was deathly silent. Bichette was able to get up and remain in the game, but Springer was wobbly and had to be carted off the field, while urging fans to keep into the game.
The momentum was all surging Seattle's way by that point, however, and when the Jays couldn't get a run across in the eighth, it was their game to win.
Doubles from Game 1 hero Cal Raleigh and Adam Frazier got the winning run across, stunning all in the place — from the dugout, to the field to the crushed fans in the stand who expected so much more.
Suddenly, a 162-game season that had its share of promise was no more. A slugfest, it was, with the visiting Mariners the last man standing.