'Being a First Nations person that lives on reserve should not mean that you don't have access to health services that other people in Alberta receive'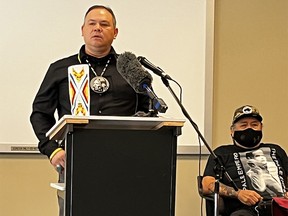 Article content
The Blackfoot Confederacy, comprising the Siksika Nation, Piikani Nation and Kainai Nation, announced Wednesday it has issued a formal complaint about insufficient access to services for adult Nation members with developmental disabilities.
Article content
Submitted to the Canadian Human Rights Commission at the end of August, the complaint alleges that Indigenous Services Canada (ISC) has "failed to fund and support the services necessary to enable whole participation in society for First Nations adults with disabilities," said Tony Delaney, member of Kainai chief and council.
Article content
Delaney was joined by Siksika Chief Ouray Crowfoot and Piikani member of chief and council Theodore Terry Provost in arguing that historic and systemic discrimination is at the root of the problem.
"This is an issue that is deep and it's another form of colonialism," Provost said.
The group said the legal action against the federal government comes after years of trying through conventional and unconventional channels to get support.
Article content
The Confederacy's legal representative, Carly Fox of Fraser Fox law, said the matter is not dissimilar to the choice First Nations families have had to make for decades — leave the reserve to access essential supports and services for their disabilities, or stay at home with their families and do without.
"Being a First Nations person that lives on reserve should not mean that you don't have access to health services that other people in Alberta receive," Fox said. "The Blackfoot Nations are seeking equitable and stable funding so they can create comprehensive and culturally appropriate programs, supports and services to meet the needs of their citizens."
Truth and reconciliation: Alberta First Nations taking next steps on authority over child welfare

'We've lost far too much': Orange Shirt Day remembers the children

Siksika Nation, law firm investigating 'overwhelming' reports of racism in Alberta health care

Internal review into Indigenous Services Canada should be public, advocate says
The majority of funding currently available to First Nations comes from the Persons with Developmental Disabilities (PDD) program. Nations must apply each year to get funding for on-reserve programs, which Delaney said are often not comparable to services offered throughout the rest of the province.
Article content
"There's often competition for one pool of funds for each program, such that the amount received by each First Nation is insufficient to meet the needs of its members," Delaney said, adding these services are directly provided by ISC. "This leaves First Nations adults with disabilities without the services they require to live full and fulfilled lives."
Provost said when he was working as a social worker, he remembers a young man who had to move to Lethbridge to receive care for his disability.
"He was cut off from his family; from his brother, his sister, his mother, his dad, his kinship, his whole family system . . . He's just one of the many," he said. "We didn't ask for this; we just want services for our own kids who are adults now."
Article content
Tracy McHugh, a member of Siksika chief and council, said her sister, now in her 40s, still doesn't have access to programs that would give her independence and allow her to continue living in her own community.
"In June we sat directly across from the prime minister and we said 'this is an issue,' and we were told 'we know and we'll have to take care of that.' We're here today to remind you. You said you were going to take care of it and now we're going to help you take care of it.
"While all of our people are always being discriminated against, there are those that don't have as strong of a voice as we do sometimes," she said.
The Confederacy will now wait for the commission to review the claim. Fox said the hope is it will find there's "an obvious, clear discrimination issue here and that we can enter into negotiations with the federal government as soon as possible."