"When I pulled him out of the pool his skin was purple and his lips were blue. I thought he was dead." — Siera Edstrand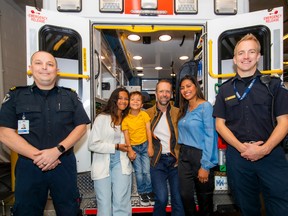 Article content
Siera Edstrand was swimming in her backyard pool when one her friends noticed something was terribly wrong, her four-year-old brother had fallen in.
Article content
"I saw him, face down at the bottom for we didn't know how long," recalled the 15-year-old from North Vancouver.
Article content
"When I pulled him out of the pool his skin was purple and his lips were blue. I thought he was dead."
Edstrand yelled for her mother to call 911 and immediately started performing CPR on Gunnar. Yesica Edstrand, Siera and Gunnar's mom, took over the CPR after she placed the call for help. Gunnar eventually vomited a large amount of fluid and began breathing again
"She's an absolute hero," said Laurence Darlington, the paramedic who responded to the family's 911 call for help on June 5, 2021.
"When we got the call, Gunnar wasn't breathing, his heart wasn't beating. Siera had the bravery to get him out of the pool and start doing CPR on him without any instruction. Doing that is what saved his life."
Article content
The teenager and her mom were honoured for their quick thinking and bravery on Saturday as Darlington presented them with a B.C. Emergency Health Services' Vital Link medal in the ambulance bay of Lions Gate Hospital.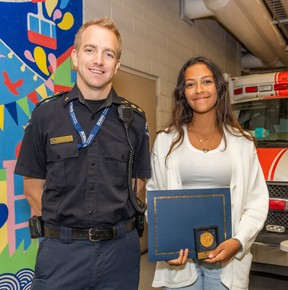 The Vital Link medal is presented to citizens whose actions have made a difference during medical emergencies.
"When we arrived, we expected to be faced with a four-year-old who was still in cardiac arrest," Darlington said.
Instead, he met Gunnar, who was awake and breathing.
"It has honestly been a highlight of my career because events like these are so rare."
Edstrand, who was just 13 when the incident happened, learned resuscitation procedures at a lifeguarding camp. She is hoping her family's story will encourage others in their community to acquire those same skills.
Article content
"I never thought in a million years that I would have to use it on my own brother," Edstrand said.
In the aftermath of her brother's near-drowning, Edstrand is considering a future career in medicine.
"I'm really grateful I had that instinct in me to act. It was all so sudden but what I know is that I needed my brother to stay alive."
Learning CPR is of critical importance, Darlington said. "When a patient is in cardiac arrest, every second counts."
According to B.C. EHS, more than 45,000 Canadians suffer out-of-hospital sudden cardiac arrests each year, with fewer than eight per cent surviving their hospital discharge.
Performing CPR, including the use of an automated defibrillator (AED), can increase a patient's chances of surviving by up to 75 per cent.
"They are basic skills that almost anyone can learn," Darlington said.
Yesica Edstrand thanked the 32-year-old paramedic Saturday in a fit of emotion.
"I am forever grateful for how fast you responded. It felt like you were at our home within minutes after we called," she said.