Helen Chesnut explains how to get lots of small blooms — or the largest possible dahlias for display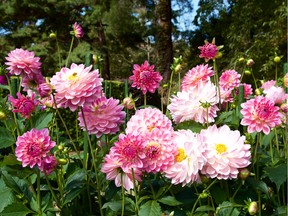 Reviews and recommendations are unbiased and products are independently selected. Postmedia may earn an affiliate commission from purchases made through links on this page.
Article content
Q. Dahlias that I planted in the spring have grown very well and are still flowering. For next year, I am wondering whether it is advisable to prune them back early in the season, hopefully to induce the formation of stockier, bushier plants rather than tall, less leafy ones.
Article content
A. To encourage side growth and a bushy plant, pinch or cut out the centre growing tip when a plant is between 30 cm and 40 cm tall.
Article content
Dahlia growers who want the largest possible dahlia blooms for display do the opposite. They let the centre stem develop and remove flower buds on side growth. Plants pruned back for bushiness will yield more but smaller flowers.
Q. In our family eggs are a favourite food. We purchase fresh, high quality eggs from a local farm. We are also keen gardeners. Can the egg shells be used in the garden? Can they be composted?
A. Egg shells are a good source of calcium and other nutrients that plants need. I have a longstanding habit of putting the shells in a container near my stove top, and letting each layer of shells dry completely before crushing them lightly (not into a powder), making room for more shells.
Article content
When the container, usually a large size yoghurt tub, is full of crushed shells, I put it somewhere warm to dry further. Then I place a lid on the container and store it in a dry, cool place.
The crushed, dried shells can be added to a compost heap, in modest amounts at a time, but I prefer to use them directly in the garden, to create a sharp-edged deterrent to slugs around lettuce transplants. As the season progresses, and the lettuces are harvested, the shells meld into the soil in a sort of on-site composting.
Making sure that egg shells are thoroughly dry before garden use makes them easy and pleasant to handle. And they are less likely to attract animals.
Flowers near vegetable plantings create an uplifting perk

Removing, replacing cedar hedge will make gardening easier