Minnesota United had a target on them — literally — as all the Vancouver Whitecaps had to do was beat them to make the playoffs. But it wasn't to be, as the Loons won 2-0, sending the Caps to an early off-season for the fourth time in the last five years.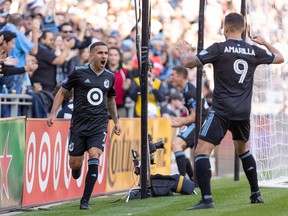 Article content
"It's the hope that kills you."
Article content
They watched their team pull — nay, claw — itself out of its own deep, self-dug grave with three straight excellent performances, then wondered as all the improbable and unlikely results elsewhere clicked into place to put them in the drivers' seat heading into Decision Day.
Their fate was in their hands.
All they had to do is beat Minnesota United FC, a team that had been swirling around the toilet bowl the past six weeks with an unfortunately-timed six-game winless streak.
All they had to do was score, and it would have heaped even more pressure on a team that had plummeted from the heights of third place in the West.
They kept hope alive, even when Franco Fragapane put the home side up 1-0 just 17 minutes into, taking advantage of an uncharacteristic turnover from Andres Cubas, the team's most reliable midfielder. And even at halftime, still trailing by one, there was hope.
Article content
"Just to keep going, no matter what minute of the game it was, to keep going, never to stop fighting and to fight to the final whistle," midfielder Russell Teibert said. "That was (Sartini's halftime) message and we did just that. … I think each individual in that locker room made an inner promise to play to the final whistle, and that makes me super proud to be one of the leaders of this group. If you do that, you can be proud of putting on this jersey, wearing this badge and when the season ends, you know you left it all out there."
The hope was alive and kicking as the second half started with a flurry of Whitecaps corners as they pressed for the equalizer, before Minnesota's Jonathan González, a second-half sub, pounced on a cross that had richocheted off a Vancouver defender right to his feet, and he swept it home past Thomas Hasal.
Article content
And that was it.
Hope died.
It was an insurmountable lead. It was 2-0 with 13 minutes left in regulation, and the Whitecaps needed three goals — something they'd only done three times all year.
Sure, there was life — Ryan Gauld's lashing free kick from 25 yards out that forced a highlight-reel save from Minnesota's Dayne St. Clair — but the hope was gone. And a few minutes later, it was official. The Loons had won, and secured sixth-place in the Western Conference.
Article content
The record will show the Whitecaps finished the season in ninth place, and out of the playoffs for the fourth time in the last five years.
"I just spoke to the guys; there's of course a lot of disappointment, there's a lot of sadness, there's a lot of heaviness in the locker room but I told them that if we didn't make it, it's not (because of) today," said head coach Vanni Sartini, lamenting the team's 1-6-1 start to the season.
"I don't want to say the (goal) was the final shot, because we kept into the game and we had even other chances after that … but of course, it puts our spirit very down because we realized that it was almost impossible (to come back."
This was the year the Whitecaps were supposed to take that next great step, the move up the ladder. They made the playoffs last year, and then improved that squad with the addition of more quality players like Cubas, Alessandro Schöpf and Julian Gressel. But instead of moving forward, they regressed — or perhaps tread water, if one is an optimist. 
Article content
They won the Canadian Championship for just the second time in the club's history, and earned a spot in the CONCACAF Champions League next year. But they did not improve as a MLS club, as was expected.
It was a year of black and white results, resulting in season of grey.
"It's a season where we get some lights. The biggest light of course is winning the Cup and going to the Canadian championship. Not many teams at the end of this season will say 'we won a trophy.' Only the guys who win the (Supporters') Shield, the MLS Cup, the Open Cup and us," said Sartini. "But at the same time, it's disappointing. I don't hide my disappointment of not reaching the playoff. … The way that we started the season that put us in a position to chase, chase, chase … and unfortunately today it didn't go our way.
"So I would say it can be like a sufficient season, like a 'C' if you want to do like a school mark, but nothing more."
Article content
ROAD KILLED
The Whitecaps had 10 wins at B.C. Place this year, a total only exceeded by the regular-season Shield winning LAFC, and the Eastern Conference topping Philadelphia Union. That total would have been even higher, but for lamentable mid-season losses to the Chicago Fire (12th place in the East) and Minnesota, whom they led 1-0 in the 71st minute before collapsing like a kids blanket fort in a 3-1 defeat.
But it was away from home where the Caps faltered the most, and it started with the season-opening 4-0 loss to the Columbus Crew. They lost six straight road games before beating Sporting KC. They were blanked 4-0 by Seattle the next away match, rebounded with a win over Dallas FC in Frisco, then went winless down the stretch outside of B.C. Place.
Article content
Their 2-11-4 road record was better than only two other MLS teams.
"Home field advantage is a real thing. And we know that because towards the later stage of the season, we were very tough to beat at home," said Teibert. "Your fans drive you on and there's something special about playing in your home stadium.
"You have to take care of business at home. Playoff teams in the MLS they tend to get results on the road and that's something that we'll need to address in the offseason and make sure we find a way going into next season."
xG and the X-Factor
The Whitecaps had been efficient and ruthless in their three-game win streak. Possession was higher for the opponents, but the Caps were clearly the better team in producing scoring chances, boasting a 1.67 xG mark that would be top five in MLS season averages.
Article content
But Sunday against Minnesota, it was just 0.5, not even half of their total regular-season average of 1.17.
They put more shots on target (7-5) than the Loons, but most were from distance, or half-chances close in. And Canadian international Dayne St. Clair still very, very tall in the Minny goal, turning aside two quality first-half shots and Gauld's free kick late.
Gauld's best chance in the first half was a loose ball in the box that he lashed across the face of goal and out, but it came after striker Brian White was taken out by Minnesota's Will Trapp. No call was made, and no video review was called for — Sartini said post-game he was told it was checked by VAR — but the TV replays showed, clearly and obviously, a late tackle that took White to the ground.
Article content
"We struggled with what we're normally good at and getting behind them and making threatening runs. We still created a the odd half-chance, but were never quite got full control of the game. We'll have a couple of periods here that we looked look like we could do something but apart from that, it's frustrating coming off a must win game knowing that we didn't quite create enough.
"And fair play to Minnesota, I think they defended us well."
Article content
PLAYING TIGHT
When the Whitecaps needed wins in late August and early September to secure their then-seventh place spot in the standings, they crumbled. Three straight losses by a combined 8-1, including the disastrous 3-0 pounding by Nashville at home.
It dropped them well below the playoff line — their chances at that point, remember, were just 1 per cent of making the post-season — but unfettered by expectations, they reeled off three straight magnificent performances.
On Sunday, their backs against the wall, gone was the free-flowing and fun Caps. The hard work, grit and effort was there, but the results were not.
"I don't know. I don't know. Maybe. It's hard to say.
I think that the guys played well, so that's the thing. I didn't see a team that was scared or with fear overwhelmed by the pressure. I think that both teams were a little bit OK and unfortunately we made the mistake … and we conceded the goal. That affected the entire game because then we were chasing, chasing, chasing, chasing, because we needed two goals.
"So I don't think it was more the pressure or whatever, but I think it was just the situation (after) we concede that goal."
HEADLINE CREDIT GOES TO …
Article content
Twitter.com/TheRealJJAdams
Check out our sports section for the latest news and analysis. Care for a wager? Head to our sports betting section for news and odds.