'The red paint has been an impetus for us to really commit to the journey of truth, healing and reconciliation, and we are committed to that'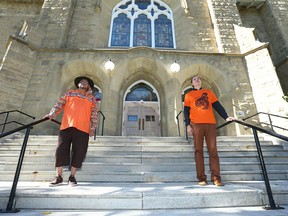 Article content
After more than a year, the front doors of Calgary's Grace Presbyterian Church won't be covered by splashes of red paint.
Article content
But church leaders say the decision to repaint the doors, defaced last year in a protest following the discovery of hundreds of unmarked graves at residential schools across Canada, doesn't spell the end of its actions toward truth and reconciliation.
Article content
"The red paint has been an impetus for us to really commit to the journey of truth, healing and reconciliation, and we are committed to that," Grace Presbyterian Church associate minister Rev. Jake Van Pernis told Postmedia on Sunday.
"(We're) creating relationships that allow us to continue to listen and learn, and help truth get out and help reconciliation to happen in ways that are meaningful for all who are involved."
Congregants of the Beltline church gathered Sunday afternoon following their regular morning worship for a ceremony to mark repainting the doors to their original cream colour.
Article content
The event included a prayer and a smudge from Indigenous minister Rev. Tony Snow with the Chinook Winds Region of the United Church of Canada. Some attendees wore orange shirts, a symbol of the National Day for Truth and Reconciliation on Sept. 30.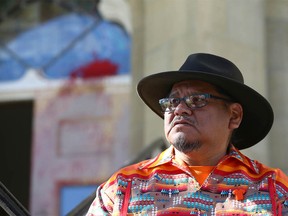 Grace Presbyterian Church was one of at least 10 churches in Calgary splattered with paint on Canada Day 2021.
The vandalism was believed to be a demonstration related to the legacy of Canada's residential school system, which Indigenous children were forced to attend after being forced away from their families. At the time, upwards of 1,000 unmarked graves had been confirmed at the sites of former residential schools, a count that has since climbed.
The church decided to leave the paint on the doors, hoping to foster conversation about residential schools in Canada.
Article content
Calgary police investigate after at least 11 Catholic churches vandalized with orange and red paint

'Let's not just cover this up': Calgary church hopes for dialogue as CPS investigates vandalism

Charges laid in summertime church vandalism incidents
Around 2 a.m. on Aug. 29, two unknown people partially painted over the red paint on the door with tan paint, Van Pernis said. That prompted the decision to fully repaint the door.
"The decision on what to do with the doors had been somewhat contentious in both Grace's congregation and within the community," he said.
"In the spring, we hope to have a commemorative marker that shares about the journey we've been on and continue to be on, and we're going to continue to do things to help people listen and learn, and be in relationships with one another and with Indigenous people."
More than 130 government-funded, church-run residential schools operated in Canada between 1831 and 1996.
The Presbyterian Church in Canada operated several of those schools until 1969. In 1994, the church issued an apology for its role in the residential school system.
The Indian Residential Schools Crisis Line is available 24 hours a day for anyone experiencing pain or distress as a result of a residential school experience. Support is available at 1-866-925-4419.
— With files from Madeline Smith
Twitter: @jasonfherring