The continued reports of bear sightings have prompted closures around the Discovery Ridge and Griffith Woods Park area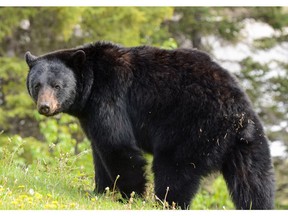 Article content
Alberta Fish and Wildlife officials are receiving more reports of bears in the area of Discovery Ridge and Griffith Woods Park in southwest Calgary.
The provincial agency said "numerous" black bears have repeatedly been seen seeking out food from unsecured compost and garbage bins in the area, prompting further closures around the area as officers continue attempts to capture the bears. The closures will remain in effect until at least Friday. 
Article content
"The fall is an important time of year for bears as they are trying to store up enough fat to make it through the winter," said Fish and Wildlife in a Facebook post Wednesday. "Bears can often find conflict with humans as they turn to unsecured food sources such as garbage and compost bins, ornamental fruit-bearing trees, bird feeders and pet food."
Article content
Fish and Wildlife officers urged residents to secure potential bear attractants, specifically garbage bins, as bears who previously found food in specific areas will often return to those spots.
A 20-year resident of the Discovery Ridge area who lives on a street abutting Griffith Woods park said while the community has the occasional bear sighting every fall and their presence is often apparent from scat on the trails, it's never been this severe.
"A lot worse this year," said Darrin Hopkins. "This is the first time where we've seen them continuously here (in residential areas). Not just like a one-off but basically every single night, they're down here."
Hopkins said he moved his garbage bins into his garage after they were knocked down by a scavenging bear about three weeks ago. Going for a run that morning, he said "everybody's garbage can was knocked over down the street."
Article content
As the bear sightings in the community increased, Hopkins set up a camera facing the driveway a couple of nights ago.
"And sure enough, there he was. He showed up at 2 a.m. this morning and walked right across my driveway," he said. "This is not a cub, it's a big bear. It's a little unsettling."
Hopkins said he's been in touch with a Fish and Wildlife officer to share the footage and get an update on the situation.
"He mentioned that they did kind of a survey and still like 80 per cent of the houses have their garbage bins outside at the side of the house," said Hopkins. "Bears are creatures of opportunity so if they can walk down a paved street and have a buffet instead of going back in the forest, that's what they're going to do."
Scavenging bear family leaves Calgary park closed

Southwest Calgary park closed due to bear activity
The agency already relocated two black bears from the Discovery Ridge area last month. Officers are trying to avoid having to do that this time around.
"While relocating bears is sometimes the best action to take to protect the bears and the public, doing so during the time of year when bears are preparing to hibernate can severely impact a bear's ability to survive the winter," they said. 
Twitter: @michaelrdrguez