Mayor Bourelle says council could decide to shelve the sound wall project altogether or hold a referendum.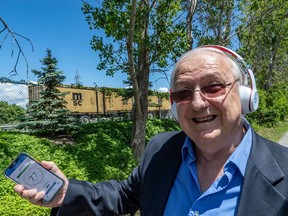 Article content
Beaconsfield residents will soon learn if the city plans to proceed with the construction of a sound wall along the south side of Highway 20.
Article content
Mayor Georges Bourelle said council will hold a special caucus meeting July 29 to determine which direction the city will take on the sound wall issue that has lasted for decades.
The city is awaiting results of a Léger survey of  local residents before making a decision on whether to pursue the construction of the sound wall that would stretch five-kilometres from Devon Rd. in the west to the city's eastern border at Jasper Rd.
The Quebec Ministry of Transport (MTQ) estimates a sound barrier could cost up to $60 million. The MTQ would pay 75 per cent of the cost, with the city funding 25 per cent.
The Léger 360 survey collected 600 replies by phone, including input from 100 residents in each of the city's six districts. The survey also sought replies from residents living on both the north and south sides of Highway 20, which cuts through the city.
Article content
"We've also done a specific survey of the people that are adjacent to the highway,  a subset of the survey. I think they got 64 of the people that are adjacent (to the highway) to answer the survey, so that will be a very interesting result."
Bourelle said city council will weigh all the information that has been gathered during the consultative process.
"The purpose of the caucus is to review everything that we've so far accumulated in terms of information, various sources and emails we've received. We have a legal opinion. We are putting it together to review in caucus on July 29. That will be for the purpose of coming up with a decision to what we do at the August council meeting.
"Do we got to a referendum or do we not go to a referendum?  Do we feel we have sufficient information to make a decision without a referendum? That will be discussed  July 29 at the special caucus."
Article content
Bourelle said the sound wall issue has split citizens and council.
"I think we've got councillors on both sides. Some councillors will want a referendum. Some don't think we'll need a referendum to make a decision."
Bourelle said council could decide to shelve the sound wall project altogether, or hold a local referendum.
"At the end of the day we have to make a decision. We can't drag it on forever," he said
"My position, personally, is that we should take it to a referendum.  Any other way will always be questioned as to whether we've made a decision that is supported or not supported by the majority. So the only way to end that point is to hold a referendum, And you've  given everybody the opportunity to express themselves.
Article content
"Now, that's my position. But keep in mind…my position is one thing, but we have council and six councillors. So I only have one vote. If the majority of councillors don't want it, there's nothing I can do. I can't force a referendum."
Michel Rheault, head of the Beaconsfield Pollution Corridor Initiative, says noise pollution from Highway 20 poses a health threat to citizens living nearby. He says the wall should be seen as a public health issue.
Rheault, whose home is located on a noisy stretch of Beaurepaire Drive near Highway 20, says the city should dip into its welcome tax coffers to help fund construction for the wall, which could cost the city as much as $15 milllion.
While some taxpayers are concerned about the cost of building a wall, Rheault proposes the city create a 'health reserve' from the welcome tax to fund its portion of the wall.
Government grants could also be obtained to defray costs, he said.
Bourelle said the survey results will be made public after this month's special caucus meeting.
Beaconsfield citizens surveyed on sound wall project

Beaconsfield sound wall debate: Public health or money issue?