Vallée sets her sights on 2024 Summer Olympics in Paris after winning two medals at world aquatics championships in Budapest.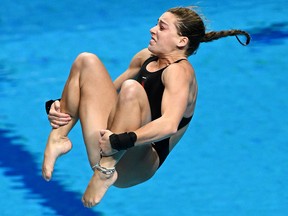 Article content
Beaconsfield's Mia Vallée has set her sights on the 2024 Summer Olympics in Paris after a breakout performance at the recent world aquatics championships in Budapast, Hungary.
Article content
The 21-year-old diver won a pair of individual medals for Canada at her first world championships. After winning a bronze in the one-metre springboard event, Vallée earned a silver in the three-metre competition.
"This is the craziest performance of my life," Vallée said last week in a phone interview from Florida where she attends the University of Miami on an athletic scholarship.
"I have a hard time understanding what it all means. Going into it, my only goal was to make finals in all my events. It was my first world championships and my first big international competition since I went to the United States three years ago, and then the COVID pandemic (hit) and all that stuff.
"As nervous as I was, I did really well on one-metre. There were a few things I could have done better, but a medal was more than I hoped for.  It was just insane having that experience with my friends and family there," said Vallée, a three-time junior national champion.
Article content
Her parents Nicolas Vallée and Kristine Doucet, residents of Ste-Anne-de-Bellevue, made the trip to Hungary to see their daughter climb the medal podium twice.
Another West Islander also figured in Canada's third diving medal when Pointe-Claire's Nathan Zsombor-Murray earned a bronze in the men's 10-metre synchro with Rylan Wiens.
Vallée began diving at the Beaconsfield Heights outdoor pool at age five. After showing natural ability at such a young age, she was recruited to join the renowned Pointe-Claire dive club where she took winter diving lessons and developed into a competitive  diver. "I trained under Dave Bedard till I was about 12  or 13, then I went to Yihua Li," Vallée said.
She took a short break from the sport five years ago, before joining the CAMO club in Montreal under head coach Stéphane Lapointe. "He taught me to love the sport again and was super supportive when I came to the States," Vallée said.
Article content
She said being a member of the University of Miami dive team, under head coach Randy Ableman, has taken her to new heights. She captured the NCAA one-metre title with a record-setting performance in March.
"The campus here is beautiful," said Vallée, who is studying marine biology. "The pool is right in the middle of campus. It's really cool because there are tanning chairs all around the pool. So when I'm diving, students sit around the pool and watch us dive."
Vallée will soon be headed back across the pond to compete for Canada at the Commonwealth Games in Birmingham, England, beginning July 28.
Although Vallée has earned a handful of medals on the international Grand Prix circuit, she has yet to compete at the Olympics. But after leading all Canadian divers in Budapest, the 2024 Olympics have now come into focus.
Article content
"Obviously my end goal is Paris," Vallée said. "But I do have to say that growing up, the Olympics was never a huge dream of mine. It was never really the end-all be-all. I just knew that I loved diving and  I'm very competitive so I wanted to  do the best I could do at every competition I went to.
"My first year here (in Miami), the Olympics were not on my radar or my goal. But I think this year, knowing that things were starting back up and going so well, and with Jennifer Abel retiring, it opened up my spot and because I've been working so hard for so long. Even though the Olympics were not my end goal, they are a real possibility.
"It's not a dream anymore," she added. "If I want it, it's there for the taking. It's what I'm going to thinking about for next few years. I'm going to work as hard as I can."
Triple gold for diver from Pointe-Claire Diving Club

Pointe-Claire divers prepare for Canada Cup meet in Gatineau