'Since the whole ethos is this sense of freshness, openness and interfacing with the outdoors, we really wanted to have that sense of serene, calm, and beachy.'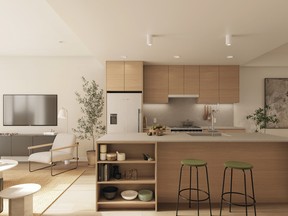 Reviews and recommendations are unbiased and products are independently selected. Postmedia may earn an affiliate commission from purchases made through links on this page.
Article content
Southlands, Century Group's 100-acre master-planned community in Tsawwassen, with its mission to re-establish people's connection with agriculture, is set for a significant milestone as it launches The Granary, a mixed-use development that includes 35 residences and the Four Winds restaurant and craft brewery.
Article content
The Granary will be one of the key buildings in the beachside community that will include 950 homes when it is completed, says Sean Hodgins, president, Century Group, adding the other two landmarks are the Discovery Centre and Market Square with the restored red barn that recalls the area's heritage and early years as a dairy farm.
Article content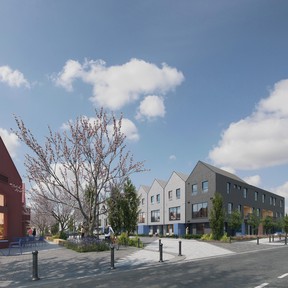 "The Four Winds restaurant and brewery is the first major retail (centre in the development) to bring people together around food. Seeing an award-winning brewery come on site is the next big milestone in the history of Southlands," says Hodgins adding two other retailers already operating in the community are electric bike store Pedego and Prado Café.
The original concept of the development — connecting farming, food and community — continues to advance as homes are completed, and residents move in. Regular markets with farm-fresh vegetables, complementary vendors such as those selling bread, and food trucks bring Market Square to life from June to December, says Hodgins.
Article content
The design of The Granary, by Motiv Architects, continues the Southlands look that blends Scandinavian design with a modern interpretation of a traditional style that is apparent throughout the rest of the development, where 75 homes are completed and occupied, and a further 300 are under construction.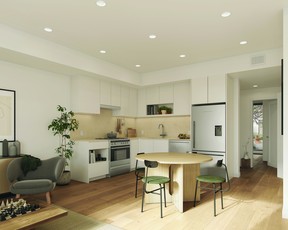 During the years of planning the development, a pattern book was established to guide architectural decisions, says Hodgins.
"We want to use previous buildings as precedents and the pattern book as an interpretive guide — we wanted a collection of small-scale eclectic buildings and always planned to bring in different architects (to achieve that look)."
Seventeen garden flats and townhomes are included in the first release of homes in The Granary. Every home in the development, which features a central courtyard, has private outdoor space. The townhomes have terraces, and garden flats have front and back patios. Parking for residents of The Granary is underground.
Article content
For the interiors, Craig Stanghetta, Ste. Marie Studio principal and creative director, says the concept of connecting people with food and the beachside location influenced the design.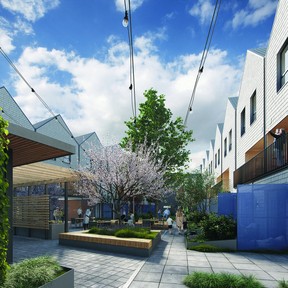 "We took inspiration from the colour of the ocean, the sand, driftwood, these light blue skies, and having this real sense of summer breeze freshness," he says.
Buyers of the one-, two- and three-bedroom units will have the choice of two colour schemes.
"Most developments have a dark and light scheme with most people choosing the light scheme," says Stanghetta, "so we designed Light and Lighter options."
Describing the interior design as the opposite of the "prestige and polished" interiors seen in urban areas such as Metrotown, he says at The Granary, "everything feels comfortable, and a little time and weather-worn, and really settles into the overall context of the place."
Article content
"Since the whole ethos is this sense of freshness, openness and interfacing with the outdoors, we really wanted to have that sense of serene, calm, and beachy. Then where we go a little bit darker, we really just want that to reference a sense of earthiness," he says, explaining some of the other tones in the palette. "We want to make sure that it feels very natural. I think that's what feels at home on this property (that is) really strongly tethered to the land."
Referencing the casual beach house inspiration, Stanghetta says examples include a shiplap painted wood finish on the entry wall that is carried up into the primary bedroom, where it does double duty as a headboard and a small ledge for staging art.
A set of shelves in the kitchen islands is one of the features that enables people to add their own personal style.
Article content
"We think that the people that are living here are obviously really connected to food. So, that ends up just being a little spot for people to hold their favourite cookbooks or maybe they have some specialty foods and items that can live there," he says, adding that while elements like this are functional, they are also connected to the lifestyle of residents.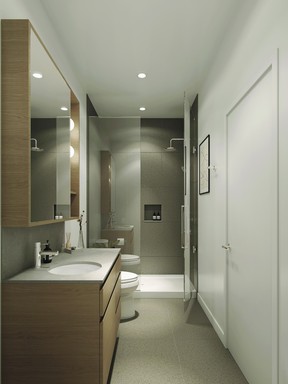 For the bathrooms, Stanghetta says he aimed for a functional and clean look.
"We want them to feel a little bit like a serene spa. If you were doing a spa, oftentimes, you're borrowing from this idea of beachside and ocean, so we're embracing the same narrative that we have on the whole project. It's actually a little bit easier to lean into it in the washroom because it's a pretty natural context for that."
Article content
Ste. Marie Studio also designed the Four Winds restaurant and brewery. Stanghetta describes the design as an extension of the beach clubhouse theme.
"We do a lot of cool restaurants, and this is one of the most interesting projects we've had in the last three or four years," he says. "It's going to be a real statement and complementary component to the lifestyle (at Southlands)."
Hodgins says Southlands is attracting a range of buyers from those in their 30s through to some in their 70s.
Buyers are predominantly local — from Delta — and from Vancouver.
Project: The Granary at Southlands Tsawwassen
Project address: 6350 Market Avenue, Boundary Bay, Tsawwassen
Developer: Century Group
Architect: MOTIV Architects
Article content
Interior designer: Ste. Marie Studio
Project size: 35 residences (17 in first release), garden courtyard, Four Winds restaurant and craft brewery
Number of bedrooms: One, two and three-bedrooms
Price: 1-beds from $640K, 2-beds from $950K, 3-beds from $1.18M
Sales centre: Discovery Centre, Southlands Tsawwassen (6388 Market Avenue, Tsawwassen)
Centre hours: Daily 11 a.m. to 4 p.m.
Phone: 604-636-2220
Website: DiscoverSouthlands.ca
A Light Touch: A dated Savary Island vacation property becomes a dreamy-bright family retreat

Metro Vancouver's first-time homebuyers' guide