Vancouver municipal parties are flexing their political endorsements in the lead-up to next Saturday's election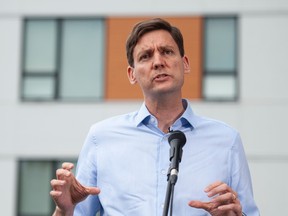 Article content
Vancouver-Point Grey MLA and B.C. Premier hopeful David Eby wants Kennedy Stewart to be re-elected as mayor of the city.
Eby — who is in a race with Anjali Appadurai to replace retiring John Horgan as leader of the B.C. NDP and by default become Premier — said that Stewart "understands the depth of the housing crisis people in Vancouver are facing."
Article content
"I know he will work tirelessly to increase the number of homes people can afford and I look forward to working with him to deliver results for people."
Article content
Eby's Twitter post received mostly negative responses. Delivering more affordable housing is part of the platforms of all the major parties vying for power in the Oct. 15 election.
Premier Horgan did not endorse any mayoral candidates during his eight years leading the party.
Eby has not yet said who he is endorsing in the Surrey mayoral race — the second-largest city in B.C.
Meanwhile, Stewart's Forward Together party has revealed it is also being backed by former Vision Vancouver park board chair Sarah Blyth (who is now an advocate in the Downtown Eastside), longtime Vancouver NDP politician Jenny Kwan, former B.C. NDP Premier and Vancouver mayor Mike Harcourt, former NDP MP Libby Davies, B.C. NDP MLAs Katrina Chen and Brenda Bailey, and environmental activist Tzeporah Berman.
Article content
The Vancouver and District Labour Council is also endorsing Forward Together, as well as OneCity council candidates. Forward Together is being financed by several developers and wealthy people in the city, some of whom are also backing ABC Vancouver.
ABC Vancouver mayoral candidate Ken Sim, who according to recent polls is the most likely to beat incumbent Stewart, has been endorsed by the Vancouver Police Union. He is also local billionaire Chip Wilson's favoured candidate. Wilson has a Sim sign in front of his Point Grey Road home.
This is the first time the VPU has taken a position on civic politics, after Stewart cut the force's budget (a move later repealed by the provincial government.)
Crime and housing are the most prominent issues in the year's race.
Article content
ABC Vancouver campaign manager Kareem Allam said that he was not surprised by Eby's endorsement because Stewart had been very active with the NDP federally and provincially for a long time. Stewart's wife, Jeannette Ashe, ran for the B.C. NDP against Kevin Falcon in the recent Vancouver Quilchena byelection and is now running as a councillor for Forward Together.
"(Kennedy Stewart) doesn't have a team, he has a bubble around him. He didn't go too deep for candidates, with his wife and former communications manager on his ticket," Allam said, referring to Ashe and Alvin Singh. Candidate Dulcy Anderson also worked for Eby at his constituency office.
Forward Together has six council candidates and no candidates for parks board or school board — but is endorsing all Vision Vancouver candidates running for those boards. Vision, in turn, is backing Stewart for mayor.
Article content
ABC Vancouver has seven council candidates, six parks board candidates and four candidates for school board.
In the 2018 election, Sim (running with NPA Vancouver) lost to then-independent Stewart by 977 votes.
TEAM Vancouver council candidate Bill Tieleman said that he has been endorsed by former B.C. NDP Premier Glen Clark, former B.C. Federation of Labour leader Ken Georgetti and International Union of Operating Engineers Brian Cochrane — with more endorsements to be announced later this week.
TEAM Vancouver mayoral candidate Colleen Hardwick is endorsed by former NDP MLA Darlene Marzari, founding chair of the UBC Urban Design Program Patrick Condon and former Vancouver city planner Ray Spaxman — among others.
Article content
Tieleman said that he had never before seen an active cabinet minister in provincial government support a mayoral candidate.
"But this is an election of firsts," he said, referring to the police union endorsement.
Progress Vancouver campaign manager Azim Jiwani said that former Liberal Prime Minister Paul Martin had endorsed mayoral candidate Mark Marissen — who is also backed by former B.C. Liberal Premier Christy Clark and Squamish Nation councillor Wilson Williams.
Jiwani said Stewart's strategy to run a small team with very close connections to him was "amateurish."
He said Forward Together's goal was to consolidate the partisan NDP vote in Vancouver. Stewart was a former federal NDP MP in Burnaby from 2011 to 2018.
Article content
"They want to consolidate that vote, but in the past Vancouver has not voted on partisan lines. This is going to be a change election," Jiwani said.
NPA Vancouver did not respond to a request for a statement of endorsements
The Vancouver firefighters union will announce who it is endorsing on Tuesday.
---
More news, fewer ads: Our in-depth journalism is possible thanks to the support of our subscribers. For just $3.50 per week, you can get unlimited, ad-lite access to The Vancouver Sun, The Province, National Post and 13 other Canadian news sites. Support us by subscribing today: The Vancouver Sun | The Province.
Vancouver Election: 12 hot topics and where nine different parties stand

Vancouver Police Union backs Ken Sim for mayor