Director Anna Foerster put film's stars Allison Janney and Jurnee Smollett to the test on the wild, wet west coast of Vancouver Island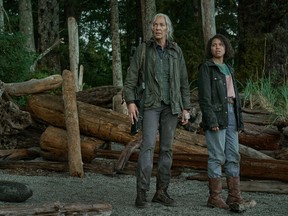 Reviews and recommendations are unbiased and products are independently selected. Postmedia may earn an affiliate commission from purchases made through links on this page.
Article content
In the new Netflix film Lou, the rugged natural side of Vancouver Island's west coast looms large and underscores every part of the story about two different, but fierce women forced to join forces to rescue a kidnapped child.
Article content
Director Anna Foerster knew from her first read of the script for Lou that the power of the natural world was very much a character in this action/drama film starring Academy Award winner Allison Janney (I, Tonya) and Emmy nominee (Lovecraft Country) Jurnee Smollett.
Article content
In this case, that weather is courtesy of the Ucluelet area that stands in for Orcas Island, the largest of Washington state's San Juan Islands. There were no studio shoots with actors in front of blue screens while someone off camera splashed water on them.
"It was a big thing for me. I did not want this to feel fake. I didn't want this to feel polished," Foerster said recently via Zoom from Los Angeles. "I myself am a pretty much outdoorsy person so I know very much how it feels if you are really at the mercy of relentless and indifferent nature. That was very important to me as part of this story telling to make that as grounded and as real as possible."
Article content
The film is about Lou (Janney) a difficult, shut-off woman who thinks she's put her dangerous past behind her and only to see her unencumbered small-town existence blown apart when a frantic, desperate mother (Smollett) enlists her to help save her small daughter from a kidnapper.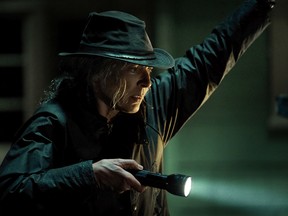 The women set off into the rugged forest together as a massive storm rages and hammers them at every turn, testing their strength as they battle to save the child and weather big, bad secrets from both their pasts.
"I thought this was an incredible opportunity to tell the mirroring of the storm that is going on outside, that they have to brave and they have to go through, and the storm that's going on inside," said Foerster. "That was really compelling for me."
Article content
What also was compelling for Foerster was casting Janney, now in her early sixties, as a take-no-prisoners, tough-as-hell woman.
"No, especially not at my age," said Janney via Zoom when asked if she has seen other scripts with characters like Lou. "I couldn't believe when this script came to me; it's what I always wanted to do, this genre. I thought I have probably aged out for that. But I'm happy that I got to prove that I haven't, and I want to do more."
The film required a lot of physicality as it is packed with some epic fight scenes. While it was hard work, Janney happily discovered her athletic background in things like figure skating and dance delivered helpful muscle memory.
"That's what I loved the most about it, it was just like learning another dance," Janney said of the fight choreography. "Daniel Bernhardt is our fight choreographer. I worked with him three hours a day. I couldn't have imagined doing that. I work out maybe one hour a week in my real life.
"I loved the challenge. I felt so prepared when I walked on set to film those fight scenes. I was like, 'let's do it, let's do it again.' It was so much fun because I knew exactly where to go. We had worked it out so specifically, every single move."
Article content
Janney's character Lou is one of those few words people. A raised eyebrow, a tilted chin and a steely glare is her preferred mode of curmudgeonly communication.
"It was kind of fun to be somebody who didn't say a lot, just grunted. I loved it. Most of the time we spent cutting out Lou's dialogue. Less is more with Lou. Let's just have her look at someone and kill them with her stare," said Janney, agreeing Lou was a very long way from her beloved chatty character of C.J. Cregg from the wonderfully wordy West Wing. "As actors, we love being able to shake things up in different roles."
Smollett, who was on the same Zoom interview with Janney, nodded along with her film partner and added that this shoot was unique for many reasons, notably that bear sightings (one) outnumbered the glam squad sightings (zero).
Article content
"It's so nice to play characters where you don't have to worry about the makeup. It's just, 'Hey let's put some mud on,' " said Smollett as Janney offered up an enthusiastic "amen."
Once the soaked shoot was wrapped, Smollett said the first thing she remembers doing was taking a long, hot shower.
Janney agreed the need to warm up and wash up was a big thing.
"I was still finding dirt and mud coming out my ears months later even. It got into a lot of places," said Janney, nodding knowingly at a laughing Smollett.
While Janney was able to wash off the mud and muck of the rugged west coast world, she said she wasn't able to shake the impression the area left on her after last summer's shoot.
"I just fell in love with Vancouver and Vancouver Island," said Janney.  "I just think that is the most magical place on the planet. It was absolutely gorgeous. I am going to go back there and sit on those beaches and look at rocks all day."
More Hollywood North coverage

News stories and features on the TV industry
---
More news, fewer ads, faster load time: Get unlimited, ad-lite access to the Vancouver Sun, the Province, National Post and 13 other Canadian news sites for just $14/month or $140/year. Subscribe now through the Vancouver Sun or The Province.