Now 59, Gregory Williams of Port Alberni was handed a life sentence in Victoria in 1990 for first-degree murder and other crimes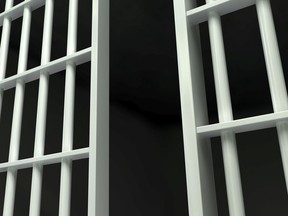 Article content
Warning: Descriptions of graphic violence may be disturbing
Article content
A brutal killer who received a life sentence for beating and murdering a woman in 1988, then drugging and killing his wife during a conjugal visit in prison five years later, has been denied full parole.
Now 59 years old, Gregory Williams of Port Alberni was handed a life sentence in Victoria in 1990 for first-degree murder, robbery with violence, weapons possession, assaulting a peace officer, assault with a weapon and manslaughter.
He went on to commit further crimes, including killing his wife and smuggling weapons with another inmate while being escorted to a court date and attacking the sheriffs in an attempt to escape.
Williams had a lengthy record of non-violent crimes before the 1988 murder, but the level of savagery he demonstrated during that crime was shocking and a "clear escalation in the severity of your offending," according to a summary of the parole board decision.
Article content
He admitted to drinking and taking barbiturates before getting into an argument with the victim. He "punched her, knocking her unconscious, then punched her several more times when she started to come to," said the decision by the Parole Board of Canada.
A shocking murder
"You struck her on the head with a pipe and attempted to stab her with a butter knife. You lifted her sweater and attempted to stab her again. You proceeded to pull down her pants and insert the pipe into her vagina. The pathologist provided evidence that the pipe penetrated the length of her body, the knife was found internally without an entry wound and that there was a bite mark on the victim's breast."
A year later, Williams and another inmate severely beat and robbed another inmate.
Article content
Then in late 1993, during a "private family visit" in prison, Williams injected his wife with heroin. "When she did not stop breathing, you placed your hands around her neck. You then injected yourself with heroin. Correctional staff received information, and you report that, you and your wife planned a double suicide."
Two months later, while being taken to the courthouse for the manslaughter conviction, "you and another inmate smuggled weapons out of the institution, then used these weapons to attack the escorting sheriffs in an attempt to escape. You did not escape but the sheriffs sustained injuries."
Lifetime of suffering
The sister of the woman Williams murdered in 1988 gave a victim impact statement saying Williams showed no compassion for his victim or her three children, who "suffered lasting psychological harm." The family says they will suffer for the rest of their lives.
Article content
A psychological assessment in March of this year showed Williams continues to pose a high risk of violent recidivism, similar to earlier reports.
Williams is Indigenous and "experienced a traumatic childhood," according to the parole board. "You were raised in poverty and witnessed a chaotic family life that included mental illness, alcoholism and domestic violence.
Traumatic upbringing
"You are a residential school survivor and you experienced sexual abuse and have post-traumatic issues and unresolved trauma. In your younger years, you spoke your language fluently; however, you have lost your language and can only speak few words."
Williams went into foster care at 12 years old and has told the parole board that he first used heroin and other drugs at age 11 and was regularly drinking alcohol by 12.
Article content
His years in incarceration, which began when he was 18, were "problematic" and included serious violent incidents, periods in segregation and forced transfers. Though the record is less troublesome in recent years, Williams got into a fight and punched another inmate as recently as March of this year and tested positive for THC last month.
However, Williams has been working with elders and Indigenous liaison officers, who describe him as "polite and respectful." He has become a well-known carver and has chaired the Aboriginal committee.
He has "accepted some responsibility for your criminal behaviour and that you were living a dysfunctional lifestyle, however you tend to justify the level of violence you have used towards your victims."
Article content
Full parole denied
For those and other reasons, the parole board denied full parole, expressing concern "about your outstanding risk factors and your overall level of insight into the severity of your offending and the harm it caused." Williams himself has admitted he is not ready for full parole "because you are afraid of getting out of prison and tend to self-sabotage."
Williams is currently in a medium-security institution — the location was redacted — and said he hopes to work toward a transfer to minimum security, "participate in work release and take things slowly so you do not stumble."
The board found that "given your pattern of violent offending, continued instability in the institutional setting, limited gains from programs, need for a gradual and structured release plan and assessed high risk for violent and general reoffending, there is sufficient information to conclude that you will present an undue risk to society if released on full parole."