Québec solidaire is 20 points behind the CAQ but only one point ahead of the Liberals and two points ahead of the Conservatives and PQ.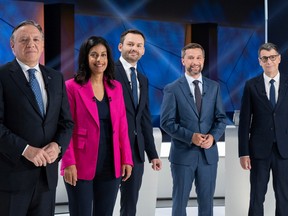 Article content
Despite a continuing erosion of its lead in popularity, François Legault's Coalition Avenir Québec remains headed for a majority government in the Oct. 3 Quebec election while the fight for second place — and the role of official opposition — becomes even more intense, a new poll suggests.
Article content
The Léger Marketing survey, conducted for the Québecor media conglomerate in the wake of last Thursday's leaders debate televised on Radio-Canada, shows the CAQ polling 37 per cent — a drop of five percentage points since the campaign was launched at the end of last month but nevertheless enough to place the party in majority territory. In the 2018 election, the CAQ, garnering 37.4 per cent of the vote, won 74 of the 125 seats in the National Assembly.
Article content
Québec solidaire holds a distant second place at 17 per cent, followed by the Quebec Liberals with 16 per cent and the Quebec Conservative Party and the Parti Québécois tied for the third spot with 15 per cent.
While the survey found that 27 per cent of respondents felt that Gabriel Nadeau-Dubois of Québec solidaire would be the best choice to be leader of the official opposition, 25 per cent felt that job should go to PQ Leader Paul St-Pierre Plamondon, 15 per cent supported Liberal Leader Dominque Anglade and 13 per cent favoured Conservative Leader Éric Duhaime.
Article content
The fact St-Pierre Plamondon placed second on the opposition leader question even though his party has languished in last place since the start of the election campaign is an indicator of how well the PQ campaign has been managed. It is also a reflection of an increasingly positive perception of St-Pierre Plamondon by the electorate.
The PQ's popularity has increased by six percentage points since the start of the campaign. Twenty-one per cent of respondents felt St-Pierre Plamondon had won the Radio-Canada debate compared with 12 per cent for Nadeau-Dubois, 10 per cent for Duhaime, nine per cent for Legault and six per cent for Anglade.
The online survey of 1,023 Quebec adults was conducted Sept. 23-25. While no margin of error can be assigned to this type of poll, a sampling of this size in has a maximum margin of error of 3.1 per cent 19 times out of 20.
Tap here for complete Quebec election coverage

Quebec election: The burning question of climate change

High turnout in early voting a 'good sign' Quebecers want change, Duhaime says