Regina Pats defenceman Luke Bateman hit the ice to intercept a Swift Current Broncos pass late in Saturday's WHL game at the Brandt Centre.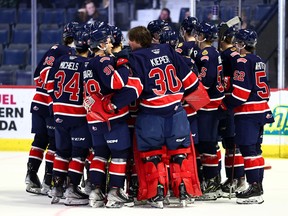 Article content
The biggest player on the ice made a contribution that, in terms of its impact on the outcome, was commensurate with his dimensions.
Article content
With slightly more than two minutes remaining in Saturday's WHL game at the Brandt Centre, where the Regina Pats were clinging to a 4-3 lead, the Swift Current Broncos' Mathew Ward had intercepted a pass inside the opposition's blue line.
Article content
Ward skated in on Pats goalie Drew Sim and attempted to feather a pass to a teammate for a back-door goal. But the play was thwarted by 6-foot-6, 224-pound Regina defenceman Luke Bateman, who slid in front of the puck — thereby extinguishing what proved to be the Broncos' last chance at tying the entertaining game.
"That was certainly big," Pats head coach and general manager John Paddock said, lauding a "desperation" play by Bateman that helped Regina's one-goal lead to hold up for the duration.
Article content
"As a defensive mind, that's all I had to do," Bateman said. "They had the puck down low and there were a lot of guys in front. The easiest way to take those passes away was to lay down there."
The Pats refused to lay down completely after allowing the Broncos to rally from a 4-0 deficit before 3,126 spectators at the Brandt Centre.
"I thought we had lots of jump and we were able to take it to them early in the game," Paddock said. "It basically carried over into the second period, I thought. We had some good chances and the power play was 2-for-2.
"We were in good shape at 4-1 (after 40 minutes), but I thought in the third period we were having a hard time getting them to understand that we needed to take some risk out of the game."
Two goals by Alex Suzdalev and singles by Tanner Howe and Connor Bedard staked Regina to the four-goal advantage. Bedard added two assists while increasing his league-high points total to 15.
Article content
However, Swift Current answered with goals by Ward, Regina-born Brady Birnie (who scored short-handed) and Josh Filmon.
The Broncos fired 28 shots at Sim. Swift Current's Reid Dyck was tested 40 times.
Regina evened its record at 4-4-0-0. Swift Current dropped to 2-4-0-0.
The Pats are to return to action Wednesday against the Prince Albert Raiders (7 p.m., Brandt Centre).
The sports world is ever-changing, as are the times. Supplement your steady diet of sports coverage by subscribing to the Regina Leader-Post's 306 Sports Fix newsletter. Each week, sports editor Rob Vanstone will provide additional commentary on the Roughriders, Pats and other teams/sports of interest, along with a peek behind the curtain. Click here to subscribe.
Broncos' Birnie ready for 'super-exciting' matchup with Pats

Bateman scores as Blue's offence soars in Pats' intra-squad game