New perspectives, new approaches and new voices will restore pride to our nation's capital.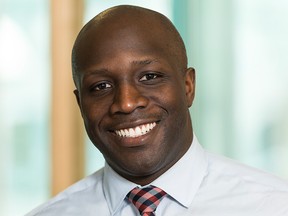 Article content
The Citizen invited candidates in the Oct. 24 municipal election to share their thoughts:
Article content
Barrhaven West is one of the fastest-growing communities in our nation's capital. Its people are diverse, hardworking, family-focused and compassionate, with a strong sense of duty to their community.
Article content
I've experienced this firsthand. I've built my business and am raising my family here; I believe we need a city council that reflects these values.
Like many other small business owners and parents in my community, I have family budgets to think about. We are in a cost-of-living crisis in this country. Sneaky tax increases, mismanagement of major projects and ethical scandals have residents fed up with city hall.
We need change-makers who are only accountable to you, not more politicians beholden to special interests.
Article content
Local government is the pulse of the nation, and I'm concerned about the direction in which we are headed if we don't bring much-needed positive change and fresh perspective to city hall.
Ottawa is Canada's national capital. Our city should be the gem of local governance across Canada — a role model for other cities.
But that's not the case. The opposite is true.
LRT is a mess, plagued by service interruptions, and costly delays. Meanwhile, politically motivated cuts to our police service make us less safe.
We don't need ideology in the chambers of city hall. We need good governance and principled leadership.
I've knocked on more than 19,000 doors and had the privilege of listening to understand your concerns better. I hear you want a councillor who champions your family's best interests.
Article content
I am committed to advocating for municipal policies that build better roads, keep our streets safe and make life more affordable for hardworking families.
I will fight to bring Ottawa's law enforcement staffing levels in line with the national average to fight the influx of car thefts across our community. I will also call for an immediate expansion of the automated speed enforcement program in school zones and playground areas to stop reckless driving.
I will push for the Highway 416/Barnsdale interchange and the Greenbank Road realignment, and Southwest Transitway, so our road infrastructure finally meets our community's growing needs.
I will oppose "free transit," which will not improve reliability and only result in hefty property tax increases.
Article content
I will work with my council colleagues to bring fiscal responsibility back to our city, with increased transparency on how public funds are spent, particularly development charges.
The people of Barrhaven West have an opportunity to elect a new voice and perspective. It's time to move forward and deliver the change that puts your family first. Please follow me on Facebook, Twitter and LinkedIn and visit my website at taayosimmonds.com to learn more about the policies I will champion to deliver the change that puts your family first.
Taayo Simmonds, a Barrhaven resident, is running for the Barrhaven West council seat. He is an Ottawa entrepreneur, Managing Lawyer at Simmonds Law, President of the Gwen Simmonds Foundation, and a husband and father of two young children.
ALSO: What's the biggest municipal election issue in Ward 3 – Barrhaven West? 
Barrhaven West: Chadha — We can create a faster, more reliable, more affordable transit system

Barrhaven West: Hill — Ottawa's local economy cannot just be the public service