Regulator approves higher extraction limit with clock ticking on layoffs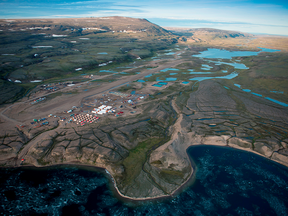 Article content
The federal government approved Baffinland Iron Mines Corp.'s request for a bigger extraction limit at its mine on Baffin Island, avoiding the firing of more than 1,000 workers who had been told they would lose their jobs this month unless their employer was given permission to ramp up production.
Article content
Baffinland, owned by private equity firm Energy and Minerals Group and steel giant ArcelorMittal SA, sent the termination notices at the end of July, putting pressure on regulators to make a decision on its request to increase its extraction limit of iron ore to six million tonnes from the original allowance of 4.2 million tonnes.
Article content
Northern Affairs Minister Daniel Vandal approved the request on Oct. 4, following a green light from the Nunavut Impact Review Board (NIRB) and consultation with Inuit leaders, said Kyle Allen, the minister's spokesman.
The decision resolved months of regulatory uncertainty that started when the Nunavut Impact Review Board rejected Baffinland's original request for a 12-million-tonne limit in May, citing environmental concerns. The company's Mary River Mine site is one of the most northern mines in the world.
Article content
Centerra stock pops after miner announces share buyback, extends life of a B.C. mine

From scrap metal dealer to billionaire: How Anil Agarwal built one of the world's largest mining companies

We'll 'set the bar high' on Ring of Fire environment assessment, First Nation chief says
Baffinland needed a ruling on that request before it could ask for new permission to mine six million tonnes, as it had done every year since 2018. Baffinland officials and workers' representatives had repeatedly urged the government and the NIRB, an advisory agency, to expedite the renewal process. Union leaders said the delay had "disrupted" the lives of  miners and "eroded" the workforce as many had decided to make other arrangements.
Article content
Peter Akman, a Baffinland spokesperson, said the company was pleased with the decision. "The decision clearly recognizes the importance of Baffinland to the Nunavut economy and preserves over 1,100 high paying jobs, including more than 300 positions held by Inuit employees," he said.
Baffinland had expected the NIRB to provide a recommendation on the 12-million-tonne permit in 2021. In case it was rejected, the company thought it would have had ample time to apply for the six-million-tonne permit towards the end of last year. Further delay or a rejection from the governmentt would have forced the Nunavut-based company to let its workers go and stop mining since it would have reached its extraction and shipping limits this month.
• Email: [email protected] | Twitter: naimonthefield