Article content
Hold on to your hats, Metro Vancouver. Today's weather is expected to be stormy before settling down again on Friday.
Article content
Much of Central and Southern B.C. were under special weather statements for wind or rainfall warnings early Thursday morning, according to Environment and Climate Change Canada.
Article content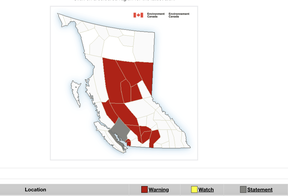 Drivers may want to note that wind gusts of up to 90 km/h are expected to whip across the Coquihalla Highway, for example, resulting in strong crosswinds and potential wind-related damage.
In Metro Vancouver, winds gusting up to 80 km/h near the Strait of Georgia are expected before weakening in the early evening.
As of 7:30 a.m., all the major ferry sailings were running, but that could change if the wind is severe in the Strait of Georgia.
Article content
Some parts of the region were also under a rainfall warning, with up to 70 millimetres expected for the North Shore, Tri-Cities, and Maple Ridge areas.
Heavy rain should taper early this evening, according to the federal weather agency and then Friday could start out with a calm mix of sun and cloud.
The agency warns that downpours can cause flash floods and water pooling on roads. Localized flooding in low-lying areas is possible.
An atmospheric river packing "narrow bands of heavy precipitation" was forecast for parts of B.C. just a week after numerous high temperature records were set amid concerns of drought.
Earlier this week, B.C.'s Public Safety Ministry warned that residents in the Lower Mainland, on Vancouver Island and on the North and Central coasts could expect stormy weather through to Halloween.
It says that at the end of a drought, this influx can cause flooding, although extreme weather, such as the disastrous rain last November, isn't in the forecast.
The ministry says the River Forecast Centre is monitoring weather patterns and river conditions for flood hazards, while Emergency Management B.C. is working with communities to prepare for possible flooding.
More to come…
—With files from The Canadian Press