The Port Coquitlam preschool made feather "headdresses" as a craft project to recognize Truth and Reconciliation Day.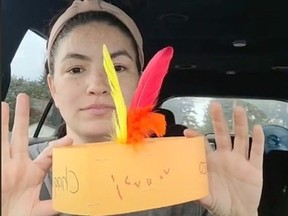 Article content
A Port Coquitlam mother was in disbelief after she saw the children at her son's daycare wearing Native American "headdresses" made out of construction paper and feathers for Truth and Reconciliation Day.
Article content
The head pieces were a craft project at her son's French Immersion school. But it is inappropriate and sends the wrong message to kids, said Sam Sinclair.
Article content
"I didn't even know what to say," Sinclair said. "This is just insane to me. I was in shock."
Headdresses are one of the most appropriated items in Indigenous culture, said Sinclair, a member of the Lytton First Nation and an advocate for Indigenous rights.
"It's something we are constantly fighting against," especially around Halloween when Native American "costumes" are still rife, said Sinclair.
Headdresses are generally a symbol of respect and honour worn by Native American warriors. It is something gifted, said Sinclair, not for someone to create and wear.
Article content
Especially upsetting was the fact the project inadvertently perpetuated the stereotype among young kids who gleefully wore the head pieces without knowing their significance.
Sinclair's three-year-old son called it a crown and was very proud of his work and insisted on wearing it, much to Sinclair's dismay.
"It's continuing the appropriation of Native American culture," she said. "You're making it OK for children and instilling it in a new generation when we're trying to break it."
Sinclair expressed her shock in a TikTok video posted Wednesday.
"So I just picked up my son up from preschool … and this is what all the kids came marching out wearing," she said while in her car. "This was their craft for Truth and Reconciliation Day: a headdress."
Article content
She showed the headdress, made of orange construction paper with "every child matters" written in French and topped with three feathers.
Some parents at the preschool emailed the school administration to express their concern. On Thursday, the school called Sinclair to apologize.
Mila Banfield, part-owner of the daycare, said the school should have consulted Indigenous members of the community on how they can best acknowledge the day. 
The preschool teacher had put a lot of love and care in preparing for the day, including making art with orange handprints and asking kids to wear orange shirts. But the teacher, who is from Afghanistan, did not know what the head piece symbolized for Indigenous people, said Banfield. And neither did she. 
Article content
"This was where we failed to do our research," said Banfield. "I could see where we offended, and it just broke my heart to know that's what we did — for (Sinclair), for any Indigenous people and for parents who had reached out to us who are not Indigenous." 
Banfield said the experience was humbling and she was, "in a weird sense, grateful" for the opportunity to learn.
"Here we thought we were standing collectively with them. But we learned differently and I'm thankful for that opportunity," she said.
"It just shows how ignorant we still are and how much we don't know."
Postmedia agreed not to publish the name of the preschool at Banfield's request. Sinclair did not name the school in her social media posts as there was no malicious intent behind the head piece, she said.
Article content
Banfield has reached out to the school district, which has an Indigenous worker who will bring resources to the school in the coming weeks. The school also plans to add Indigenous studies to its current curriculum.
Sinclair said there are many different ways to acknowledge the day and celebrate Indigenous culture, including inviting an Indigenous author to read a story to class, playing drums, or even bringing in an actual headdress and explain its significance to kids. 
"There are many ways to do it," she said. "You just need to figure out what's appropriate and what's appropriation."