Opinion: In many other provinces, Community Health Centres use salaried health providers who can address many health and social care issues, enabling doctors to focus on what they are trained to do.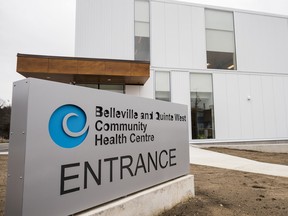 Article content
The biggest mistake in making public policy is not understanding the nature of the problem you are attempting to fix.
Article content
The B.C. government has announced it will provide family physicians with an extra $27,000 over four months to address the province's crisis in access to primary health care, in which an estimated one in five British Columbians have no family doctor.
Article content
However, giving doctors more money is a policy mistake because it misunderstands the source of the problem.
What we face is not a shortage of physicians' services. Rather, we face a shortage of primary health-care services. Our current system is overwhelmingly physician focused. It emphasizes biomedical solutions to many health problems arising from social, economic and environmental factors — what Sir Michael Marmot, professor epidemiology and a public health expert, argues are the causes of ill health. There is little focus on the social determinants of health.
Article content
The funding model provides little money for the many health and social care providers desperately needed in our communities whose contribution can significantly relieve pressures on the health system and physician workforce. There is extensive, peer-reviewed research indicating that high-quality primary health care is best delivered through systems using the training and expertise of a wide range of different health providers working as teams. They can successfully address many health and social care issues, enabling doctors to focus on what they are trained to do.
Yet in B.C., the funding model provides little public money for nurse practitioners, nutritionists, dietitians, occupational therapists, physiotherapists, midwives, social workers, counsellors, community health workers, and many others. Instead, patients confront numerous financial barriers in obtaining their services. Equitable access relies on public funding. But this is largely missing, so patients are forced to rely on their own resources or simply do without.
Article content
In many other provinces, Community Health Centres (CHCs) provide a wide range of primary health care services. They use salaried health providers working cooperatively in teams, with each contributing their expertise to meeting patient needs. They are governed by elected boards mandated to consult with their communities. CHCs are funded globally, providing the capacity to respond to current and emerging health challenges. They focus on prevention and improving population health and are not limited to treating those who are already sick. They advocate addressing the social determinants of health.
CHCs offer addiction counselling, mental health services, nutrition advice, parent education, student mentoring, sexual health programs, street clinics, cultural diversity initiatives and tailored programs for seniors, youth, Indigenous people and refugees. Some provide advice on housing, transportation, childcare and access to social services.
Article content
Yet B.C. has very few CHCs which even approach this comprehensive model with its full spectrum of services. The province has rejected global funding, a method proven to support the broad range of services CHCs can provide. The closest to this model is REACH in East Vancouver. But it does not get core funding for many activities CHCs normally perform in other provinces.
Since the NDP became government in 2017, it has failed to develop a province-wide strategy to ensure every community, whether rural, remote, urban or Indigenous, has access to properly resourced CHCs. It has not established a single new full-service CHC. In contrast, Ontario has 101 CHCs, according to ministry data, a reflection of public support and solid peer-reviewed evidence of success.
Article content
B.C. must invest in a mode that empowers communities and makes full use of all health professionals.
B.C. will soon have a new premier. One of the first priorities should be to examine our approach to primary health care. By misdiagnosing the problem, the government has failed to offer a workable solution. The problem is our narrow, physician-focused approach. The solution is to expand the scope of primary health care services. CHCs provide one effective approach to making this happen.
Dr. John Calvert is a recently retired associate professor in the Health Sciences faculty at Simon Fraser University. For the past 14 years, he regularly taught graduate and undergraduate courses on the Canadian health-care system.