The CFL vet wasn't jobless for long after the Argonauts released him on the weekend, with the B.C. Lions jumping at the chance to fill a freshly vacated backup position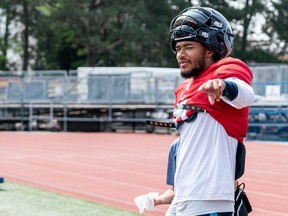 Article content
You know the old saying: "When one door shuts, another opens." Well, except for the door to the airport boarding gate in Toronto that apparently stayed shut for Antonio Pipkin on Tuesday, a cancelled flight to Vancouver delaying his chance to walk through the door into his new locker-room for another day.
The 26-year-old quarterback was a surprise cut by the Canadian Football League's Toronto Argonauts on Sunday, with coach Ryan Dinwiddie apparently preferring the big-armed, QB-bloodlined, Swag-having rookie Chad Kelly as a backup to Michael Bethel-Thompson.
But CFL-experienced QBs are a rare breed, and it wasn't long before the B.C. Lions convinced Pipkin to eschew other suitors in favour of them.
Article content
"I didn't expect it. I was having a good camp. We had a really good locker room going. And then I woke up one day with the news," said Pipkin. "From there, you take the next step and re-evaluate, and now I'm just super humbled and I'm blessed to be here in a position where I get to come join the locker room with so much talent in all positions.
"Honestly, in our sport … you want to go somewhere where you feel wanted. B.C., I feel, expressed that. Talking to coach (Rick) Campbell and (co-GM) Neil (McEvoy),, and it's just a feeling that you get when you when you speak to people, when you speak genuine. It was just a no-brainer … an easy, smooth decision."
Pipkin's release came the same day the Lions learned that backup Kevin Thomson, on track to be the No. 2 behind starter Nathan Rourke, would be out long-term with injuries suffered in a borderline hit late in their pre-season game in Calgary against the Stampeders.
Article content
He had performed well enough in pre-season, going 7-of-9 for 60 yards and an interception in his start with Toronto last week, but Kelly — the nephew of former NFL great Jim Kelly — had clearly turned Dinwiddie's head. Kelly, aka 'Swag,' was the Mr. Irrelevant of the 2017 draft, and been out of football for two years and better known for Twitter rants and sliding into the DMs of adult film stars than he had been for his passing ability.
"Chad, he's been here for about 10 days and Pip's been in this league for about five years," Dinwiddie said to media on Sunday.
"I just felt like Chad took the reins and ran with it. He earned the (number) two job."
There was no lingering resentment from Pipkin, who made sure to point out the respectful and classy treatment he got from Mike 'Pinball' Clemons, the Argos' GM, on the way out.  The Lions will technically be Pipkin's fourth CFL team, as he broke into the league with Montreal before signing with Edmonton before the pandemic-scuttled 2020 season. He joined the Argos as a free agent last February, appearing in seven games and starting the regular-season finale against Edmonton where he had 10 completions for 121 yards.
Article content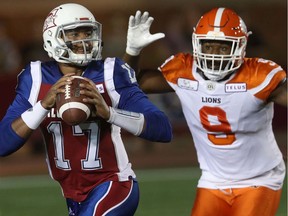 In his second year with the Alouettes, Pipkin took the reins from Johnny Manziel and established himself as an athletic, explosive and capable CFL quarterback.
"I feel good. I feel more in control, I feel less emotional. I'm so much more mission driven," Pipkin said of his growth as a player.
"In our sport, it's so easy to buy into the emotion, but I feel like I've grown so much throughout the many different trials, successes and failures in my career to this point.
"I've been able to endure some challenges that I feel like has helped me grow and groom myself to who I am today. Through all the trials and tribulations, the good, bad, ugly and different, they all led me to the point where I am today, and I wouldn't change it."
And about that label — athletic — it's not one that Pipkin shies away from, but not one he waves a banner about either. He had five TDs on the ground last season, most by a QB in the league, and a 78-yard rushing game in Week 1. The Arizona Cardinals saw what he had done in NCAA Div. II ball with Tiffin University — he set school records with 10,000 yards passing and 88 touchdowns, 2,000 yards rushing and 25 ground TDs — to sign him as a free agent in 2017.
Article content
"I think if you shy away from it, you're probably doing yourself a disservice," said the 6-foot-3, 225-pound Gary, Ind., native.
"Being athletic is something that God blessed me with, so I'm not going to shy away from that. But it's not something that I'm going to hang my hat on. 'Oh, this is all I do.'
"I want to throw the ball. I want to be able to get the guys who make the plays the ball. Those guys are the playmakers. The athleticism is something that gets me out of trouble … if need be. But I'm not one-dimensional."
---
NEXT GAME
Friday (pre-season)
Saskatchewan Roughriders vs. B.C. Lions
7 p.m., B.C. Place Stadium. TV: TSN. Radio: AM 730.
---
Now Pipkin's football journey has brought him to B.C.
He has never met Rourke or backup Michael O'Connor before, but has heard enough from others to be excited about joining the quarterback room. On the playing side, he suited up with defensive linemen Woody Baron and Bo 'Loko' Lokombo and has been around long enough to have played with DB coach Ryan Philips and D-line coach John Bowman as well.
Article content
"I've got some familiar faces, but I've got so many more new ones that I'm looking forward to learning and getting to know," he said. "I've heard nothing but great things about (Rourke and O'Connor). I don't buy into the whole ratio divider stuff; if you can play football, you can play football. Those two guys wouldn't be pros and they couldn't play. I feel like we'll have a great room; three talented people who are gonna push each other to be better every day.
"And then the receiving room is self explanatory, right? You've got the guy who catches everything, Bryan Burnham. Then, arguably the fastest person in North America: Lucky (Whitehead). It leaves you speechless, right? Like, get these guys the ball, and let them do the hard work, right."
Article content
Lions looking for more QB depth after Kevin Thomson injured in CFL pre-season game

Stampeders manhandle Lions in pre-season effort

B.C. Lions, from camp to the Stamps, grateful to be back for CFL pre-season game
There are no expectations that Pipkin has for his time in B.C, except to learn, be open and work.
"Get better daily, that's it. Two per cent, every day, in some area … on the field and off the field," he said. "In the locker room, find a way to better get to knowing teammates, getting guys acclimated to a championship mindset or just even increasing that already built championship mindset. Being able to hear some of the championship mindsets to develop in your game, but just find new ways to get better every day. Taking care of those little battles will win the ultimate goal.
"We all play this game to be the last team standing at the end, hoisting the Grey Cup. That's ultimately the goal, but that has to be broken down, and I like to break that down daily. Win each battle daily. Meetings, practice, film, relationship bonding with teammates, I want to win each battle."
---
More news, fewer ads, faster load time: Get unlimited, ad-lite access to the Vancouver Sun, the Province, National Post and 13 other Canadian news sites for just $14/month or $140/year. Subscribe now through the Vancouver Sun or The Province.