Here's your weekly roundup of climate change news for the week of Sept. 26 to Oct. 2, 2022.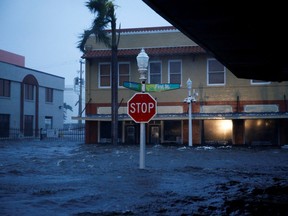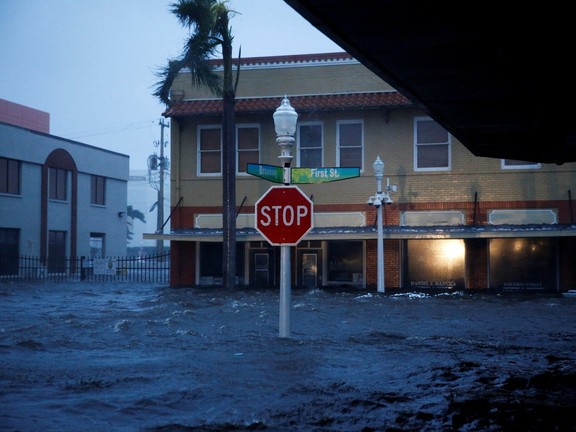 Article content
Here's your weekly update with what you need to know about the global and ecological crises and the steps B.C. is taking for the week of Sept. 26 to Oct. 2, 2022.
Article content
This week in climate news:
Article content
• Drought levels high in parts of B.C.
• Fire officials warn wildfire season not over because of hot and dry conditions
• A report finds climate impacts could tank Canada's economy without financial support
The UN's Intergovernmental Panel on Climate Change has warned for a decade that wildfires, drought, severe weather, such as B.C.'s deadly heat dome last June, and flooding would become more frequent and more intense because of the climate crisis.
Last August, it issued a "code red" for humanity and earlier this year the panel, made up of hundreds of scientists from around the world, said the window to stop global warming from exceeding 1.5 C was closing. Last month, it released a report with solutions for how to drive down greenhouse gas emissions, mainly by transitioning away from fossil fuels.
Article content
There is a scientific consensus on climate change (NASA reports that 97 per cent of climate scientists agree that the climate is warming and that human activity is the cause.)  Multiple studies published in peer-reviewed scientific journals show that greenhouse gas emissions are the primary cause of global warming.
Check back here every Saturday for a roundup of the latest climate and environmental stories. You can also get up to date B.C.-focussed news delivered to your inbox by 7 a.m. by subscribing to our newsletter here.
---
A glance at B.C.'s carbon numbers:
B.C.'s gross greenhouse gas (GHG) emissions in 2020 (latest available data) were 64.6 million tonnes of carbon dioxide equivalent (MtCO2e). This is a decrease of 0.9 MtCO2e (one per cent) from 65.5 MtCO2e in 2007, the baseline year for emissions reduction targets.
B.C.'s net greenhouse gas (GHG) emissions in 2020 were 63.5 million tonnes of carbon dioxide equivalent (MtCO2e.) This is a net decrease of 2.0 MtCO2e, or three per cent, since 2007.
B.C.'s net emissions in 2019: 67.2 MtCO2e, an increase of 1.5 MtCO2e, or two per cent, since 2007.
B.C.'s 2030 target: 40 per cent reduction in net emissions below 2007 levels.
B.C.'s 2040 target: 60 per cent reduction.
B.C.'s 2050 target: 80 per cent reduction.
Canada's 2030 emissions target: Between 40 and 45 per cent reduction.
Canada's 2050 emissions target: Net-zero.
(source: B.C. and Canadian governments)
Article content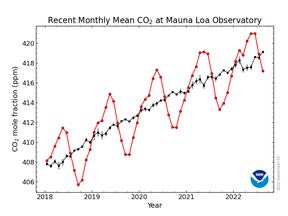 ---
Climate change quick facts:
The Earth is now about 1.1 C warmer than it was in the 1800s.
Globally, 2021 was the fifth warmest year on record.
Human activities have raised atmospheric concentrations of CO2 by nearly 49 per cent above pre-industrial levels starting in 1850.
The world is not on track to meet the Paris Agreement target to keep global temperature from exceeding 1.5 C above pre-industrial levels, the upper limit to avoid the worst fallout from climate change.
2015-2019 were the five warmest years on record while 2010-2019 was the warmest decade on record.
On the current path of carbon dioxide emissions, the temperature could increase by as much as 4.4 C by the end of the century.
In April, 2022 greenhouse gas concentrations reached record new highs and show no sign of slowing.
Emissions must drop 7.6 per cent per year from 2020 to 2030 to keep temperatures from exceeding 1.5 C and 2.7 per cent per year to stay below 2 C.
97% of climate scientists agree that the climate is warming and that human beings are the cause.
(Source: United Nations IPCC, World Meteorological Organization,UNEP, Nasa, climatedata.ca)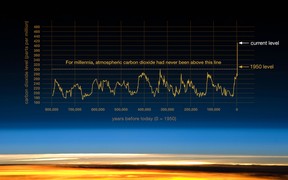 Article content
---
LATEST CLIMATE NEWS
B.C. Wildfire Service warns season not yet over amid drought
Seemingly endless summer conditions in British Columbia have prompted a warning that this year's "very unique fire season" in the province is not yet over.
Hot and dry conditions persist, something the superintendent of the BC Wildfire Service's predictive services said is "quite problematic," and creates conditions for potential ignitions across B.C.
Neal McLoughlin said the season was unusual because it started slowly and was damp, with a delayed snowmelt, then it transitioned into hot, dry conditions by July that continue to persist into October.
Temperatures are about five to eight degrees above normal for this time of year, and there's been little to no rain in several parts of B.C. in weeks.
Read the full story here.
—The Canadian Press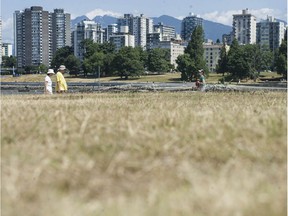 Article content
Drought levels high in B.C. with little to no rainfall in last five weeks
Many parts of B.C. are coping with high levels of drought and water scarcity following little to no rainfall over the past five weeks, the provincial government warned Thursday.
And, with a long stretch of dry weather in the forecast, conditions could become worse for parts of the West Coast, South Coast and Northeastern areas of B.C.
The province ranks drought levels from zero to five and as of Thursday the Fort Nelson, Sunshine Coast, Lower Mainland, and the east and west Vancouver Island regions were all under a Drought Level 4.
At this level, conditions are "extremely dry and adverse effects to socio-economic or ecosystem values are likely," the government said, in a statement.
Regions under Drought Level 3 include the eastern pacific range, Coldwater River, Kettle, and the South Peace, North Peace and East Peace regions. At this level, conditions are "becoming severely dry."
Read the full story here.
—Tiffany Crawford
Climate impacts could tank Canada's economy without financial support: report
Without significant funding to help the country adapt to climate change, Canada's economy will suffer severe job losses and daily life will become a struggle for many people, according to a new report from an independent climate-policy research organization.
The Canadian Climate Institute's sobering 87-page document, called Damage Control: Reducing The Costs Of Climate Impacts In Canada, is the fifth and final report in a series analyzing the costs of climate change.
As more climate-related disasters, such as B.C.'s deadly heat dome, flooding and wildfires last year, cost billions of dollars annually, economic growth will slow, the report states. Governments will be forced to raise taxes, and goods will become more costly as supply chains are disrupted.
All households would suffer financially, but low-income earners would be hit the hardest, according to the report.
However, the authors say these scenarios do not have to be the future, and that modelling shows that if governments at all levels invest in adaptations now, many of the costs of climate change could be cut in half. If that is paired with a successful reduction in greenhouse gas emissions, the costs could be cut even further.
Read the full story here.
—Tiffany Crawford
Nuclear technology, carbon capture and mining critical minerals are all components of Pierre Poilievre's approach to reduce greenhouse gas emissions to fight climate change, but it remains unclear when he will unveil a more fulsome climate plan of his own.
Liberal MP Rachel Bendayan said it was "laughable" to suggest that the Conservative party has a plan to "fight the climate crisis" whereas NDP MP Matthew Green said Canadians "deserve to know" what the Conservatives have in mind.
Poilievre used his first opposition day as Conservative leader on Tuesday to speak out against the federal carbon tax in the House of Commons, but was instead confronted by the Liberals, the Bloc Quebecois, the NDP and the Greens on his climate change plan.
Poilievre did not present a climate plan during the leadership race and has not signalled his intention of doing so in the near future now that he is leader, but has repeatedly been saying that technology, not taxes, is the way to reduce emissions.
—Catherine Lévesque, National Post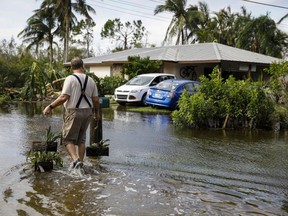 Article content
Climate change added at least 10% more rain to Hurricane Ian, a study prepared immediately after the storm shows.
Thursday's research, which is not peer-reviewed, compared peak rainfall rates during the real storm to about 20 different computer scenarios of a model with Hurricane Ian's characteristics slamming into the Sunshine State in a world with no human-caused climate change.
"The real storm was 10% wetter than the storm that might have been," said Lawrence Berkeley National Lab climate scientist Michael Wehner, study co-author.
Forecasters predicted Ian will have dropped up to two feet (61 centimetres) of rain in parts of Florida by the time it stopped.
—The Associated Press
Ismaili Imamat and B.C. government sign climate change agreement
The Ismaili Muslim community and the B.C. government are working together to share climate change adaptation strategies in the wake of deadly flooding in South and Central Asia.
Representatives of Ismaili Imamat were in Vancouver Thursday morning to sign an accord of cooperation with B.C. Premier John Horgan and Forests Minister Katrine Conroy.
Prince Rahim Aga Khan and Princess Zahra Aga Khan attended the event on behalf of the Aga Khan at the Pan Pacific Hotel.
"British Columbia has been a leading voice in the fight against climate change. Its institutions, companies, and organizations, both public and private, are at the cutting edge of critical knowledge in areas like environment, climate change, and sustainability," said Prince Rahim Aga Khan, in a statement, released by the Ismaili Council for British Columbia.
"It is our hope that in this spirit of partnership, we can identify new solutions that bring value to British Columbia, Canada, and indeed the world."
Horgan said B.C. is sharing its Climate Change Adaptation Model with the Aga Khan Agency for Habitat to help assess climate risks in areas of South and Central Asia that are impacted by catastrophic flooding.
—Tiffany Crawford
September has come and gone, marking another painful milestone for the world's largest rainforest. It's the worst month for fire in the Amazon in over a decade.
Satellite sensors detected over 42,000 fires in 30 days according to Brazil's national space institute. It is the first time since 2010 that fires in the Amazon surpassed 40,000 in a single month.
This September was two and a half times worse than last. Coming at the peak of the dry season, it's usually the worst month not only for fire but also for deforestation.
The official data for forest loss only goes through September 23 so far, yet is already 14% more devastating than September 2021. In just those three weeks, the Amazon lost 1,120 square kilometres of rainforest (434 square miles), an area larger than New York City.
—The Associated Press
When and if an island nation fully submerges due to rising seas, what happens to the nationalities of its citizens?
This and other related questions are being considered by island nations advocating for changes to international law as climate change threatens their existence.
"Climate change induced sea level rise is a defining issue for many Pacific Island states and like most climate change issues, Pacific Island states have been at the forefront of challenging international law to develop in a way which is equitable and just," said Fleur Ramsay, head of litigation and climate lead of the Pasifika Program at the Australia-based Environmental Defenders Office.
During a recent interview with The Associated Press, Ramsay noted the shortcomings in the development of international law. For example, under international law, there are discussions of nomadic tribes making claims over lands they have historically passed over. However, rights over historical ocean passages have not yet been explored for citizens of island nations.
—The Associated Press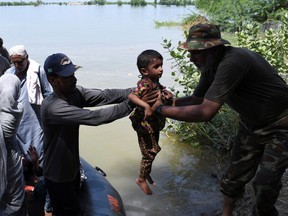 Article content
The United Nations will seek $800 million more in aid from the international community to respond to soaring life-saving needs of Pakistani flood survivors, a U.N. official said Friday.
The unprecedented deluges — likely worsened by climate change — have killed 1,678 people in Pakistan since mid-June. About half a million survivors are still living in tents and makeshift shelters.
Julien Harneis, the U.N. resident coordinator in Pakistan, told reporters in the Pakistani capital, Islamabad, that the latest appeal will be issued from Geneva on Tuesday. It comes just weeks after the agency sought $160 million in emergency funding for 33 million people affected by floods.
Harneis said the U.N. decided to issue the revised appeal "to respond to the extraordinary scale of the devastations" caused by the floods. Pakistan's displaced are now confronting waterborne and other diseases, he said. The outbreaks, health officials say, have caused more than 300 deaths so far.
—The Associated Press
---
RELATED SOCIAL MEDIA
Article content
---
GUIDES AND LINKS
B.C. Flood: Read all our coverage on the Fraser Valley and beyond
Frequently asked questions about climate change: NASA
Climate change made B.C. heat wave 150 times more likely, study concludes
B.C.'s heat wave: Intense weather event is linked to climate crisis, say scientists
Expert: climate change expected to bring longer wildfire seasons and more area burned
Vancouver outlines its Climate Emergency Action Plan
COVID-19 may have halted massive protests, but youth are taking their fight for the future to the courts
Climate displacement a growing concern in B.C. as extreme weather forces residents out of their homes
Do you have a story idea about local efforts being made to address the climate and ecological emergencies? Please email tips to [email protected]
---
More news, fewer ads: Our in-depth journalism is possible thanks to the support of our subscribers. For just $3.50 per week, you can get unlimited, ad-lite access to The Vancouver Sun, The Province, National Post and 13 other Canadian news sites. Support us by subscribing today: The Vancouver Sun | The Province.