Article content
Here's your weekly update with what you need to know about global climate change and the steps B.C. is taking to address the climate and ecological crises for the week of June 20 to June 26, 2022.
Article content
This week in climate news:
• There's frustration in Lytton one year after a devastating fire destroyed the community.
• Lytton could be the first B.C. municipality to be powered by solar sidewalks.
• B.C. launches a strategy to protect communities from climate change.
• Commonwealth heads call for climate action at a climate change meeting in Rwanda.
The UN's Intergovernmental Panel on Climate Change has warned for a decade that wildfires, drought, severe weather, such as B.C.'s deadly heat dome in June, and flooding would become more frequent and more intense because of the climate crisis.
Last August, it issued a "code red" for humanity and earlier this year the panel, made up of hundreds of scientists from around the world, said the window to stop global warming from exceeding 1.5 C was closing.
Article content
Last month, it released a report with solutions for how to drive down greenhouse gas emissions, mainly by transitioning away from fossil fuels.
There is a global scientific consensus on climate change. Multiple studies published in peer-reviewed scientific journals show that human activities are the primary cause of global warming.
Check back here every Saturday for a roundup of the latest climate and environmental stories. You can also get up to date B.C.-focussed news delivered to your inbox by 7 a.m. by subscribing to our newsletter here.
---
A glance at B.C.'s carbon numbers:
B.C.'s gross greenhouse gas (GHG) emissions in 2019 (latest available data:) 68.6 million tonnes of carbon dioxide equivalent (MtCO2e.) This is an increase of 3.0 MtCO2e, or 5 per cent since 2007, the baseline year.
B.C.'s net emissions in 2019: 67.2 MtCO2e, an increase of 1.5 MtCO2e, or two per cent, since 2007.
B.C.'s 2030 target: 40 per cent reduction in net emissions below 2007 levels.
B.C.'s 2040 target: 60 per cent reduction.
B.C.'s 2050 target: 80 per cent reduction.
Canada's 2030 emissions target: Between 40 and 45 per cent reduction.
Canada's 2050 emissions target: Net-zero.
Article content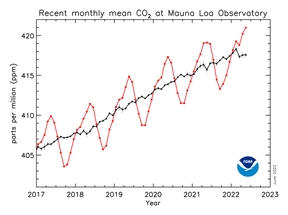 ---
Climate change quick facts:
The Earth is now about 1.1 C warmer than it was in the 1800s.
Globally, 2021 was the fifth warmest year on record.
Human activities have raised atmospheric concentrations of CO2 by nearly 49 per cent above pre-industrial levels starting in 1850.
The world is not on track to meet the Paris Agreement target to keep global temperature from exceeding 1.5 C above pre-industrial levels, the upper limit to avoid the worst fallout from climate change.
2015-2019 were the five warmest years on record while 2010-2019 was the warmest decade on record.
On the current path of carbon dioxide emissions, the temperature could increase by as much as 4.4 C by the end of the century.
In April, 2022 greenhouse gas concentrations reached record new highs and show no sign of slowing.
Emissions must drop 7.6 per cent per year from 2020 to 2030 to keep temperatures from exceeding 1.5 C and 2.7 per cent per year to stay below 2 C.
97% of climate scientists agree that the climate is warming and that human beings are the cause.
(Source: United Nations IPCC, World Meteorological Organization,UNEP, Nasa, climatedata.ca)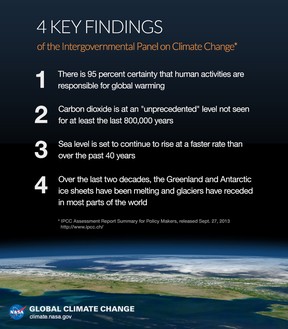 Article content
---
LATEST CLIMATE NEWS
Long road home: Frustration in Lytton one year after devastating fire
Pink peonies bloom amid piles of charred debris in Denise O'Connor's front yard.
On a recent visit, she could only look at her flowerbeds from the sidewalk, prevented by safety restrictions from accessing her Lytton property that was razed by fire a year ago on June 30.
How do you mark a day you want to forget?
The question has been on O'Connor's mind as the anniversary of the Lytton fire approaches. She has decided it's best for her to treat it as "just another day."
"A lot of people take it more to heart," she said. "I don't know. I'm not one to celebrate anniversaries."
Some Lytton residents have planned an event to commemorate the fire. They will meet June 30 to share and support each other and bury a time capsule created by students at the Stein Valley Nlakapamux School. The anniversary is expected to be particularly difficult for more than 150 people who remain displaced after losing their homes.
Read the full story here.
—Glenda Luymes
Lytton could be first B.C. municipality to be powered by solar sidewalks
Destroyed by wildfire last June a day after setting a national heat record of 49.6 degrees Celsius, the Village of Lytton could now become a community of the future.
The fire-ravaged village, located about 190 kilometres northeast of Whistler, is planning to rebuild as a net-zero emissions community. To help achieve this, council is planning to power the village using a new technology called solar sidewalks made by a Vancouver company.
Solar Earth Technologies makes solar panels that not only generate electricity to power homes but can withstand the weight of a five-ton vehicle or, according to company director and CEO Douglas Matthews, a stomping elephant. The hardened solar panels can be fitted into sidewalks, trails, bike paths, driveways and parking lots.
"Our goal is help Lytton create a net-zero community. If we put our infrastructure down for their sidewalks, we could produce enough power to make the entire town net-zero," said Matthews in an interview this week.
Read the full story here.
—Tiffany Crawford
B.C. launches strategy to protect communities from climate change, critics say more work needed
The B.C. government has released its first climate adaptation strategy, meant to provide a blueprint to protect communities from increased extreme heat, wildfires and flooding.
The provincial government on Monday said the strategy is backed up with more than $500 million in spending during the next three years, but critics claim the plan fails to recognize the magnitude and true costs of climate impacts in B.C.
"Everyone in B.C. who experienced last summer and fall knows that our province is on the frontlines of the climate crisis," said B.C. Environment Minister George Heyman. "That's why we're taking coordinated action across all ministries to be better prepared this year, next year, and into the future."
The bulk of the spending — much of it already announced earlier in this year's budget — is earmarked to help communities, including First Nations, increase flood protection and reduce wildfire risks with assessment, planning and small projects.
But the plan puts off completion of a critical provincial flood strategy until next year, as well as a flood resilience plan that would address the need for new dikes until 2025.
Read the full story here.
—Gordon Hoekstra
Scientists say climate change is a factor behind the erratic and early rains that triggered unprecedented floods in Bangladesh and northeastern India, killing dozens and making lives miserable for millions of others.
Although the region is no stranger to flooding, it typically takes place later in the year when monsoon rains are well underway.
This year's torrential rainfall lashed the area as early as March. It may take much longer to determine the extent to which climate change played a role in the floods, but scientists say that it has made the monsoon — a seasonable change in weather usually associated with strong rains — more variable over the past decades. This means that much of the rain expected to fall in a year is arriving in a space of weeks.
—The Associate Press
Leaders of Commonwealth nations are calling for increased climate action at a meeting in Rwanda this week, ahead of the United Nations climate change summit in the seaside resort of Sharm El Sheikh in Egypt later this year.
Climate change is a major concern for the 54-nation bloc that includes small island countries facing growing threats amid global warming. Recent weather events and longer climate term trends, including heat waves, extreme temperatures, droughts, cyclones, floods and rising sea levels, afflict most of the Commonwealth's member states.
Alok Sharma, a British official who led last year's U.N. climate talks in Scotland, urged member countries Thursday to focus on implementing emission reduction targets set for 2030.
"What it needs, friends, is for us to focus on implementation, and every country must respond to the Glasgow climate pact," Sharma said, speaking at a business forum on the margins of the Commonwealth summit in the Rwandan capital, Kigali.
Commonwealth governments must submit their emission reduction targets by Sept. 23, he said, "including their long-term strategies."
—The Associated Press
Some 4,000 people marched in Munich on Saturday calling on leaders of the Group of Seven industrialized countries to take action to fight poverty, climate change and world hunger and end dependence on Russian fossil fuels.
Leaders of the United States, Germany, France, Britain, Italy, Canada and Japan will meet on Sunday at a three-day summit at Schloss Elmau in the Bavarian mountains, aiming to increase pressure on Russia whose actions in Ukraine have created food and energy shortages across the globe.
Protesters carried banners reading "Stop The War Russia And USA/NATO Hands Off Ukraine" and "Imperialism Starts Here," and demanded the G7 allocate more funds for crisis prevention, civil conflict management and economic development.
"Today, we are at the G7 again because we realized that nothing has improved … it's been going on for so long, that we are destroying ourselves," said Lisa Munz, a protestor wearing a hat topped with a stuffed chicken.
The protest was sponsored by more than 15 organizations including WWF Germany, Oxfam Deutschland, Greenpeace and Bread for the World.
—Reuters
Hundreds of people who perished during the historic heat wave in British Columbia last summer died in homes ill-suited for temperatures that spiked into the high 30s and beyond for days, a report by B.C.'s coroners' service found this month.
It was hot outside, but inside it was often much hotter, with tragic consequences.
Of 619 deaths linked to the heat, 98 per cent happened indoors, the review from the coroners' service shows.
Just one per cent of victims had air conditioners on at the time.
But one year on, experts caution that residents and policymakers need to think beyond air conditioning as the predominant solution to the risks as climate change fuels heat waves that scientists say are becoming hotter and more frequent.
"What I worry is that we're talking about mechanical ventilation as this umbrella measure for all buildings, and that's hugely problematic if that's what we ultimately end up doing," said Adam Rysanek, assistant professor of environmental systems in the University of British Columbia's school of architecture.
—The Canadian Press
From the normally chilly Russian Arctic to the traditionally sweltering American South, big swaths of the Northern Hemisphere continued to sizzle with extreme heat as the start of summer more resembled the dog days of August with parts of China and Japan setting all-time heat records Friday.
In the United States a heat dome of triple digit temperatures in many places combined with high humidity oscillated from west to east. On Thursday, at least 15 states hit 100 degrees (37.8 degrees Celsius) and at least 21 high temperature marks were set or broken, according to the National Weather Service, which held 30 million Americans under some kind of heat advisory.
The extreme discomfort of Thursday came after 12 states broke the 100-degree mark on Wednesday and 21 records were tied or broken. Since June 15, at least 113 automated weather stations have tied or broken hot-temperature records. Scientists say this early baking has all the hallmarks of climate change.
In China's northern Henan province Friday, Xuchang hit 107.8 degrees (42.1 degrees Celsius) and Dengfeng hit 106.9 degrees (41.6 degrees Celsius) for their hottest days on record, according to global extreme weather tracker Maximiliano Herrera. And in Japan Friday, Tokamachi and Tsunan set all-time heat records while several cities broke monthly marks, he said.
—The Associated Press
A combination of 18 years of preparation, resourceful adaptation and a stroke of luck helped a small British Columbia community avoid being overrun by an aggressive wildfire last August, says its mayor.
Mayor Robin Smith of Logan Lake said she still gets goosebumps when she thinks about how close the community, southwest of Kamloops, came to being devastated by a wildfire.
The wildfire came within nine metres of the backyard of a house, and it was a shift in wind that prevented the home from being burned, she said in an interview.
While there are several factors that remain out of people's control, there are a lot of other steps that a community can take to ensure that the damage is minimized, Smith said.
—The Canadian Press
---
RELATED SOCIAL MEDIA