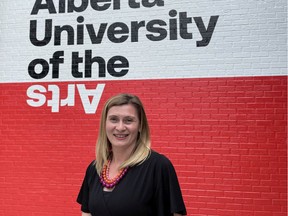 Article content
Janis Goldie moved to Calgary from Sudbury, Ont., to accept her appointment as the new dean of academic programs at Alberta University of the Arts (AUArts). But she is certainly no stranger to this city, having earned both her masters and her PhD in communications and media studies at the University of Calgary.
Article content
Her dissertation regarding the morals, process and political scandals pertaining to the Somalia military affair was awarded the doctoral prize by the International Council for Canadian Studies.
Goldie grew up in Owen Sound, Ont., and attended University of Waterloo, where she was awarded her BA in English — rhetoric and professional writing — participating in the university's co-op program, a useful experience working with different firms every four months in Toronto and Ottawa.
After graduation she was offered the position of assistant professor at Huntington University in Sudbury and enjoyed a rewarding career as professor of communication studies there for the past 13 years, and earned extensive experience in university academic program development and community relations.
Article content
At Huntington she developed and implemented applied and experimental academic pathways, such as work-integrated learning and articulation/transfer agreements with academic partners. Along with her university and community governance experience that included chairing the university senate and research ethics boards, leading internal and external institutional quality reviews and developing campus equity, diversity and inclusion initiatives made her a sought-after candidate for her new position at AUArts.
President and CEO Daniel Doz says, "Through her rich and diverse professional experience, Dr. Goldie brings a definite passion for and understanding of the rapidly evolving teaching and learning environment. She shows a tremendous enthusiasm for higher education and how arts, craft and design are key in supporting thriving communities."
Article content
Goldie says she is looking forward to settling in her new role as the champion of students, faculty and alumni, bragging about the school and its achievements.
Currently, the student population sits at around 1,100 creative individuals keen to learn about and graduate in a variety of programs such as ceramics, painting, sculpture, glass blowing, print media, photography and animation.
The 100-plus faculty offer a wealth of courses, including two four-year graduate degree programs — the bachelor of fine arts, with 11 areas of concentration recognized as one of the most prestigious studio-based fine arts programs in Canada, and a bachelor of design in photography and visual communications.
Goldie is quick to confirm that she is not an artist herself but has a deep appreciation of the arts, particularly in film, television and social media, and a passionate understanding of the benefits of an arts education. The wide range of her own interests led her to write books including The Handmaid's Tale: Teaching Dystopia, Feminism and Resistance across Disciplines and Borders — awarded the best edited collection by the Margaret Atwood Society in 2019 — and New Perspectives on the War Film. Her research also includes growing a program in critical food and communications studies, focused on the communication of food allergies in the media as well as within official, medical and citizen discourses.
Article content
Happy for the opportunity to move back to Calgary and enjoy mountain skiing again, Goldie has welcomed her husband and two children who, after their adventurous drive across the country, are helping us celebrate the return of the Stampede.
The history of AUArts dates to 1926 when it was founded as the Alberta College of Art, which means Goldie and others are already working out ways to celebrate its 100th anniversary in 2026.
Notes:
Small parcels of land for development are not easy to find on the western edge of the city around WinSport. Trinity Hills and Greenwich are filling up, but a highly visible 36,000-square-foot piece of development land has been put on the market, represented by Brad Kroeker and Marc Rosso of Cushman Wakefield. It is on the north side of the highway on the climb up to Bowfort Road currently holding two leased buildings, on a prime piece of land suitable for a new development. Kroeker and colleague Tom Charlton have also listed the former North Star Ford two-acre site on Railway Street in the heart of Cochrane.
David Parker appears regularly in the Herald. Read online at calgaryherald.com/business. He can be reached at 403-830-4622 or by email at [email protected]