The complainant says her former coach agreed to continue working with her if she agreed to "get to know him better."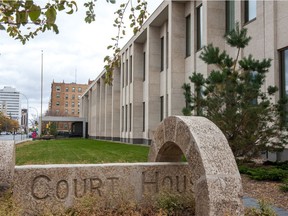 Article content
A woman who was once a high-level gymnast says the Regina coach she viewed as a confidante and a father figure groomed and sexually assaulted her.
Article content
That woman, who cannot be named due to a standard publication ban ordered to protect her identity, spent the better part of two days testifying at the trial of her former coach, Marcel Dubroy, which continued in Regina's Court of Queen's Bench Wednesday.
Dubroy, 71, faces charges including that he did: from a position of trust or authority, touch for a sexual purpose a person aged 14; touch for a sexual purpose a person under the age of 16; for a sexual purpose invite, counsel or incite a person under the age of 16 to touch him.
In addition, he faces two counts of sexual assault. None of the five charges carry specific dates but carry date ranges covering a period from 2002 to 2008.
He pleaded not guilty to all five charges.
Under questioning by Crown prosecutor Chris White, the complainant, now 34, spoke of how Dubroy was in some ways a stand-in in for her own father, whom she described as "emotionally distant."
As years progressed, she became more invested in the sport and spent more time at the gym, but her relationship with Dubroy changed when she was 14. She testified the coach came to visit her family's cabin and the two of them sat on a nearby pier where he told her he was moving away from Regina. She pleaded with him to stay to coach her, she said.
"At first he was adamant that he was going to leave, then said, 'Well, maybe there's something that would make me stay.'"
If she would agree to "get to know him better" he'd consider staying, she said, noting they afterward went to a more secluded area where they held hands and he asked to kiss her, which she declined.
Article content
It was, in part, this "deal," coupled with a gymnastics culture that frowns on the word "no," that she described as making her feel trapped in a relationship with the coach that progressed beyond inappropriate comments to unwanted sexual touching and then unwanted sex, after she turned 18.
However, Dubroy's lawyer Heather Ferg suggested to the complainant — who disagreed — that the only occasion the two had gone to the described pier together was when Dubroy told her she wasn't yet ready to pursue national level competition and needed to work harder.
Ferg questioned the complainant about the stresses of intense training for gymnasts at a young age, and the loss of "normal adolescent activities."
The complainant agreed such an existence could be its own form of trauma for an athlete and that she hadn't had a "normal upbringing."
The defence lawyer questioned the complainant about media she'd consumed on high-profile sexual assault trials, including one that featured "grooming" of an underage girl, and another that featured gymnasts who were found to have been sexually abused.
She agreed she'd thought about her own experiences while viewing these things, and memories she'd "suppressed" began to resurface.
The complainant previously testified Dubroy touched her vagina twice while helping her with a manoeuvre on a "strap bar" at the training facility. Ferg questioned her description of the incident, asking whether her legs wouldn't have been tightly shut during the activity.
Article content
The defence lawyer suggested the complainant and a friend had commented in Dubroy's presence "that the two of you decided that you wanted to lose your virginity to older men," and that was an "signal" of her desire toward him.
No, she'd actually, at some point, told Dubroy she wanted to wait until after she was married, she told Ferg, who then pointed out it was the first time the complainant ever mentioned such a conversation in either the proceedings or the investigation.
"Yes," the complainant responded.
She'd earlier told White she'd had unwanted sex with Dubroy twice before they became involved in "more of a true romantic relationship," which was kept largely secret.
The trial is scheduled to continue Thursday.
The news seems to be flying at us faster all the time. From COVID-19 updates to politics and crime and everything in between, it can be hard to keep up. With that in mind, the Regina Leader-Post has created an Afternoon Headlines newsletter that can be delivered daily to your inbox to help make sure you are up to date with the most vital news of the day. Click here to subscribe.