A defence lawyer challenged the complainant with what she'd said in previous statements.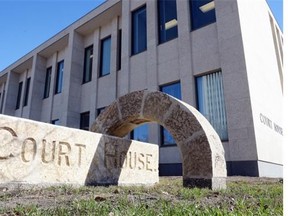 Article content
A woman who accused her former Regina gymnastics coach of sexual assault was confronted with her own police statement in court Thursday.
Article content
That former coach, Marcel Dubroy, 71, faces charges including that he did: from a position of trust or authority, touch for a sexual purpose a person aged 14; touch for a sexual purpose a person under the age of 16; for a sexual purpose invite, counsel or incite a person under the age of 16 to touch him.
In addition, he faces two counts of sexual assault. None of the five charges carry specific dates but carry date ranges covering a period from 2002 to 2008.
He pleaded not guilty to all five charges, and his trial continued through its third day at Regina's Court of Queen's Bench.
The complainant testified at length over two days about how her coach's alleged actions toward her progressed over years from inappropriate comments to unwanted touching, and then to unwanted sex before they became romantically engaged.
On Wednesday, she disagreed when defence lawyer Heather Ferg suggested to her that Dubroy had "constantly" checked with her that what was happening between them was "only what you wanted."
Thursday, the defence lawyer summoned the complainant's police statement, focusing on a section discussing time spent at Dubroy's apartment, where it's alleged that unwanted sex happened.
Ferg read part of the complainant's statement aloud in court:
"I guess there was always the push, a little bit of a push, to do more, even though it was always, you know, 'I will not go any further than you ever want to,' and making it seem like I have that control, but then still trying to badger me or harass me in a way, or just seeming, like, disappointed. And you know, he'd go to bed because he's disappointed, hence wanting to be the good girl."
Article content
The complainant agreed she'd said those words to police.
Ferg also questioned her on how busy the gyms she trained at were, and the complainant answered that "only sometimes" were there spectators at the gym. Ferg pointed out that at the preliminary hearing before the trial she'd testified parents were watching the athletes "almost all the time."
After questions for the complainant concluded, court heard from another two witnesses in the morning, the first being a woman named Jessica Stanley.
For a time, Stanley coached at the gym where Dubroy was training the complainant.
She told prosecutor Chris White that she and Dubroy, her supervisor, didn't get along.
"I think I pride myself on the boundaries that I keep with my athletes, and Marcel did not have those same boundaries with his athletes."
She said she didn't allow her athletes to hug her and she was careful about how she helped them stretch. She said she saw Dubroy stretch athletes in ways that were "completely inappropriate," which drew an objection from defence lawyer Ian McKay that the witness was not credited as an expert and couldn't provide opinions.
Further, McKay said no issues with stretching had been raised in the complainant's testimony, so testimony on stretching lacked relevance.
Stanley also told White she'd witnessed flirtatious behaviour from the complainant toward Dubroy in the gym, which she said he didn't seem to object to. She also said she'd witnessed the pair sitting together and away from the group during a gymnastics competition.
Article content
She testified she quit working at the Regina gym because she felt "strongly that something was wrong," and mentioned her concerns to the board, but it didn't appear that anything was done.
McKay then challenged the witness, putting to her that her coaching internship ended because her mentor, Dubroy, had said she was unwilling to take guidance.
"You were grossly upset," McKay suggested.
"I'm sure I was," she replied, agreeing she quit the gym shortly afterward.
Another witness, Cheryl Russell, who works for Gymnastics Saskatchewan, said once when she was leaving a Regina competition she saw Dubroy exchange a kiss on the lips with the complainant in a parking lot.
"To my dismay, I did nothing," Russell said, telling White she brought the information forward many years later in 2018.
She further testified she'd seen them together on other occasions, noting there was a lot of touching and Dubroy seemed very familiar with the complainant. When she saw them again after seeing them kiss, she said her observations were "coloured" by what she'd already seen.
When McKay stated that in her police statement she mentioned only the kiss, and no other observations, she agreed.
The news seems to be flying at us faster all the time. From COVID-19 updates to politics and crime and everything in between, it can be hard to keep up. With that in mind, the Regina Leader-Post has created an Afternoon Headlines newsletter that can be delivered daily to your inbox to help make sure you are up to date with the most vital news of the day. Click here to subscribe.