The Vancouver-based clothing retailer earned $46.3 million in the second quarter, up from $39.8 million a year earlier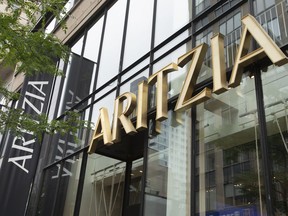 Article content
Aritzia Inc. saw net income go up 16 per cent in the second quarter of fiscal year 2023, as both retail and e-commerce sales rose year over year.
Article content
The Vancouver-based clothing retailer said it earned $46.3 million or 40 cents per diluted share in the second quarter, up from $39.8 million or 35 cents per share a year earlier.
Article content
Excluding one-time items, adjusted net income was $82.6 million or 44 cents per share, compared with $72.9 million or 39 cents per share in the prior year.
Article content
Retail experts have said Aritzia has successfully developed a faithful customer base in recent years, and that momentum is expected to continue.
They said Aritzia is somewhere between luxury and fast-fashion, selling to middle-class and upper-middle-class consumers. Liza Amlani of Retail Strategy Group said the brand is seen as "aspirational" to many shoppers.
The brand doesn't have a lot of competition, making it more able to weather the current inflation trend, she said.
Article content
Jenna Jacobson, assistant professor at Toronto Metropolitan University's Ted Rogers School of Retail Management, told the Canadian Press ahead of the company's earnings report that it's established itself as a relatable brand, with a strong digital and influencer strategy that has helped its growth south of the border.
Aritzia's stock price was up 6.51 per cent on the earnings news, largely unchanged year over year after a softer summer.
Revenues rose 50.1 per cent to $525.5 million from $350.1 million year over year, with same-store sales rising 28.3 per cent.
Retail revenues rose almost 70 per cent to $351.6 million while e-commerce sales increased 33.1 per cent to $173.9 million.
Aritzia successfully leveraged its e-commerce to drive performance during the COVID-19 pandemic, and saw its sales pass pre-pandemic levels after in-store shopping resumed.
Article content
Aritzia said its strong performance has continued through the start of the third quarter.
"Our performance in the United States continued to surge, with revenue growth of 80 per cent, as our existing and new boutiques once again outperformed expectations, underscoring our growing brand awareness," said CEO Jennifer Wong in the press release.
"Looking forward, we believe that we remain well positioned for long-term success, as we strategically invest in the infrastructure that will allow us to capitalize on our growth strategies," she said.
Aritzia currently has 112 stores, 68 in Canada and 44 in the U.S.. It has plans to open up to 10 more within the fiscal year, mostly in the U.S.
— With files from Adena Ali
How Vancouver's Aritzia developed cult-like status in the fashion world