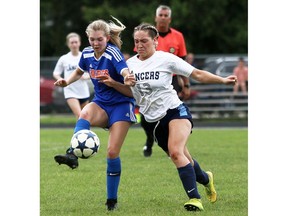 Article content
Provincial high school championships will hit a high this week not seen since prior to the start of the COVID-19 pandemic in March of 2020.
Article content
OFSAA tennis got underway on Tuesday in Toronto with six categories of soccer, including the girls' A championship being held locally, as well as track and field set to get underway on Thursday. Baseball's East and West Regional, which will be hosted by St. Anne, will begin on Wednesday to determine the Final Four for next week's championship.
Girls A soccer
Belle River hosts the championship with the Lajeunesse Royals the area's lone representative in the 20-team tournament.
"From a coaching standpoint, with a two-year break from OFSAA and having not seen any teams or rankings, it's hard to have a good idea," Royals' head coach Brendan Parent said of what to expect from the tournament. "Our girls are enjoying their season together and are focused on playing well Thursday and Friday."
Article content
Lajeunesse blanked Cardinal Carter 4-0 to win the WECSSAA title and then dispatched North Lambton 6-0 to earn the SWOSSAA title and an OFSAA berth.
Lajeunesse opens pool play on Thursday at 12 noon against Lord Dorchester and need a top two finish in pool play to reach Friday's quarter-finals.
Key for the Royals will be the play of midfielder and captain Michaela Marenchin along with forward Zoe Beaulieu, defender Ryleigh Grey along with midfielders Payton Quenneville and Mikhaila Harris.
"From my coaching experience at Lajeunesse, we have a strong team that is coming together at the right time," Parent said.
Girls AA soccer
The L'Essor Aigles head to Bradford for the championship, which features 20 teams.
"Our whole season was a real team collaboration (from) back to front, with so many different players playing key roles," Aigles' head coach Cathleen Mulvey said.
Article content
The Aigles needed overtime to beat Brennan in the semis before beating Vista Academy 2-0 in the WECSSAA title and then clinched an OFSAA spot by beating Sarnia Great Lakes 7-0 in the SWOSSAA title match.
The defence has been solid in front of goalie Isabelle Barrette with L'Essor allowing just four goals all season, which included four playoff games. Up front, Abby Redmond had the OT winner against Brennan and scored both goals in the WECSSAA final.
"With several years since the last OFSAA, it is hard to know how the other teams will be, but our goal at OFSAA is always to make it out of our group to reach the quarter-finals and then, from there, anything can happen," Mulvey said.
L'Essor will face Hamilton St. Mary to open pool play on Thursday at 10:30 a.m.
Article content
Girls AAA soccer
With so many OFSAA championships being contested this week, there are bound to be conflicts.
The Sandwich Sabres' run to the WECSSAA title featured several athletes that also competed for the school's elite track and field program.
Abby Primeau and Zola DeGraw will try to do both events and go from the 20-team soccer tournament in London to track and field at York University. However, with multiple events, Ruby Radovich and Thadiwe Baylis will be with the track and field team.
Sandwich reached OFSAA by taking out St. Anne 3-0 in the WECSSAA final and then following it up with a 2-1 win over Chatham Ursuline in the SWOSSAA title game.
The Sabres open pool play on Thursday at 9 a.m. against Kingston Regiopolis-Notre Dame and will lean on striker Leah Tate and centre midfielders Aaliyah Faddoul and Rosalini Canty.
Article content
"We have a strong team that moves the ball up the field well with great success finishing," Sabres' head coach Marg Canty said. "I'm excited to see the ladies challenged against the best teams in Ontario. We are certainly contenders."
Boys A soccer
The Cardinal Carter Cougars head to Jordan Station for the 16-team tournament.
Cardinal Carter beat Lajeunesse 3-1 to claim the WECSSAA title and shutout North Lambton 6-0 to claim the SWOSSAA title and earn a spot at OFSAA.
The Cougars will look to captain and centre back Noah Branco along with keeper Evan Morais with the offence keyed by Adonis Hatzis, Tiago Verissimo, Nick Ragie and Parker Steel.
"We have hopes to at least advance through the group stag and into the quarter-finals," Cougars' head coach Jon Jensen said. "We feel we have a good enough team to do so and, after that, it's a matter of who plays well to determine who goes further."
Article content
Cardinal Carter opens pool play on Thursday against Hawkesbury Le Some at 11 a.m.
Boys AA soccer
The high-flying Belle River Nobles head to Walkerton for the 16-team championship.
After beating Riverside 4-2 to claim the WECSSAA title, the Nobles earned a spot at OFSAA with an 8-3 victory over Chatham McGregor in the SWOSSAA championship.
"Although we have excellent players throughout, I believe our real strength comes from our defence," Nobles' head coach Andrew Bially said. "They are not only bigger in stature, but are very fast as well. They are more than capable of keeping up with other team's strikers/forwards."
Colin Agnew, Adam Pisani and Nick Dimovski are key on the back end for the Nobles all well as brothers Cristian Stevanovic, who plays forward, and Braden Stevanovic, who plays midfield.
Article content
Belle River opens pool play on Thursday at 9 a.m. against London Mother Teresa.
Boys AAA soccer
The area will have two representatives in London for the 20-team championship.
The Holy Names Knights beat the St. Anne Saints 2-1 to claim the WECSSAA title and then scored a 3-0 victory over Sarnia St. Patrick in the SWOSSAA final.
That victory opened the door for St. Anne to play a challenge game for a second berth at OFSAA and the Saints beat St. Patrick 2-0 to grab the second spot.
Gabe Steel, Ryan Seidl and Gabe Giliana key the offence with the centre back tandem of Mateo Nepszy and Aaron Thwaites and midfielders Rob Mancina, who is nursing an ankle injury, and Michael Jaworski also expected to play key roles.
"Our expectations is to get out of the group stage," Knights' head coach Fabio Muscedere said. "As with all years, it will be challenging and a war of attrition with four group stage games in two days in addition to a quarter-final to qualify.
Article content
"We do have a really good group, with good depth, which will help in a tournament like this. Usually, the teams that stay the healthier, go the farthest."
The Knights open pool play at 9 a.m. on Thursday against Sudbury St. Charles College while the Saints open with a match against London A.B. Lucas at 10:30 a.m.
"It's going to be a great experience for our players," Saints' head coach Angelo Geremia said. "We hope to get out of our pool against four quality teams and move on to the next round."
The Saints will lean on striker Jakub Laskowski, midfielders Jack Ferrato and Andrew Sleiman, keeper Andrew Stratichuk and defender Ryan Godin.
West Regional Baseball
The Villanova Wildcats, who won WECSSAA, head in as the top seed for the nine-team West Regional Baseball championship, which gets underway on Wednesday.
The host St. Anne Saints are seeded sixth and will open play in the double-knockout tournament at 9 a.m. against Burlington Nelson at Lacasse Park.
The Wildcats will wait to open play at Cullen Park at 12 noon against the winner of Kincardine and Mitchell, who open tournament play at 9 a.m.
The top two teams will advance to London next week for the OFSAA Final Four.
twitter.com/winstarparker