Anjali Appadurai, who is going up against David Eby for the NDP leadership, says she's had caucus members tell her their constituencies have doubled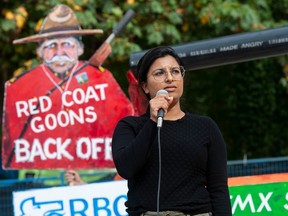 Article content
VICTORIA — NDP challenger Anjali Appadurai is pushing back strongly against the campaign by party insiders to discredit her bid for the leadership.
Article content
Appadurai blasted a "fear" campaign and heavy-handed vetting of new members to the party.
Article content
She also mocked the accusation that she is fronting a hostile takeover of the NDP by Green party supporters.
"The establishment is acting out of fear right now," Appadurai told Katie DeRosa of The Vancouver Sun this week. "New members are feeling they're being subjected to suspicion, and they're not being welcomed with open arms into the party."
She supports reasonable spot checks on new members.
But: "I do not support the assumption of fraud."
She dismissed the allegation of a takeover by the Greens as unfounded to the point of absurdity.
"It's hilarious that anyone could think that a party with 3,500 members could do a hostile takeover of a party with four times that number of members," she told Mike Smyth during an interview on radio station CKNW.
Article content
"If you look at who's benefiting from this, it's certainly not the Green party. I know that a lot of folks have been drawn back to the NDP. And so, you're getting new members. You're getting new donations. You're getting new votes.
"I've had caucus members tell me that their constituencies have doubled," added Appadurai.
But that is part of the problem with the Appadurai insurgency.
Incumbent NDP MLAs and cabinet ministers, particularly those on Vancouver Island, have seen a surge of memberships.
They're not just worried about those interlopers choosing David Eby over Appadurai. They fear they might stick around and vote for someone else when the riding association nominates a candidate for the next provincial election.
Article content
Appadurai doesn't dispute that her campaign has gone out of its way to persuade Green party supporters and others to take out a membership and vote for her. She's proud of it.
"A lot of these people are former NDP voters who are true New Democrats who simply could not abide by the lack of environmental signalling from the party but are New Democrats in every other way and who are now Green members and are now coming back," she told Smyth. "I want to give these folks a reason to stay."
She herself makes a distinction between the record of the NDP government — of which she is sharply critical — and NDP policy, which she supports.
"What the party has in its policies, what's passed at conventions and what the B.C. NDP stands for, I stand behind fully, 100 per cent. Some very forward-looking and transformational ideas are passed at convention, and that's what I want to uphold and uplift."
Article content
At the same time she is on record as denouncing the government as a failure on climate action, housing affordability and a number of other fronts.
So think of Appadurai as speaking for those NDP supporters who thought that the party's stance on Site C ("Site C sucks" — John Horgan) would translate into the NDP cancelling the project when in government. As opposed to covering up Site C's geotechnical problems long enough to blindside the Greens with a snap election, then doubling the budget and pressing on.
Appadurai also makes a distinction between her rival for the leadership, David Eby, and the party establishment.
"Oh, I'm going to give Dave the full benefit of taking his words at face value. And I think he wants the race. Neither of us wants anything unfair or not above board to happen in this race."
Article content
Despite the NDP's rough treatment of her bid, she remains optimistic — leastways for public consumption.
She expects the party to approve her candidacy — "I've done nothing wrong" — in the next week or so.
Meanwhile John Horgan appears to be preparing for an early departure from the premier's office.
He's scheduled a series of what seem very much like exit interviews this week and next, mostly in advance of Oct. 19, the date the party brass have set for a final decision on the Appadurai candidacy.
One of the first interviews played out Wednesday morning on CFAX, the Victoria radio station where Horgan has been a regular guest for years.
Over a full hour with host Al Ferraby, Horgan reflected on his time in office, reasons for deciding to go and his pending retirement.
Article content
When Ferraby went to calls, the first was "Maurine from Esquimalt" — namely former NDP MLA and longtime Horgan ally Maurine Karagianis.
Second up "Carole from Victoria", meaning, of course, former deputy premier and finance minister and current $1-a-year adviser to Horgan, Carole James.
Both wished him well in retirement. Nothing like the spontaneity of live radio.
Though the NDP leadership race is officially set to run to Dec. 3, that won't be the case if the party refuses to greenlight Appadurai's application.
It would leave Eby as the only candidate, subject to immediate acclamation as the next leader of the party.
With Horgan choosing to do exit interviews now instead of later in the fall, one could be forgiven for suspecting the fix is in.
---
More news, fewer ads: Our in-depth journalism is possible thanks to the support of our subscribers. For just $3.50 per week, you can get unlimited, ad-lite access to The Vancouver Sun, The Province, National Post and 13 other Canadian news sites. Support us by subscribing today: The Vancouver Sun | The Province.
B.C. NDP leadership challenger slams party tactics as it investigates memberships

Does the B.C. NDP fear a hostile takeover of the party during leadership race?