"So many survivors are gob-smacked about this."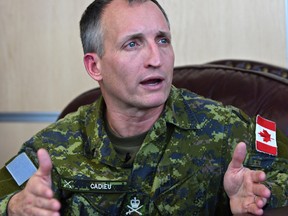 Article content
Survivors of military sexual assaults are sounding the alarm about serving officers, including a chaplain and a Canadian Forces lawyer, who have taken to social media to support a retired general accused of rape.
Article content
Survivors say the support for retired Lt. Gen. Trevor Cadieu from those who are supposed to help victims and punish perpetrators shows Canadian Forces leadership continues to fail in its efforts to deal with sexual misconduct.
Cadieu has been accused of raping a female student at a military college in 1994. He recently returned from Ukraine, was arrested and then was released. Cadieu is expected to appear in provincial court in Kingston in August to face two counts of sexual assault.
A second retired officer, Cory Gelowitz, has been charged with one count of sexual assault.
The charges stem from a complaint filed in September with the Canadian Forces National Investigation Service by a retired female military officer who attended the Royal Military College. She alleges she was raped in her room at RMC by two men who were senior cadets.
Article content
Cadieu has denied any wrongdoing. Gelowitz did not respond to a request for comment. The charges have not been proven in court.
A recent LinkedIn post by retired Canadian special forces officer James Chorley prompted anger among sexual assault survivors. Chorley highlighted a CBC article about charges laid against Cadieu, noting the "accusation and media-based guilty verdict of people like Trevor is both distasteful and ridiculous."
Chorley's comment was "liked" by 15 serving military officers and National Defence employees, including senior chaplain Lt. Col. Marc Torchinsky, Col. Ryan Smith, chief of staff at 4th Canadian Division, Lt. Col. Keith Reichert of the judge advocate general's office, public affairs officer Dan Thomas, force development director Col. Scott Gillingham, Lt. Col. Clay Rook and Philipe Leclerc, a National Defence strategic advisor, among others.
Article content
Lt. Col. John Timmermans, who serves at NATO, stated in response to Chorley that the Canadian military needed to stop referring to those making accusations about sexual misconduct or assault as "the victim." He stated that in some cases individuals making sexual assault allegations were actually the "guilty party."
Retired major Donna Riguidel described the LinkedIn responses by serving military personnel as disturbing. "So many survivors are gob-smacked about this," said Riguidel, who was herself sexually assaulted. "This is why so many people in the military didn't come forward 20 years ago, and it's probably why survivors that read this are not going to come forward now."
Riguidel, who now consults on culture change and supporting sexual assault survivors, pointed out senior Canadian Forces leadership has taken no action about the LinkedIn activity.
Article content
Neither Chief of the Defence Staff Gen. Wayne Eyre nor army commander Lt. Gen. Joe Paul would comment. "We understand that some of the sentiments expressed online have resulted in real harm to victims of sexual misconduct and impacts their ability to feel safe and empowered to come forward without fear of reprisal or further harm," a statement from National Defence to this newspaper noted.
The statement added such behaviour was unacceptable and the military would be "reminding all CAF members of their responsibility to ensure online conduct is appropriate and respectful."
Defence sources, however, have confirmed no action of any kind will be taken against any of the officers and they will be free to continue posting their views.
Article content
Riguidel said the woman who filed the complaint against Cadieu had endured an unprecedented campaign aimed at discrediting her character and the military leadership had "thrown her under the bus."
The woman's identity has been shared among officers, including those on Eyre's staff. Comments online about the alleged victim's mental state and her alleged motives have been posted online. Similar comments have been made during official meetings at defence headquarters.
In an unprecedented move, the Canadian Forces distributed Cadieu's statement denying wrongdoing to news outlets. The alleged victim said that clearly showed Eyre and the senior leadership were behind Cadieu despite an ongoing police investigation.
Article content
Retired military personnel have heaped praise on Cadieu over the past eight months. Retired Brig.-Gen. James Cox, a fellow at the Norman Paterson School at Carleton University, claimed the allegation against Cadieu could be "sedition to undermine national leadership."
Cadieu has also received on-line praise from military sexual assault survivor Annalise Schamuhn, a retired captain, and retired Lt.-Col. Eleanor Taylor, who announced last year she was leaving the military because of sexual misconduct among Canadian Forces leadership.
Retired Lt.-Gen. Mike Day praised Cadieu, tweeting on April 21 tweet that not only was Cadieu the most competent officer he had ever worked with, but he had also handled the current situation with "compassion for his accuser."
Cadieu's alleged victim has challenged Day's claim, noting she had to request a legal order to prevent Cadieu from contacting her.