NDP leader promised to 'fix what's broken' in health care by repealing bill that caps public sector wage increases at one per cent annually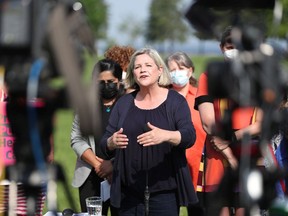 Article content
NDP Leader Andrea Horwath made her second stop in as many days in the tight three-way race that is Ottawa West-Nepean Tuesday, hammering home her party's health care promises and vowing to fill 247 vacant nursing positions in the city.
Article content
Speaking in Britannia Park alongside nurses and NDP candidates Chandra Pasma (Ottawa West-Nepean) and Joel Harden (Ottawa Centre), Horwath promised to "fix what's broken in the health care system" by repealing Bill 124, which caps public sector wage increases at one per cent annually.
Horwath called Bill 124 "a low-wage policy that disrespects nurses in Ontario and has been chasing them out of the health care system."
The NDP says it would hire 30,000 nurses and 10,000 personal support workers for the province, entice veteran nurses to either return or stay in the workforce, and provide training and other assistance for foreign-trained nurses to get licensed in Ontario.
"There are thousands of international nurses we can train and get accredited. They've been standing on the sidelines during COVID," she said.
Article content
All told, the NDP plan would add more than 2,000 nurses and PSWs to Ottawa, she said.
Responding to reporters' questions afterward, Howarth vowed to support more affordable housing and reign in speculators who are driving home prices out of reach for most.
Ford wants MPPs to stop taking allowances from riding associations; touts highway widening in Ottawa visit

Liberals would add COVID-19 shots to schools' immunization lists, Del Duca says
"Housing is a basic human right. How can you do anything in life without having a stable, affordable, decent quality roof over your head for you and your family?" she said.
Asked about the NDP plans for autism, Howard said the Conservatives had sold families a "bill of goods." She said an NDP government would invest in autism therapies and do away with "arbitrary age caps" on funding.
Article content
"It is absolutely tragic and hurtful what Doug Ford has done to children who have autism and their families. They were sold a bill of goods by Doug Ford and things have become so much worse," she said.
"The Ford government has literally doubled the waitlist, from 25,000 to 50,000 kids."
Tuesday's appearance came the morning after Horwath rallied supporters in Ottawa West-Nepean in support of Pasma, who fell just short four years ago, losing to Conservative Jeremy Roberts by 175 votes on the final poll of the night.
Ford stumped in the riding with Roberts Monday, while the Liberals have poured resources into backing their candidate Sam Bhalesar. The riding was held by the Liberals for 15 years before Roberts' surprising victory in 2018 with Liberal veteran Bob Chiarelli finishing third.
This is Howarth's fourth election as NDP leader and with the election on Thursday, polls show the Conservatives with a solid lead, with Steven Del Duca's Liberals in second place. Howarth was asked if she will stay on as leader if the NDP backslides.
"I'm going to wait to see what the people of Ontario decide," she said. "Once they make their decision, that will determine what goes forward for me personally."