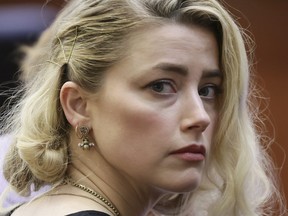 Article content
Amber Heard's long-shot bid at a new trial was snuffed out by Judge Penney Azcarate on Wednesday.
Article content
Last week, Heard's lawyers asked Azcarate to toss the $10.35 million verdict against her after she lost a defamation suit against her ex-husband Johnny Depp, arguing that one of the jurors — known as Juror No. 15 — may not have been properly screened by the court.
On Friday, Deadline obtained documents relating to the person in question.
"It appears that Juror No. 15 was not, in fact, the same individual as listed on the jury panel," read a motion filed by the actress' legal team. "Ms. Heard's due process was therefore compromised. Under these circumstances, a mistrial should be declared, and a new trial ordered."
According to the redacted filing, the summons for jury duty was sent out to a Virginia resident in April. But there were two people living at the same address — a 77-year-old (who was the one summoned) and a 52-year-old (who showed up in court).
Article content
"Thus, the 52-year-old- (redacted) sitting on the jury for six weeks was never summoned for jury duty on April 11 and did not 'appear in the list,' as required."
But in a written order issued Wednesday, Azcarate rejected Heard's claims and said the juror issue specifically was irrelevant and that her legal team couldn't demonstrate how the error showed prejudice against her.
"The juror was vetted, sat for the entire jury, deliberated, and reached a verdict. The only evidence before this Court is that this juror and all jurors followed their oaths, the Court's instructions, and orders. This Court is bound by the competent decision of the jury," Azcarate wrote.
Depp's lawyers also fired back at her attempts to have the verdict thrown out saying that Heard didn't prove that her defence was thwarted by the error.
Article content
"Unsurprisingly, Ms. Heard cites to no case law to support her argument that the service of Juror 15 if he is not the same individual that the Court assigned as Juror 15 somehow compromised her due process and would warrant the drastic remedy of 'setting aside the verdict and ordering a new trial,'" Depp's lawyers wrote in a statement obtained by Variety. "Ms. Heard makes no showing of any prejudice, and accordingly her speculative arguments fail."
It is not clear if the juror intentionally misrepresented themselves as being born in 1945, and no explanation was given how the younger individual was selected to the jury without ever having to provide any official ID.
Depp, 59, sued Heard, 36, for $50 million, accusing her of defaming him with a 2018 op-ed she wrote for the Washington Post in which she described herself as "a public figure representing domestic abuse." The three-time Oscar nominee denied her allegations of abuse and claimed the article ruined his career and led to a series of cancelled film projects, including a sixth Pirates of the Caribbean feature.
Article content
Heard hit back with her own $100 million counterclaim after the star's former lawyer Adam Waldman called her allegations a hoax. Both accused one another of ruining their respective careers.
Depp won three claims against Heard, with a seven-person jury siding with the Edward Scissorhands star, finding there was "clear and convincing evidence" that his former spouse had defamed him. He was awarded $15 million (an amount that was reduced to $10.4 million). But Heard also had a small victory of her own when it found that she too was also defamed through statements Waldman made to the Daily Mail.
Amber Heard facing more legal headaches after insurance company refuses to pay damages

Amber Heard wants Johnny Depp victory tossed over Juror No. 15

Johnny Depp brands Amber Heard's attempt at mistrial a 'fail'
Article content
During an appearance on NBC's TODAY show last month, Heard's lawyer Elaine Bredehoft said the actress, who has forked over at least $6 million in legal fees battling her ex, "absolutely" cannot pay Depp.
Paul Bekman, a Baltimore lawyer who has also tried cases in Virginia, concurred with Depp's lawyers telling the Associated Press that Heard's team needed to raise any issues about the juror ahead of time.
"Anybody looking at a 52-year-old and a 77-year-old would be able to tell — hopefully — that there's a difference of 25 years, and they would have the right to inquire about that," he said. "I believe it is too late to complain about the juror."
Azcarate also shot down Heard's secondary arguments that the verdicts were "inconsistent and irreconcilable."
Heard still has the ability to appeal the verdict to the Virginia Court of Appeals, but will have to post a bond for the full amount of the $10.35 million award while her appeal is pending.