"My role's to overlook and make sure we're always a play ahead," he says. "I'll be in the ears of all the coordinators."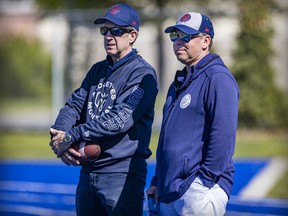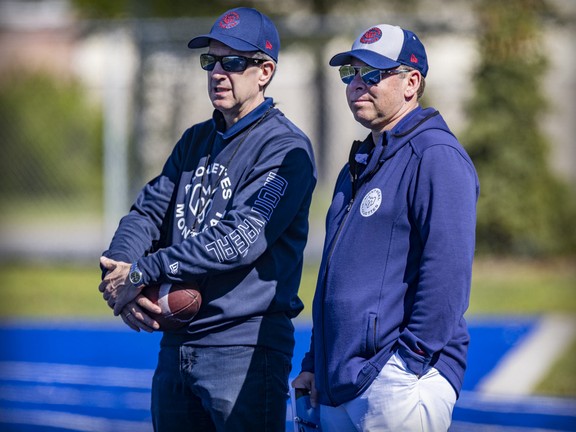 Article content
For quarterback Trevor Harris, it'll the first time he has faced Edmonton since his trade to Montreal last season. Meanwhile, for interim head coach Danny Maciocia, it'll be his first game on the sideline since the 2019 Vanier Cup.
Article content
Despite the fact the Alouettes and Elks have losing records and have struggled, the plots will be plentiful when the teams meet Thursday at Molson Stadium (7:30 p.m., TSN1, TSN3, TSN4, TSN5, RDS, TSN Radio-690).
Als general manager Maciocia inherited the interim coaching role last week, after he fired Khari Jones and defensive coordinator Barron Miles, with the team at 1-3. Noel Thorpe replaced Miles, while quarterbacks coach Anthony Calvillo will call the plays for Harris.
"I'm going to probably feel the excitement (Thursday) morning when I wake up and I'm going to obviously realize it's game day and I'm back on the sideline," Maciocia said. "I'm looking forward to it."
Maciocia was a former head coach and GM with Edmonton. Despite a losing record in both capacities, he led the Elks to the 2005 Grey Cup. He was more successful during his nearly decade-long run at Université de Montréal, with two Vanier Cup appearances and one national title.
Article content
Without having to serve as a coordinator, Maciocia will be free to "tabulate and rationalize situations" during the game, managing more than coaching while keeping an eye on how his players and assistants handle the game and deal with adversity.
"My role's to overlook and make sure we're always a play ahead," Maciocia said. "I'll be in the ears of all the coordinators, making sure they're thinking about the next play.
"I appreciated the week of work they gave us, because it was far from the ideal week we anticipated. They've been real professional and worked hard."
Anthony Calvillo back at helm of Alouettes' offence

Zurkowsky: Alouettes GM Maciocia isn't the bad guy for firing head coach

As Alouettes struggle, GM fires head coach Khari Jones
Harris was acquired in October, after Vernon Adams Jr., suffered a season-ending fractured arm. While Adams won the starting position this season, he was replaced by Harris early in the second quarter of the second game in Toronto. Maciocia still believes Harris provides the Als with the best opportunity to win.
Article content
Harris said there's motivation for any game and won't treat this one differently. And, considering he was traded before the arrival of Elks head coach and GM Chris Jones, that philosophy makes sense.
"As your career goes on, you start developing a mentality in certain games," he said. "I think in every game you can take things personally because of things that have happened; teams that have beaten you in the past. There's always motivation. The minute you run out of motivation … you shouldn't play the game. My motivation's at an all-time high."
Walter Fletcher, another former Elk, makes his first start at tailback for the Als. The 5-foot-9, 202-pounder has displayed flashes of speed in limited appearances and should receive a decent workload, considering Maciocia said the Als will try to establish a running game following the early-season injury to William Stanback.
First overall draft choice Tyrell Richards is expected to start at middle linebacker and will share time with newly-acquired Micah Awe. They replace Tre Watson, who was recently released and will make his first start for Edmonton.
Taylor Cornelius will make his first start at quarterback for the Elks (1-4).
twitter.com/HerbZurkowsky1