The Als held serve Thursday night at Molson Stadium, crushing the Saskatchewan Roughriders 37-13, for their first victory of the season.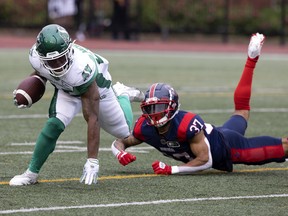 Article content
Hold the epitaph — there's still some life in the Alouettes.
Article content
While the regular season remains in its embryonic stages, the Als simply couldn't afford to get off to an 0-3 start. And neither could head coach Khari Jones, in the final year of his contract and seemingly fighting for his continued existence guiding this team.
The Als held serve Thursday night at Molson Stadium, crushing the Saskatchewan Roughriders 37-13, for their first victory of the season. And, while it was a convincing win, it should be remembered the Riders were playing their second road game in five days and arrived in Montreal having had only one full practice.
While Montreal did what was required and undoubtedly took advantage of what might have been a beleaguered team, the scenario could take on a new dimension one week from Saturday, when the rested Riders entertain the Als at Mosaic Stadium — and, quite likely, with a score to settle after being embarrassed.
Article content
But that's a story for another day. For now, the Als should take comfort in this convincing win following a pair of agonizingly narrow defeats — by a combined four points — in Calgary and Toronto. And yes, the eternal optimist will suggest Montreal just as easily could be atop the East Division at this point with a 3-0 record had the cards fallen in its favour.
"I just told them to believe in one another and just go out there and play like they know how to play," Jones said. "It was a fun game. It feels good to get a win. It always feels better to win. It's a nice feeling.
"We're just trying to play good football every week. I feel like we were close the first two weeks, a play or two away from winning. We made it so that it didn't have to be close this week. I hope they see what we can be. I think we can be a pretty good team. Now it's about putting it together week after week."
Article content
It would be incorrect to suggest the Als played a complete game. But the offence did just enough behind the calming influence of veteran quarterback Trevor Harris, who was making his first start of the season after replacing Vernon Adams Jr. early in the second quarter last week, against the Argonauts.
Jones announced last Sunday that Harris, 36, was the team's starter, and that decision became moot by Tuesday, when Jones announced Adams had tested positive for COVID-19. It now appears likely the Als will sink or swim with Harris as long as he remains healthy and reasonably consistent.
"He's giving us a lot of confidence," Jones said. "He just has a good way about him. He's been in this league for 10 years, still can do everything athletically and can think the game really well. He's just a quality quarterback. You saw that today. He made really good decisions, didn't turn the ball over and played a clean game. The more he's out there, he'll continue to get better."
Article content
Harris completed 16 of 22 passes for 262 yards and one touchdown — a 70-yard pass-and-run play to Canadian receiver Kaion Julien-Grant early in the second quarter. The Als still have work to do completing drives, as evidenced by David Côté's five field goals, only one beyond 30 yards. Indeed, Montreal otherwise might have scored 50 against the Riders.
"I leave the evaluation portion up to the coaches, but there's obviously some plays we left out there," Harris said. "I felt like we were crisp offensively in the first half. We just couldn't finish some drives, which is going to be a point of emphasis. We have to finish in the red zone. That's what the great offences do. That's what this offence's capable of."
But nothing more was required from Harris, thanks to the Als' aggressive defence and the splendid work of return-specialist Chandler Worthy.
Article content
Montreal, for the second consecutive week, held an opponent to one touchdown — something virtually unheard of in the CFL. But the Als were more aggressive and dominant against Saskatchewan, producing eight quarterback sacks while intercepting three passes, one returned 21 yards by safety Marc-Antoine Dequoy for a touchdown. Beleaguered Riders quarterback Cody Fajardo was replaced by Mason Fine midway through the fourth quarter.
Almondo Sewell, Michael Wakefield and Brian Harelimana — replacing the injured Chris Ackie — each contributed a pair of sacks.
As for Worthy, 5-foot-8 and 177 pounds, the greatness he predicted last week against Toronto came to the surface against Saskatchewan. He returned the opening kickoff 88 yards for an electrifying touchdown and would have had a 73-yard punt-return for a score late in the third quarter except for a penalty. Nonetheless, he contributed more than 200 all-purpose yards.
Article content
"Years and years of putting in the work and believing in myself," said Worthy, who was signed by the Als in training camp after being released for the fourth time by Toronto. "I've been cut many times. I've been counted out and doubted. The one thing I learned: if you believe in yourself, you can make it through anything."
QB Harris, kick-returner Worthy lead Alouettes to impressive victory over Roughriders

Alouettes are slowly building support, president Mario Cecchini says

Alouettes kicker David Coté turns page after critical miss against Argos