General manager Danny Maciocia and head coach Khari Jones say testing came back negative for COVID-19.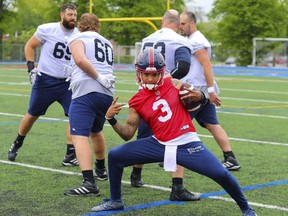 Article content
TROIS-RIVIÈRES — Having already missed training camp practices last month while CFL players were on a four-day strike, the Alouettes cancelled Wednesday's on-field activities at Stade Diablos, citing a flu bug that was going through the team.
Article content
General manager Danny Maciocia and head coach Khari Jones denied any cases of COVID-19 had developed, saying tests were taken and came back negative. Both said they were feeling fine, but refused to identify the affected players.
The players are scheduled to be on the field Thursday morning for a walk-through before breaking camp. The Als entertain the Ottawa Redblacks Friday night at Molson Stadium before launching their regular season June 9 at Calgary.
"We probably could have gone out there today, but we're just being careful," Maciocia told the Montreal Gazette by telephone. "We have a game on Friday. We don't want to do anything stupid and jeopardize how many people are available to play.
"Obviously, we could have used the day on the field. How much of a determining factor is it going to play in the big picture? I don't think it'll be that big of a deal. There's always time during the course of camp you might miss a day or two (due to injuries). We missed those days at the beginning (due to the strike) and that obviously hurt me more than this now. This one we don't have much control over."
Article content
Jones said players started feeling ill on Tuesday, while more had developed symptoms by the evening. He told the players to be judicious and avoid contact to prevent the bug spreading.
"Hopefully we can nip it in the bud," he said. "We were going to practise (on Wednesday), but it got up to over 10 guys. We should be back on the field (Thursday)."
With the Als having played last Saturday at Hamilton, Jones believes a day off isn't the worst scenario, suggesting it would provide players with an opportunity to rest their legs.
"It's just one of those things you have to deal with," Jones said. "We didn't have as many practice days, and this is just one less. Luckily, it's before the second (pre-season) game. We feel like we have everything we need to get installed (against Ottawa). This just takes away a little bit of practice on it, but we can handle it. I think we'll be OK. We just move on."
Article content
With a day off in Trois-Rivières, Jones said he hoped the players would remain busy studying their playbooks. The coaching staff, meanwhile, were watching film of the Redblacks or Stampeders in preparation.
"It's just business as usual," Jones said. "It's the players' time. You can't monitor all of them. I think the smart ones will study their playbooks, and I think we have a lot of smart ones. Having a day off in training camp isn't unheard of. It has happened before."
Rookie receiver Fabian Guerra said he was feeling "awesome" and was caught by surprise when he awoke for breakfast and received a message that practice was cancelled. But one member of the football operations department, who shall remain anonymous, confirmed he was feeling "brutal" and had vomited at least six times Tuesday evening.
Incredible drive keeps receiver Fabian Guerra in mix with Alouettes

Healthy again, Alouettes' Mario Alford vows explosive return to the field

Alouettes rookie Tyson Philpot hopes to make splash in pre-season debut