Aéroports de Montréal's senseless massacre is a wake-up call for authorities to permanently preserve these precious natural places.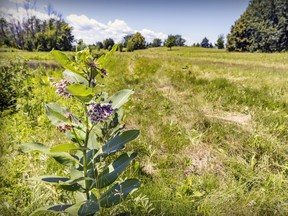 Article content
It seemed like a happy ending.
Article content
This time last summer, environmental activists and nature lovers in Montreal were trying to prevent the construction of a medical mask factory on a tract of federally owned land colloquially known as the Monarch Field.
Part of the former Golf Dorval course, the area had slowly re-wilded. It was lush with milkweed, goldenrod and other sustenance for the mighty but threatened monarch butterfly, which winters in Mexico, then miraculously journeys here to reproduce in the warm months. The sanctuary was home to myriad other plant and animal species, like voles, snakes and nesting birds, and was adjacent to the Technoparc wetlands, an improbably rich habitat for hundreds of migratory bird species nestled in an industrial zone. Conservationists made a strong case for preserving the site.
Article content
As a result, Medicom, the company looking to build a much-needed mask facility in Montreal with an investment from the federal government, made a wise and responsible decision: It would put its plant somewhere else.
But this victory was short-lived.
The Monarch Field was suddenly and inexplicably razed earlier this summer. More than 4,000 milkweed plants and other nourishment for butterflies and bees were mowed down. Even shrubbery on the periphery where birds nest was torn up by giant machinery. Only the trees emerged unscathed.
The once flourishing Monarch Field was reduced to 19 hectares of stubble in one fell swoop.
The perpetrator of this outrage is Aéroports de Montréal, which leases the land from the federal government and was trying to sublease it to Medicom.
Article content
The reason was "maintenance" — even though the site was virtually untouched for 10 years.
This is an environmental atrocity. Although a few monarchs still flutter around looking for scarce food, biologists say an entire generation of the creatures has been wiped out. And this in a year when researchers have observed fewer of the arthropods than usual. Larvae will never hatch and adults are unlikely to grow strong enough to return home. The ADM has blood on its hands over the senseless Monarch Field massacre.
This is a crime against nature. Montreal was granted gold status in 2019 for being a monarch-friendly city — the highest echelon and the first city in Canada to earn the designation. A lot of good that did in actually protecting essential butterfly habitat from wanton destruction. If this title is anything more than feel-good rhetoric, the ADM should be held accountable.
Article content
This is hypocrisy. ADM spokesperson Eric Forest claims the "maintenance" work was done to remove "nuisance" plants like ragweed. That doesn't explain why all the other greenery was decimated. He also claims the organization remains committed to protecting monarchs and planted 200 square metres of milkweed seeds nearby. But don't be fooled by the big number; 200 square metres is only 0.02 hectares. The ADM's maintenance work ruined 1,000 times that.
This is a cautionary tale. When the butterfly haven was spared last year by Medicom's smart decision to locate elsewhere, it seemed like mission accomplished. But without formal protection or official status, there were no guarantees for the Monarch Field's safety, as has become tragically evident. There are many other green spaces of ecological value in Montreal and beyond that are equally vulnerable, including the Technoparc wetlands next door. We can't take it for granted that because they are here today they will still be here tomorrow.
Article content
This is a wake-up call for authorities to act quickly and decisively to permanently preserve these precious natural places, which combat the heat island effect, purify our air and perform various other vital functions, like flood mitigation. The Communauté métropolitaine de Montréal may have put a freeze on developing woods, prairies and wetlands "of interest" in the region, but that doesn't mean private and public entities (like the ADM) won't try. Constant vigilance is required.
This could be an opportunity. Montreal has now been tapped to host a long-delayed global biodiversity summit in December. Government leaders from around the world will flock here for the COP15 talks to negotiate new agreements on conserving and preventing the loss of essential ecosystems. What better way to underscore this vital effort than for the host country to preserve this habitat for birds, bees and butterflies right next to the runway where the delegates will touch down? These are, after all, federally owned lands ripe for protecting.
The Monarch Field may be a barren wasteland now, thanks to the ADM. But given time — and a fighting chance — nature may one day revive itself.
Allison Hanes: Why on Earth would we build a factory on the Monarch Field?

Allison Hanes: SOS for Montreal's monarch butterflies — and ourselves