New transit investment in the capital region has dominated this election campaign, with only one party dead set against the third-link project between Quebec City and Lévis.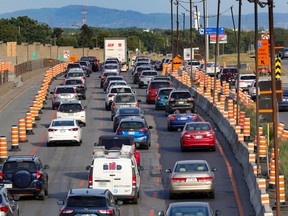 Article content
A single infrastructure project in Quebec City has become a major fault line in the provincial election campaign, distinguishing which parties see transportation as a concern for commuters in specific regions and which see the issue as the key to addressing climate change.
Article content
The Coalition Avenir Québec favours spending at least $6.5 billion to build a four-lane tunnel under the St. Lawrence River to link downtown Quebec City, which has about 550,000 inhabitants, with downtown Lévis, population 150,000. The so-called third link would save Lévis residents the headache of having to drive around using the aging, deteriorating, congested Pont Pierre-Laporte. (They also have the option of a short ferry ride.)
Article content
The Conservative Party of Quebec also supports the link, although it favours a bridge that would desecrate pastoral Île d'Orléans.
The Quebec Liberals want to extend a proposed tramway for Quebec City all the way to Lévis, although leader Dominique Anglade said she couldn't specify how she would do that until CAQ Leader François Legault stops refusing to release feasibility studies on the third link. And the Parti Québécois wants to put a tunnel under the river for a light rail line.
Article content
Only Québec solidaire is dead set against the project, which opponents say would be environmentally disastrous, encouraging greater reliance on the solo car and promoting suburban sprawl at a time when we should be doing the opposite. The party would instead put a rapid transit bus lane on the existing bridge.
Half of Quebec's population may live in Greater Montreal, but new transportation investment in the capital region has dominated this campaign.
Legault may accuse Montrealers of interfering and "looking down on" the concerns of commuters from Lévis in questioning the need for a new multi-billion span. But the third link is a matter that affects all Quebecers. Whether it gets built and the form it takes may determine Quebec's ability to reach even the most modest emissions reduction targets by 2030.
Article content
The reality is that transportation and climate change are inextricably linked. The largest and fastest-growing percentage of greenhouse gases comes from the sector, with the lion's share of that resulting from tailpipe pollution. Quebecers are driving more and larger vehicles that consume more gas — a source of emissions that has proved difficult to tame, even if electric cars are also popular. Like it or not, getting more drivers out of their personal vehicles and onto public transit, bikes or sidewalks is crucial to meeting Quebec's climate objectives.
But few of the parties are presenting it that way, with most speaking of projects as solutions to reduce gridlock for the local population rather than pieces of a much larger puzzle.
Article content
Québec solidaire has the most comprehensive transit platform, pledging to make transformative changes that will address the impact of climate change. Co-spokesperson Gabriel Nadeau-Dubois has promised a major expansion of public transit in Montreal worth at least $47 billion, including extensions of the Orange and Green Lines, as well as a new Purple Line that would cut a diagonal across the city. The party also has a $5-billion plan for transit in Quebec City.
On Tuesday, Nadeau-Dubois unveiled a $50-million proposal to bring car-sharing programs from urban centres to all regions of the province. QS is proposing to invest $13 billion for an intercity railway network linking all regions of Quebec, so people would have choices other than motoring along on highways. The party is absolutely right that Quebecers in small towns, suburbs and remote regions also deserve alternatives to car dependence, like their urban counterparts. Right now they have few.
Article content
While all the parties are proposing incentives to get more Quebecers into electric cars before the sale of new vehicles with gas combustion engines is outlawed in 2035, QS also plans to tax fuel-guzzling SUVs now. It's an unpopular idea that Nadeau-Dubois has taken flak for, but at least it's honest about where emissions can be cut.
Anglade and the Liberals have promised free public transit for seniors and students, which would go a long way in encouraging the use of existing lines, as would the PQ's Passe-Climat, offering $1-a-day fares.
But without major investments in new projects, Quebec will never reach its climate goals.
Yet all new transportation infrastructure must be evaluated for its climate impact, whether it's the third link or the planned replacement for the Île-aux-Tourtes Bridge, which inexplicably leaves no room for a future extension of the REM.
With Quebec's 2030 goals on the horizon, transportation must be treated as a crucial issue in this election that goes hand in hand with tackling the climate crisis.
Allison Hanes: Quebec marching toward a climate crossroads

Allison Hanes: Cultural heft vs. weak political clout is the Montreal paradox