Fresh allegations about a Trois-Rivières man's behaviour after he was granted a conditional discharge underscore the view that some perpetrators are undeservedly coddled by a flawed system.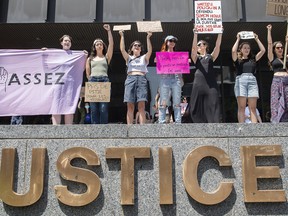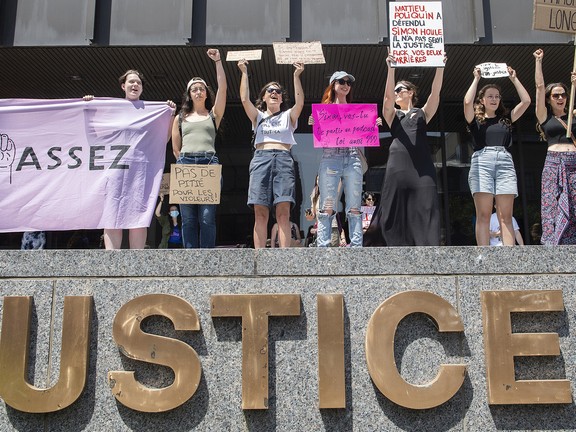 Article content
Sometimes when justice is called into question, the universe answers.
Article content
So it may be with the disturbing case of Simon Houle, which has roiled Quebec.
The 30-year-old Trois-Rivières man pleaded guilty last year to charges of sexual assault and voyeurism regarding a 2019 incident in which he took nude photos and fondled the private parts of a sleeping woman at a party.
Upon sentencing in late June, Quebec Court Judge Matthieu Poliquin gave him the benefit of the doubt — big time — offering Houle a conditional discharge for fear a criminal record would hamper his career as an engineer. Prosecutors had been seeking 18 months behind bars.
The case struck a nerve at a time when the justice system is under growing scrutiny for how some say it trivializes sexual assault complaints. Fresh allegations about the accused's subsequent behaviour have since underscored the maddening view that some perpetrators are undeservedly coddled by a flawed process.
Article content
As outrage was mounting in Quebec over a lenient sentence that many say minimizes the gravity of sexual assault, Houle was apparently down in Cuba testing the limits of a conditional discharge.
A teacher named Vickie Vachon told Radio-Canada that a Quebec man she was chatting with at an all-inclusive resort in early July grabbed her buttocks in an "aggressive" manner. The 40-year-old mother told him off, lecturing the younger man about respect and consent in her best teacher voice.
Only once she returned to Quebec and caught up on the news did she realize the "Simon" who had allegedly groped her was none other than the recently absolved Houle. Vachon went public with her story and has since made a report to police, lamenting that the courts failed to protect her from an unrepentant assailant.
Article content
This case was already threatening to bring the justice system into disrepute before Houle so crassly thumbed his nose at it. But this fresh shamelessness mustn't overshadow the broader issues that have been raised.
Protesters have been demonstrating outside courthouses across Quebec, including Montreal's on Sunday, decrying an adversarial process that puts victims of sexual assault through the wringer while often perpetuating double standards, misogynistic stereotypes and rape myths.
While judges have a duty to weigh the mitigating specifics with the aggravating factors of a given case, Poliquin's sentence invited the criticism and bias survivors and their advocates so frequently level at the courts.
Article content
Poliquin went out of his way to excuse Houle's conduct, emphasizing the brevity of the one-off assault (which nevertheless left the victim traumatized), the accused's supposed regret, his bright future as an engineer and his upstanding character. And the judge didn't give much weight to a previous problematic sexual encounter that Houle acknowledged during a pre-sentencing therapy session.
Some have called for Poliquin's removal from the bench, arguing his ignorance of evolving social norms undermines faith in the courts and could deter victims from coming forward. At the very least, he would benefit from ongoing education programs for judges, which are among several reforms Quebec has introduced. These include establishing a specialized tribunal for sexual assault cases.
Article content
Poliquin's decision took a hit when he went out on a limb for a supposedly sympathetic defendant. Houle apparently repaid the favour by bringing the decision into further doubt, only days after Poliquin showed such concern for Houle's ability to travel in order to advance his career.
But the courts may yet get a do-over in this debacle.
The Crown had already announced its intention to appeal Houle's sentence, which, if overturned, could mean prison time.
As the terminology suggests, Houle's conditional discharge is also, well, conditional on his good conduct. Not reoffending is the bare minimum for waiving his criminal record at the end of the period during which he is required to stay out of trouble. The police complaint by Vachon — though an unproven allegation at this point — could eventually be grounds to revoke the get-out-of-jail-free card, regardless of the outcome of the appeal.
Article content
If a new investigation results in new charges that end in a conviction or plea bargain, Houle would be considered a repeat offender — and perhaps would be treated more seriously by the legal system the next time around.
If all or some of this transpires, Houle may yet receive a fitting punishment. His reversal of fortune would then be the result of hubris and contempt — never mind a new low for loserdom.
That's a lot of "ifs." But justice may yet prevail — if in a roundabout way.
Hanes: Quebec moves to rebuild trust in a broken justice system

Hanes: A hearing was held into a secret trial — behind closed doors